Having tested multiple Olight pistol and rifle flashlights, I've compiled this list of the top 5 best Olight weapon lights. Whether you're looking for the best Olight for your handgun, or the most feature rich Olight rifle flashlight, this article has you covered. I'm covering the best and brightest offerings for Olight and each flashlight on the list has a comprehensive review for your research pleasure. Regardless of which light you choose, make sure to use the code "EDCC10" at the Olight store checkout to save yourself some money and support the site!
1. Valkyrie PL-3R Best Overall Olight Weapon Light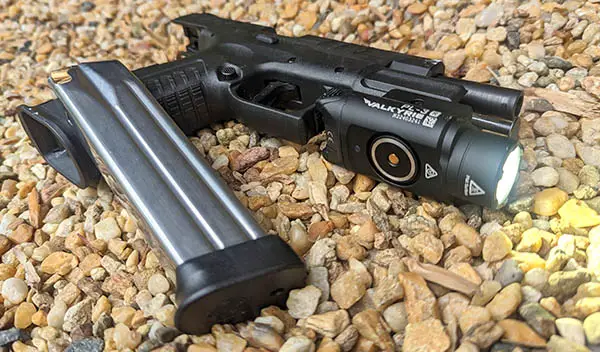 The Olight PL-3R is the most recent flashlight I had the opportunity to review. However, it truly is one of the best Olight weapon lights because of the versatility. If you purchased the remote switch with magnetic adapter, this pistol flashlight also becomes a rifle flashlight. Additionally, the beam throw and lumens are more than adequate for home defense and for hunting.
Additionally, Olight PL-3R Valkyrie has multiple light settings including dual high output lumens which is unique to this model. Furthermore, it has a strobe effect for low light personal defense situations. Unfortunately, if a flashlight with a laser is important you'll have to read on. But, with a fair price point, multiple light features, and all-around application this is one of the best Olight weapon lights on the market.
2. Baldr Pro – Best Olight For Handgun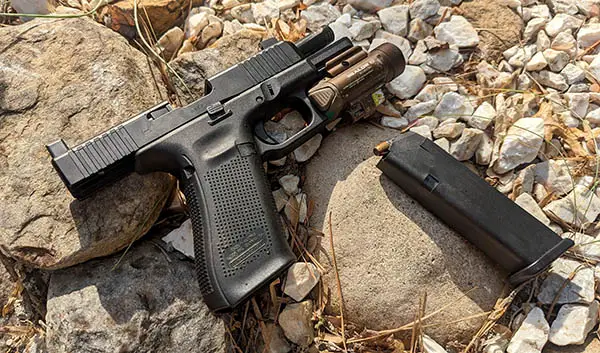 Next on the list we have the Baldr Pro, which is arguably one of the best Olight for your handgun. Operating on a pair of CR123A batteries, this pistol flashlight boasts multiple features including multiple finish options, an attached laser, and low/high output. Zeroing the laser is simple and can easily be adjusted when moving the flashlight from one platform to another.
If durability is a concern, fret not. I ran over this particular Olight handgun flashlight with my F150 and the flashlight kept on ticking. Therefore, if you expect your flashlight to take a beating then this is an excellent choice. You can read the full review of the Baldr Pro for details on battery life and operation.
3. Baldr S BL – Best Compact Olight Light & Laser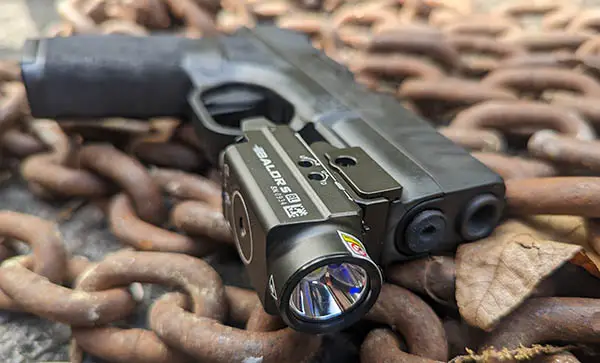 Third on the list of top Olight pistol flashlights, is the Baldr S BL. If you're looking to outfit a compact or subcompact handgun, this weapon light is an optimal choice. Similar to thePL-3R Valkyrie, the Baldr S BL has an adjustable rail mounting bracket making it easy to fit your grip and shooting style. Additionally, this flashlight has an integrated laser which means better visibility and increased accuracy in a compact package.
Furthermore, the magnetic charging port means you won't be spending dollars keeping your flashlight powered up and at the ready. Instead you can spend your cash on an optic or other feature enhancement for your handgun. Although a bit high in price, this offering from Olight does provide illumination for a decent amount of time between charges.
4. Odin GL – Best Rifle Flashlight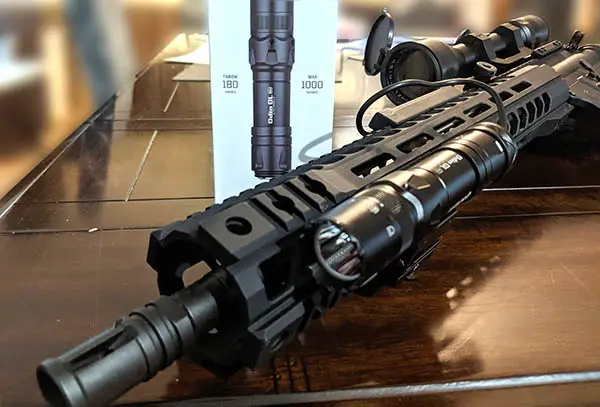 Although this site focuses primarily on concealed carry, even I can appreciate a good rifle flashlight. Therefore, I present to you the Odin GL Mini which is arguably the best Olight weapon light for your rifle. The PL-3R utilizes a remote switch similar to the PL-3R. However, this Olight rifle light use a detent ring instead of a magnetic connection for the remote switch. A subtle difference but worth mentioning as it provides better stability than the magnetic alternative.
Installing the remote switch took me a bit to understand — I didn't read the instructions at first. However, I've documented installation and other features of this rifle light in my review. In addition to high and low output modes, this rifle also features an integrated laser. You'll get more run time without the laser but it's still a nice feature to have at your disposal.
5. Valkyrie Turbo – Longest Beam Throw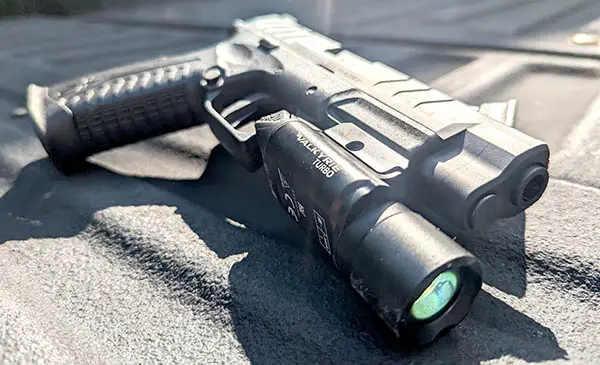 If distance shooting is important to you, then you'll want maximum beam throw. Capping out at 250 meters, the Olight Valkyrie Turbo is king when it comes to illuminating a target at distance. If you read the flashlight review you'll notice a significant difference in the bulb/lens on this pistol flashlight. Additionally, this flashlight boasts an over 3 hour runtime which places it among top contenders in the department as well.
Hopefully you've found what you're looking for. As new models come out — and I get an opportunity to test things — I'll update the list of best Olight weapon lights so that you're getting the most up to date information. Remember if you're ordering from the Olight Store use code "EDCC10" to save 10% on your purchase, even if it's not one of these lights. If you have questions about any of the models feel free to leave a comment so I can improve the site content moving forward. As always, thanks for stopping by and carry on!