If you're in the market for a concealed carry holster for your Springfield XDM Elite, then you'll notice quality holsters are few and far between. Fortunately, I've tested dozens of options. Afterwards I narrowed the field to the 8 best holsters for the Springfield XDM Elite regardless of your setup. Obviously, I focus on concealed carry holsters for the XDM Elite, but the market seems focused on open carry solutions. Nevertheless, I've got both concealed carry and open carry solutions for you!
Best Concealed Carry Holsters For XDM Elite
For ease of use, I've broken down the Springfield XDM Elite holsters into two categories. First, I'm going to cover the top choices for concealed carry. Afterwards, I'll discuss the best options for open carry. It's worth noting the holsters were tested using the XDM Elite 4.5″ barrel model.
1. Black Scorpion IWB Holster For XDM Elite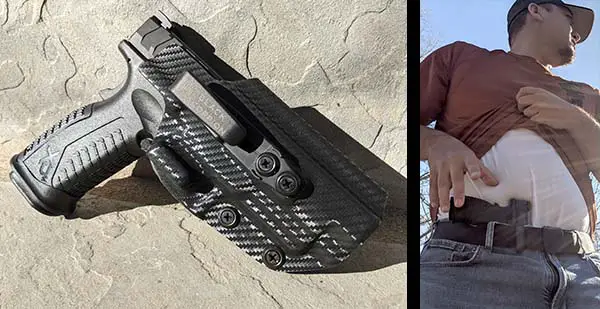 Taking the top spot on our list, the Black Scorpion IWB holster is a superb concealed carry platform. First, the kydex construction is lightweight and durable. Second, two screws allow you to adjust the retention for easier un-holstering.
However, my favorite feature on this holster is the built in belt wing which reduces printing. Besides reduced printing, the wing aids in proper technique. Your trigger finger rests above the wing and naturally lands on the XDM Elite frame when removed from the holster.
Unfortunately, the belt clip does not swivel or move upward so you're locked into a single ride height with no cant. However, the setup is ideal for AIWB concealed carry. Hands down, this is the best holster for the Springfield XDM Elite (4.5) .
2. "We The People" Springfield XDM Elite Holster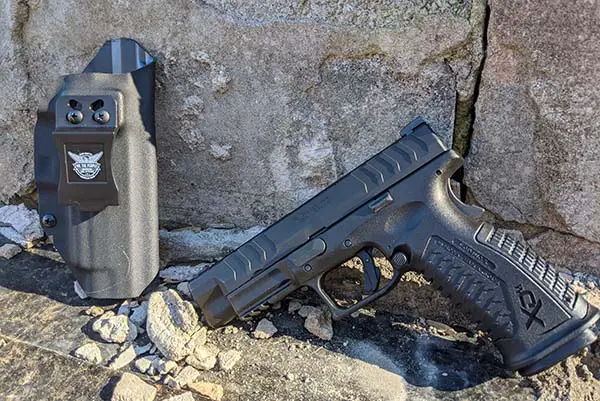 Coming in a close second on the list of the best concealed carry holsters for the Springfield XDM Elite is an offering from "We The People." After having seen their advertisements plastered across social media, I decided to give them a shot.
Unlike the Black Scorpion holster, this holster has a wider belt clip profile to ensure a secure fit. However, there are 4 angled holes on the belt clip which allows for small ride height adjustments. Additionally, you can modify the holster cant with these holes.
Similar to the Black Scorpion holster above, this has an open muzzle design which allows for a threaded barrel. However, the holster isn't without issue. A single screw controls retention and may cause the slight lateral play of the gun when holstered. Regardless, this is still a solid offering for your IWB needs.
3. AlienGear Cloak Tuck 3.5 IWB Holster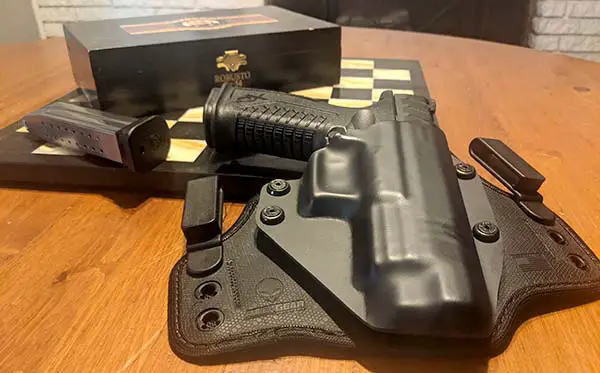 If you haven't read my glowing review of the Alien Gear Cloak Tuck 3.5, then I suggest you take a look. Well, it was actually very simple to swap out the shell for my Sig with the Springfield XDM shell.
It's worth noting, that if you need to modify the shell that it does not void the warranty. Simply pay for shipping and Alien Gear can swap out the shell for a new one! All of this, and a lifetime warranty with their product. This qualifies the Alien Gear Cloak Tuck 3.5 as one of the best holsters for the Springfield XDM Elite.
4. Craft Holsters For XDM Elite 4.5 With Mag Carrier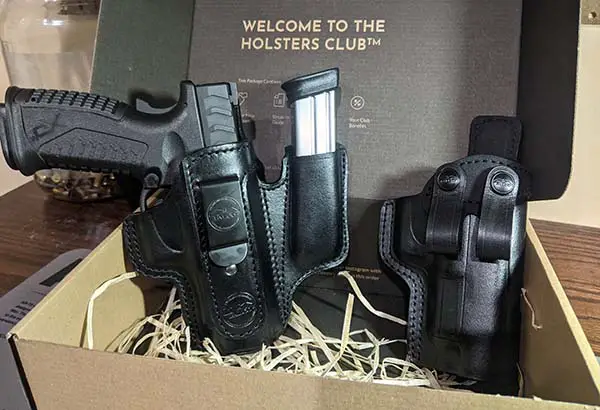 Usually, I'm not a fan of leather holsters. However, the offerings from Craft Holsters are an excellent choice if that's your cup of tea. I particularly enjoy the holster with the mag holster sidecar. Unlike my Glock 45 holster, this appendix holster only has a single belt clip.
Additionally, plan to leave your gun and magazine in the holster for a full 24 hours to help break in the leather. If you're not into appendix carry, then I suggest you check out the belt loop compatible holster from Craft. Regardless of which option you choose, know that you're getting one of the best leather concealed carry holsters for the XDM Elite!
5. R&R XDM Elite Holster With Flashlight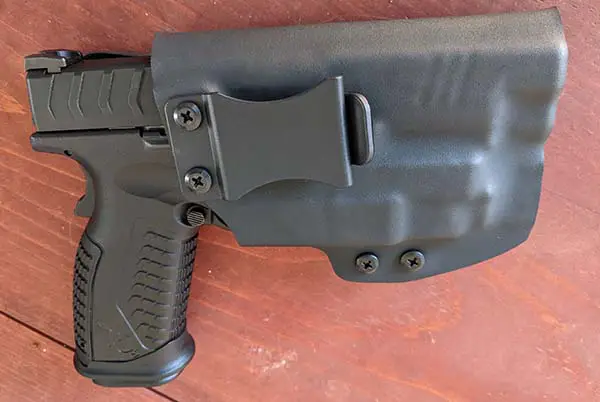 If you run a flashlight on your carry pistol, then you should check out the offerings from R&R. Additionally, if you run OLIGHT flashlights you'll need the "Mini" 600 lumen model. However, there are also IWB holsters made to accommodate Streamlight products as well.
Unlike other holsters, the retention is dictated by belt pressure. Personally, I'm not a fan of this type of retention. Additionally, you should NOT run the holster without your light attached.

Finally, the backing is "drum dyed leather" and requires a break in period of 5-7 days. Because the holster is a hybrid you won't get the positive "click" found on a traditional kydex holster. Although I found the holster a bit cumbersome, all in all it wasn't a bad holster.
Best OWB Holsters For The XDM Elite
Although I'm not a big fan of open carry, the universe of concealed carry holsters for this particular handgun are limited. Therefore, here are a few of the best OWB holsters for the XDM Elite if you prefer open carry.
6. Alien Gear Cloak MOD OWB Holster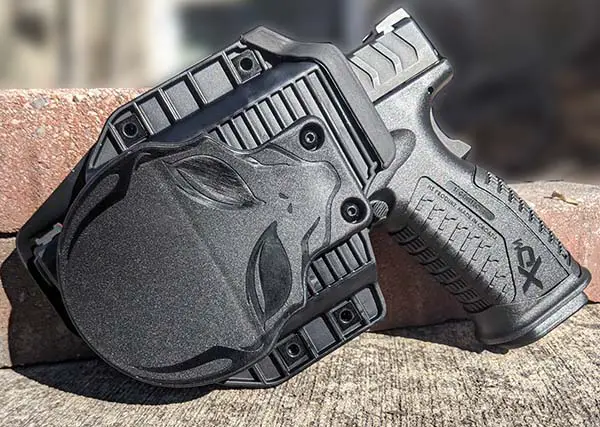 The Alien Gear Cloak MOD paddle holster has a very durable design. Additionally, the pseudo open muzzle design could be modified to fit a threaded barrel. Similar to the Cloak Tuck design, modifications won't void the warranty!
Next, a protruding shelf runs the full length of the paddle to maintain holster positioning during your draw stroke. However, it does make it a bit awkward to remove the holster from your waistline at the end of the day.
Similar to other designs, the paddle is curved to fit comfortably on your hip. However, I personally would have preferred a more aggressive profile for this part. Instead of posi-click, an internal rubber backing along with four screws control gun retention. Finally, the two paddle screws can be moved to control holster ride height and cant up to 17 degrees.
Finally, if you don't like the paddle you can swap out for a belt slider attachment. All the options and sturdy design make this the best OWB holster for the Springfield XDM Elite!
7. Concealment Express Paddle Holster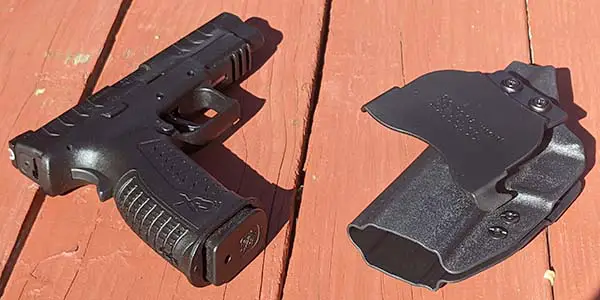 Another fine open carry holster for the XDM Elite is this offering from Concealment Express. I was happy with a previous Concealment Express CCW holster. Unlike the Alien Gear holster, this holster has a much slimmer profile that I really enjoy. But the holster doesn't seem as durable.

The Concealment Express paddle is much thinner, and has hooked ends to prevent holster movement during the draw stroke. Although there is a screw to control holster cant, I found the holster ended up in a 12 to 6 orientation almost always in my daily routine. Contrarily, the holster movement aided when unholstering the firearm and getting to the low ready position.
However, there is an audible posi-click to ensure proper seating of the XDM inside the holster. Although there are quirks, the holster is a fine open carry option.
8. Craft Leather Holster with Dual Cant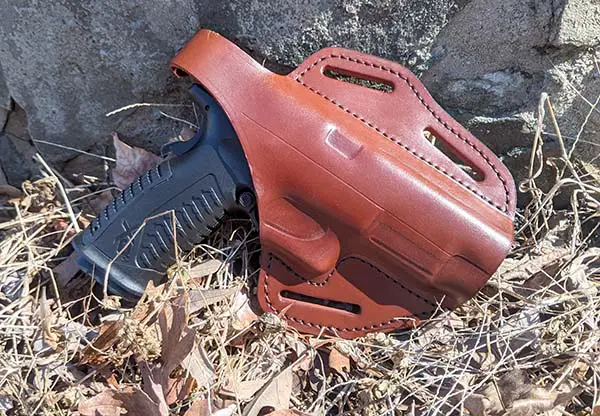 If you prefer an added layer of security for your OWB holster, this holster from Craft has a thumb break retention strap. However, you'll need to allow a break-in period of 24 hours for the strap to be functional.
Additionally, this holster has two separate front belt loops which allow you to control the holster cant. Finally, the molding is a bit snug on this holster as with most leather holsters.
Naturally, this holster is pretty cut and dry and what you see is what you get. However, it's still a great choice for your OWB carry needs when it comes to the XDM.
Holster Considerations For The Springfield XDM
If you're looking for the best holster for the Springfield XDM Elite, here are some things to know about the handgun. First and foremost, there are more options available for the 3.8″ barrel model than the 4.5″ XDM Elite. However, all of the above holsters are available in the Springfield XDM Elite 4.5 and should also offer a 3.8 model as well.
Additionally, most XDM holster shells will fit the Springfield XDM Elite. However, it is not guaranteed. Because the XDM Elite has an ambidextrous slide stop some modifications may be required. But, manufacturers will generally note whether a given holster model accepts XDM Elite handguns.
Another difference between the XDM and elite models are the slide serrations. However, this should have no impact on whether a holster fits your handgun. But, if your Springfield has a threaded barrel you'll need to purchase a holster with an open muzzle design.
Hopefully you've found some useful information on this page. Whether you're looking for an AIWB or open carry solution, I've tried to provide an accurate accounting of the best Springfield XDM Elite holsters. Although the XDM Elite is under-represented in the holster market these options are the cream of the crop. Do you have a different opinion? Leave a comment for the community. However, if you found this information helpful please share with your network!