Best EDC Backpacks and Bags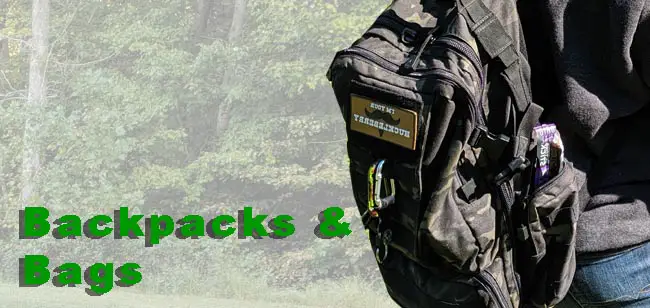 Finding a quality EDC backpack is a daunting task. You'll need to make sure it fits your kit comfortably, without being too bulky to carry around with you everyday. Additionally, you'll want an EDC bag that's durable and can stand up to the rigors you face on a daily basis. Well fortunately, I've tested out some gear, and I'll be sharing with you my picks for the best EDC backpacks and bags.
Each of my reviews follows the same general outline. Below are items I address for each EDC pack I test.
Key features of the bag
Overall storage capacity
Number of pockets for organization
General bag construction highlights
Styles and options
Finding the right EDC backpack or bag for your needs comes down to the evolution of your kit. Some EDC practitioners take a highly focused approach and are constantly whittling down their EDC arsenal. Others take a broader approach and require more storage space for their supplies. If you haven't read this article, I highly recommend you review it before deciding on a bag.
Because choosing an EDC bag is such a personal choice, I won't presume to tell you which bag fits your needs. However, I can tell you about my experience with the products I've tested. In an effort to provide you with the utmost detail, I try to use detailed photographs of the bags I've tested (video if I can find the time) — but bear in mind, that I'm no professional photographer. Additionally, I speak to the quality of construction and general functionality.
Other Bags and Accessories
Because this site is all about concealed carry, I naturally have other bags that are more geared toward shooting. Whether it's rifle cases or range bags, I'll try to give some insight into various other totes that I haul around. Additionally, I opt for a tactical style bag for my EDC pack, so I also have some experience with the many MOLLE accessories you can get to help customize your EDC kit. If I've used it, I'll give you any insight I can.
Top 3 EDC Backpacks and Bags
5.11 RUSH 24 Backpack – Tactical style backpack with MOLLE webbing for pack expansion. Durable construction with tons of storage space. For more detail check out my review.
Tru Spec Circadian Backpack – Small, rugged, tactical style bag. Ideal for those with a minimalist kit or don't use their EDC backpack for extended outings. Bag review coming soon!
American Rebel Patriot Backpack – A covert style backpack with ample storage, and concealed carry pocket. Full review coming soon!
All Backpack, Bag, and Accesory Reviews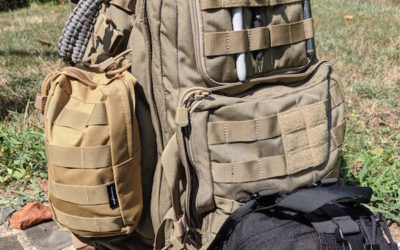 Over the years, my everyday carry kit has grown beyond the limits of most conventional backpacks. I needed a versatile solution that could function as my laptop bag during the week, and a weekend getaway pack when I wasn't at the office. However, the caveat was that I didn't want to be constantly unpacking parts of my kit to reallocate space. Enter the 5.11 Tactical RUSH 24 backpack.