Choosing a specific holster material can quickly narrow the pool of viable holster options. Although holster material is not the most important decision when selecting a holster, it can play a pivotal role in your decision. Therefore, I'll be comparing the pros and cons of kydex, leather, suede, and nylon holsters. Additionally, I'll talk a bit about hybrid holsters in case you run into those along your holster search.
Are Nylon Holsters Any Good?
If you're shopping for a holster on a budget, then you'll no doubt come across a nylon holster. Because these holsters are inexpensive to produce these types of handgun holsters flood the market. But, is nylon a good material for a holster? In short, nylon holsters are not a good holster material option because they are plagued with safety issues and do not hold up over time.

Pros of Nylon Holsters
Holsters are inexpensive.
Nylon holsters do not require a "break in" period.
Many nylon holsters have padding which makes them comfortable to wear.
Firearm retention is only possible with aid from a strap or buckle.
Cons of Nylon Holsters
Holsters made of nylon are flimsy and not structurally sound.
Many nylon holsters are a "universal fit" and can allow for movement of the firearm within the holster.
Nylon gathers and retains debris, specifically carbon fouling and gun oil.
Moisture (sweat) can penetrate holster material, especially with continued wear.
Sights more likely to snag inside the holster during your draw stroke due to improper gun fit.
Is Suede The Best Material For A Holster?
Suede holsters have fallen out of fashion, but you can still find them floating around the market. Unfortunately, although suede is more durable than nylon it is not the best material for a holster. Similar to nylon, suede holsters come with safety concerns.
If a suede holster is kept clean, it can help prevent wearing the finish on your handgun. However, keeping a suede holster free of debris can be difficult. Therefore, you'll need to clean the suede frequently to protect your handgun and prevent unnecessary wear.
Pros Of Suede Holsters
Suede is less expensive than leather or kydex holsters.
Holsters made of suede do not require a break in period.
The soft material is conducive to IWB concealed carry.
Cons of Suede Holsters
Similar to nylon, suede gathers and retains debris and contaminants.
Friction retention is non-existent.
Oftentimes, suede holsters fit firearms too loosely leading to safety concerns.
Moisture can penetrate the suede and impact firearm performance.
Is Leather A Good Holster Material?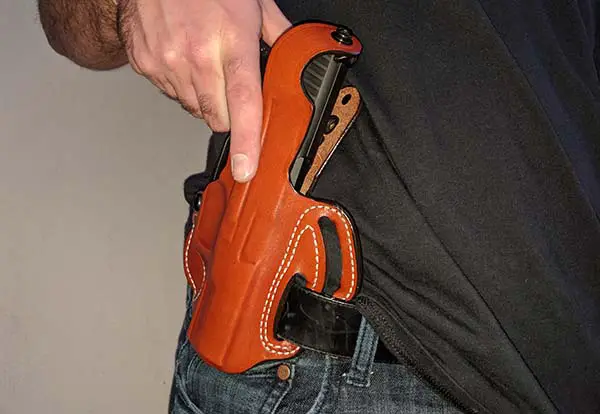 Quality constructed leather holsters can be a find choice to prevent wear on the finish of your handgun. Additionally, leather is one of the most durable materials when properly cared for.
However, most leather holsters require a break-in period which can be a turn off to some gun owners. Additionally, give some thought to the upkeep of your leather holster. Despite the maintenance aspect, leather is one of the best holster material options on the market.
Pros of Leather Holsters
Molded leather holsters are ideal because they fit specific handgun models.
Generally, leather holsters are more comfortable than kydex.
Holsters made of quality leather are durable with proper care.
Heating and cooling shrinks the leather and helps when a gun loosens the holsters fit.
Cons of Leather Holsters
Leather holsters require a break in period before unholstering becomes smooth.
Adequate holster retention requires a buckle or strap.
Molded leather holsters have many contact points which can wear the finish on your handgun over time.
Leather material requires additional care to extend the life of your holster.
Because leather is semi-permeable it can retain water and other contaminants, and is not easy to clean.
Is Kydex The Best Material For A Holster?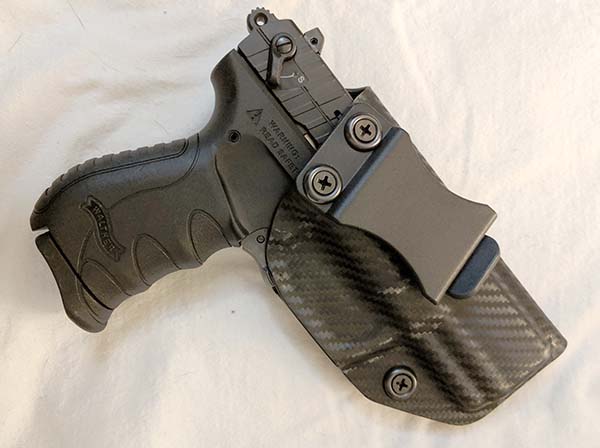 I am personally a fan of kydex holsters, and why I carry my Glock in the Black Arch Entrada holster. One major benefit of kydex holsters is the minimal contact points with your firearm. Therefore, kydex is one of the best materials to minimize wear on your firearm.
Additionally, kydex is extremely easy to clean and won't retain contaminants. Whether it's gun oil or carbon and residue can be easily wiped away.
However, the rigid construction of kydex can be uncomfortable to some. Instead of kydex, molded leather holsters are a comfortable and safe alternative.
Pros Of Kydex Holsters
Kydex holsters are molded to fit a specific handgun model.
Friction retention is best on kydex holsters and usually offers and audible click when securely holstered.
Because kydex is a hard material it will not hold debris.
Keeping kydex free of debris and contaminants is easy.
Minimial contact points on your firearm means there is less wear to the finish.
Kydex holsters can come in various designs.
Cons of Kydex Holsters
Because of the rigid construction, the holsters' mold can cause discomfort.
Some kydex holster require a claw or wedge to effectively conceal a firearm and avoid printing.
What Are Hybrid Holsters?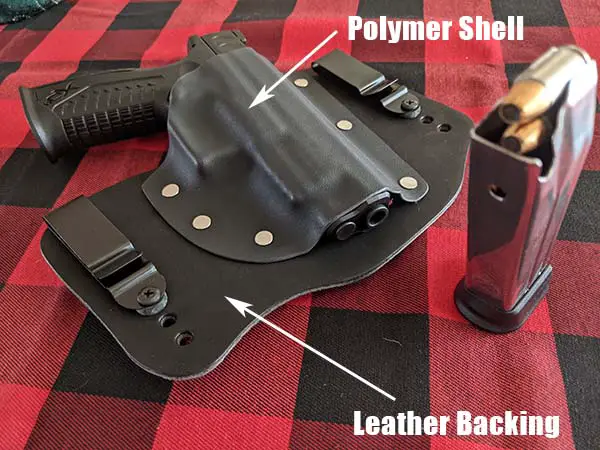 Holsters constructed using multiple different materials are considered hybrid holsters. Usually, the backing – the part closest to the user – is constructed of a material that is more comfortable. Alternatively, the shell portion of the holster is made of a different type of material.
Generally speaking hybrid holsters have a kydex shell and a padded or leather backing. An example of a hybrid holster is the Cloak Tuck 3.5 from Alien Gear. When I used to carry my handgun on my strong side hip this was my go to holster.
When evaluating a hybrid holster, compare the pros and cons for all materials used in the holsters' construction.
Naturally, not every holster material is covered in this article. However, most traditional holsters worn on the waistband or shoulder are constructed from the above materials. Non-traditional holsters like belly bands and fanny packs utilize a combination of materials. If you've found this article helpful or have something to add, then leave a comment. Otherwise, please help me out by sharing the article. Thanks for stopping by.