If you're looking to get concealed gear, it can be tough to buy with confidence. Chances are you'll have a bunch of different questions running through you're head when you're shopping.
Will my gun fit this holster?
Will I be printing if I use this holster?
How durable is the platform?
Will my firearm be secure?
Is this holster comfortable?
I'll provide you with some of the holsters and apparel that I have had success with. Ultimately, it will come down to your own personal preference, but I can speak to both the quality of the materials and any issues (or lackthereof ) I have had with each of these concealed carry platforms.
Top 4 Ways to Carry Concealed
5.11 Tactical Short Sleeve Compression Shirt – This shirt is form fitting, and is a universal fit for your firearm.
BlackHawk Serpa Sportster Holster – Fits specific models of firearms, but has a wide array of pistol options to choose from. Ideal when wearing loose overcoat, to conceal. Can also double as an open carry platform.
Alien Gear In Waist Band (IWB) Holster – Made to fit your model of firearm. Made to carry IWB, so you'll want to make sure there's a little play in your pants for this platform.
Ultimate Belly Band Holster – Another universal fit option, can be worn in several different setups, including IWB, or shoulder holster position.
5.11 Tactical S/S Compression Shirt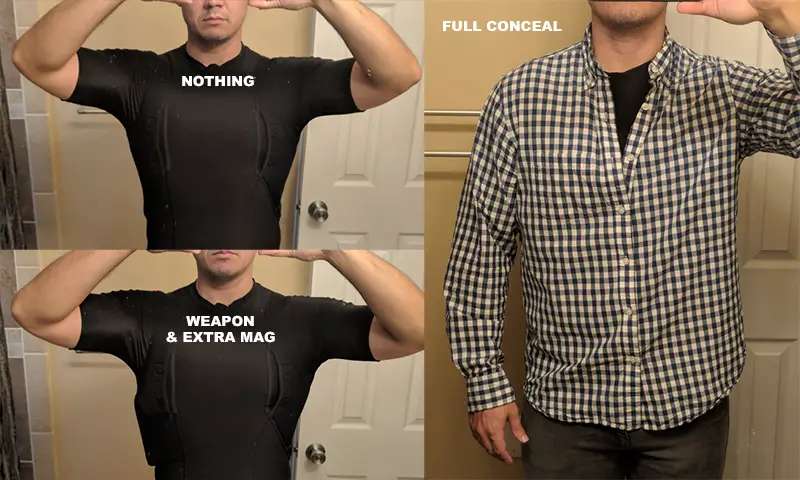 This is by far, my most preferred method to carry. First, lets talk about comfort. The shirt is breathable, form fitting, and soft. I cannot stress the level of comfort this platform provides, it's almost as if your pistol is floating at your side. For reference, I own two of these shirts so I can alternate them when one is in the laundry. While this concealed carry shirt comes in both black and white, I prefer black so that there are no sweat stains.
Features
I frequently carry my Sig Sauer P250 using this shirt. That model Sig is a subcompact that has a double stack magazine. I prefer the cross draw method, and I am a right hander so the pistol sits just below my left armpit. It has a compartment on either side that can hold your pistol. I use the second compartment (under my right armpit) for holding my extra magazine.
Two velcro tabs keep the compartments sealed to prevent your firearm from slipping out. I tend to keep my pistol at a slightly askew from a 12-6 positioning, because the magazine is a double stack. Their is additional padding that follows the contour of your torso for weight distribution – it looks kind of like a shoulder rig. My only qualm is that because of my chosen model of EDC pistol, I can't bend over completely at the waist without the firearm shifting slightly in it's enclosure.
Sizing and Care
For sizing reference, I'm between 5'11" and 6'0″ and fluctuate between 190-205 lbs. I got the large, and it fits me perfectly. There are specific care instructions that you should follow to extend the life of your compression shirt. It should be machine washed warm without any bleach or fabric softener. Tumble dry on low to prevent shrinking, I will air dry mine if I have time, but have run it through the dryer multiple times without problems.
Having had this model for several years, and without any noticeable change in function I'm confident in it's longevity. This shirt is ideal for subcompact and compact model pistols, and even better if you have a single stack magazine. It can fit a full size model, but that pushes the boundaries of comfort, but I suppose you would get used to it if that's your only EDC pistol. I highly recommend the 5.11 Tactical Short Sleeve Compression Shirt (Amazon Link) for your EDC concealment needs.
Blackhawk Serpa Sportster Holster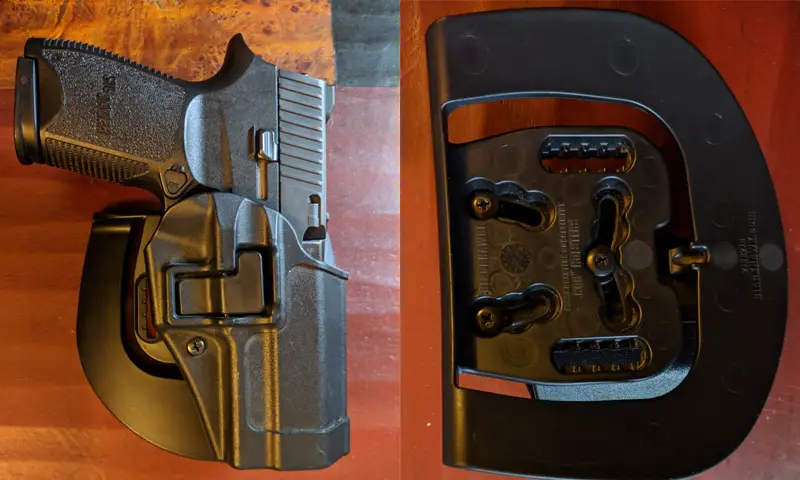 The Blackhawk Serpa holster is another favorite of mine. I use this far less for concealed carry, but it is fantastic for open carry. Under the right circumstances, it can be concealed, but because it is worn without a tuck, it is more difficult to conceal your weapon. However, this holster is fantastic when it comes to comfort.
As I mentioned, I am right handed, so I wear this on my right hip for easy access. Frequently, I will wear this when I go on camping trips, or someplace not so populated where I am comfortable just having my weapon on display. Although, I have worn it under a my coat in the wintertime, if I'm planning to be in public but may need quick access to my firearm. In this scenario, the compression shirt is less than ideal, as I may be digging through several layers to access my piece.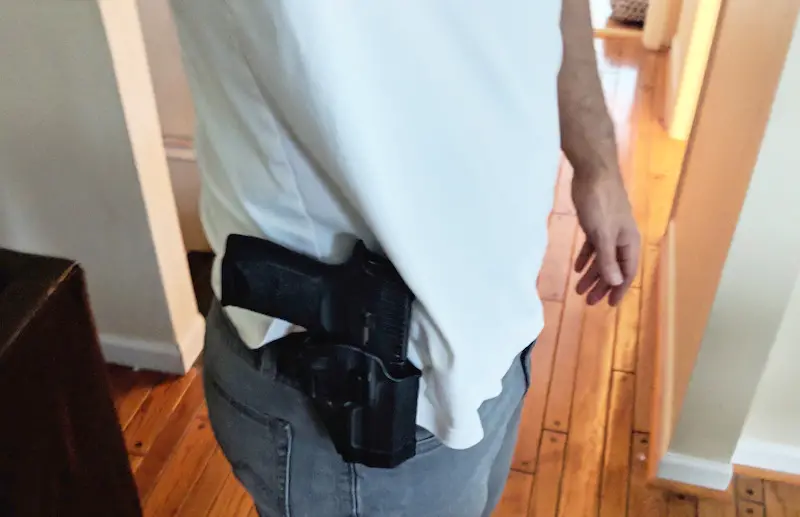 Features
The Serpa Sportster is probably the most secure holster I have access to. It has a built in locking mechanism (a small trigger) that you'll need to compress, while simultaneously pulling vertically, in order to un-holster your weapon.This would keep any would be attacker from getting the weapon out by sneaking up behind and simply pulling on the pistol. The paddle portion measures roughly 6 inches by 5 inches. It weighs next to nothing, and can fit with our without a belt.
The paddle portion has a small hook that will keep the entire holster attached to your pants. I can literally do a handstand with this holster on and my firearm nor the holster will leave my person. Finally, there are multiple built in holes on the paddle to allow you to adjust the draw angle to your preference. I've had this holster for several years, and it has stood the test of time with repeated use both in my everyday life, and on the firing range.
Because this holster is molded to specific models, you'll need to select which one you want when you purchase. This is not a universal fit holster. The Blackhawk Serpa Sportster Holster can be found on Amazon, and is one of the most comfortable, secure, and versatile options for a holster. I highly recommend for EDC in the winter, or when you are comfortable open carrying your firearm.
Alien Gear In Waist Band (IWB) Holster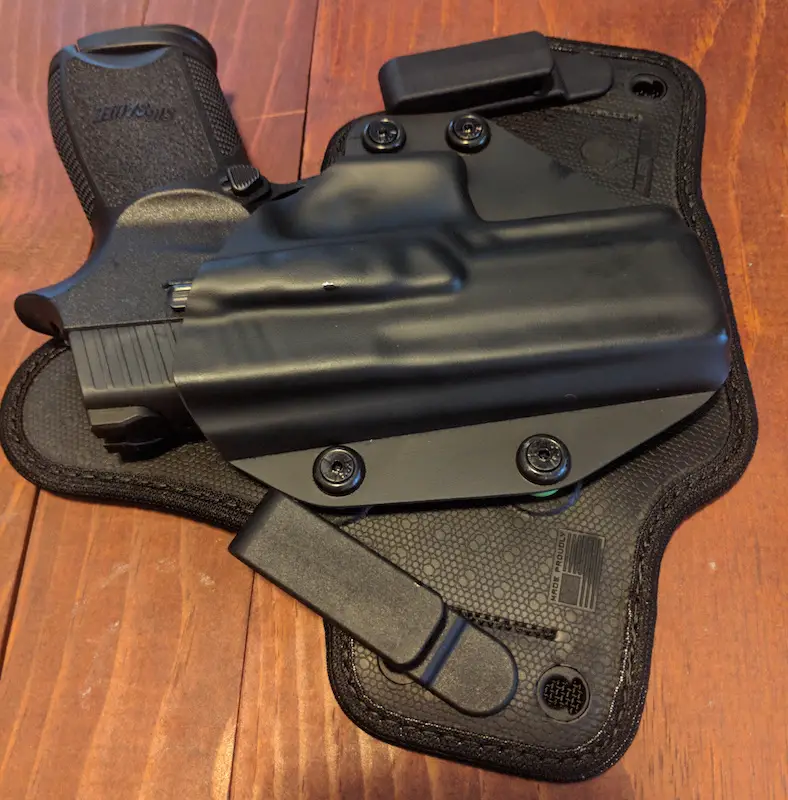 The folks at Alien Gear definitely make a quality product. As far as IWB holsters go, this thing is super comfortable. However, you will need to have a an inch or two built into your pant waistline to utilize this holster, which is true of all IWB holsters. My jeans have a little bit of stretch to them, and despite my pants being snug, the material on the back made it feel like I wasn't wearing a holster at all.
Similar to the Blackhawk Serpa, this holster is setup for specific models. The molds aren't an exact replica, so there are multiple firearms that will fit in my holster. However, you will need to select a version that fits your pistol. Another similarity between the two holsters is that you'll have to decide on left or right hand draw when you purchase.
Customer Service
Because I'm an idiot, you guys get a little bonus feedback about Alien Gear. When I purchased this holster, I either didn't notice or assumed it defaulted to a right handed holster. When I began test fitting, it felt great, but something was immediately apparent – this is a lefty holster. I checked the paperwork, then my Amazon order, sure enough I'd selected left hand.
Good news is, I reached out via the Alien Gear chat window on their site. Basically, you'll need to fill out a form, pay to ship the holster back, and they'll ship you a new one. Sucks for me, but, lesson learned. Anyways, let's get onto the nitty gritty about this holster.
Features
This holster fits in your waist band, and attaches using two plastic clips. I tested both on my hip, and in the small of my back for comfort and fit. I will never carry appendix, so I didn't bother testing it. Since I don't recommend you do that either I decided not to provide any details. However, the comfort level was great. I will likely wear the Alien Gear IWB holster in the kidney position. Positioning on my hip was fine, but I felt that I was more prone to printing with that setup.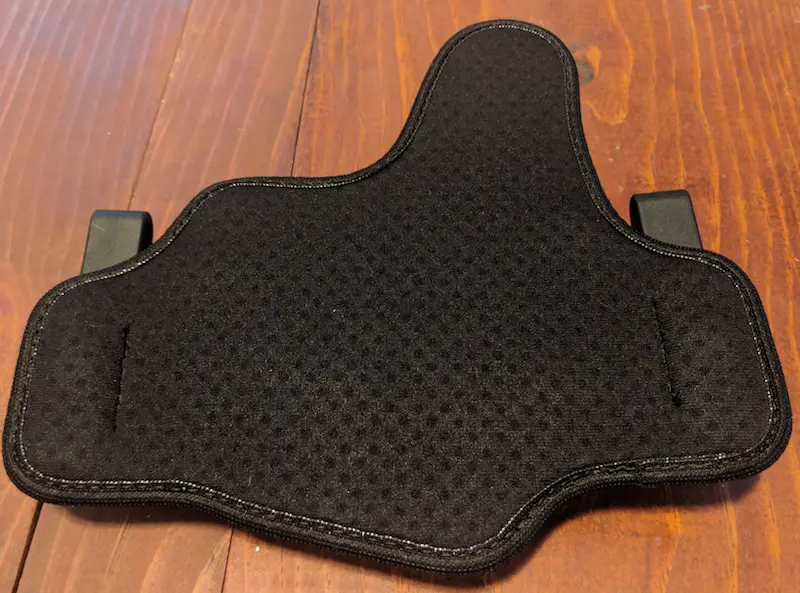 Mesh backing is super soft, and breathable. When I placed my weapon in the holster, it was incredibly snug…maybe a little too snug. After some reading of the materials, this can be adjusted. They provide little rubber bumper plates, an adjustment tool, and instructions for customizing the fit of your firearm. As long as you don't loosen the retaining screws too much, you shouldn't have to worry about your firearm moving.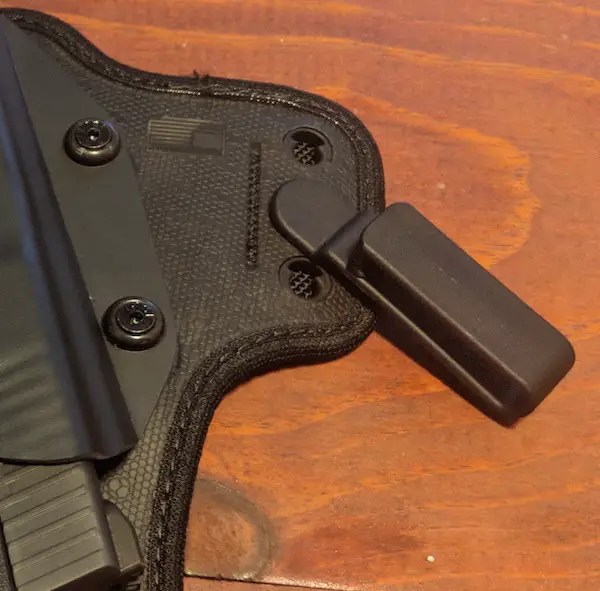 Another cool feature are the clips themselves. There's a slight amount of articulation you can use when positioning the holster on your waist. However, if you rotate them to 90 degrees, the clips are actually made to come out. Seems like a terrible idea, until you realize there are 3 different holes about 1-1.5 inches apart where you can move the clips to. Moving the clips allows you to adjust the cant or draw angle of your weapon. This is great if you prefer different cant for different carry positions.
I highly recommend this holster (Amazon Link) for carrying your concealed weapon. Alien Gear makes a quality product that is comfortable, and true to their advertisement.
Ultimate Belly Band Holster
If you're looking for a concealed carry holster that won't break the bank, then I recommend the ComfortTac ultimate belly band holster. I've owned several different belly bands, and they have all broken down, many within months of usage. However, I don't want you to get the wrong idea about their durability. Typically, it was one component or another that gave out, not a complete failure of the belly band that resulted in my firearm falling to the ground. However, the durability, combined with comfort makes this my current choice for a budget holster option.
Features
The ComfortTac Ultimate Belly band is a one size fits all holster. However, you'll need to choose your draw style, left or right orientation, to fit your dominant hand. A breathable elastic material makes up the band itself, and attaches using a roughly 3 inch wide velcro that spans the entire height of the belly band.
An exterior pocket houses your handgun, and a snap down strap goes across the handle to the secure the firearm. I'd love to see a thumb break snap system replace the current elastic strap on the holster, but that's probably more personal preference.
Although the material is breathable, it can still get warm underneath and minor perspiration is to be expected. Furthermore, the belly band holster can be worn low around the hips, or higher on the torso. Rotating the band will allow you to adjust where you will be drawing from. However, there is no way to adjust the holster cant. Your handgun will be in a 12-6 position with the barrel pointing down.
My Experience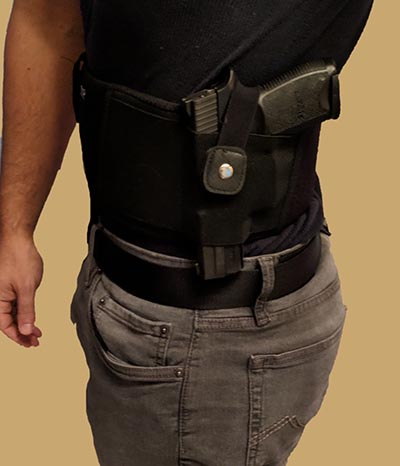 I've had this belly band for over 6 months, and have worn it multiple times each week, with little visible wear and tear (one stitch has frayed about an 1/8 of an inch). The velcro retains it's grip even after repeated use. As a bonus, the company sent along a move-able magazine pouch, which also attaches to the belly band using velcro. However, it's pretty much useless, because the strap that retains the magazine doesn't hold my mag. Because the magazine's bottom plate is slanted, the strap simply slides off. This really isn't a huge deal, as I wasn't even expecting to get one.
In lieu of the free magazine pouch, you could easily get a clip on mag pouch to attach to the belly belt. All in all, and for the price, I'm very pleased with this holster. It's great for when you're wearing pants or shorts that don't have belt loops. When I'm on the go, it's super easy to put on and adjust in seconds. I wouldn't recommend the belly belt for use with a full size pistol, but for compacts and sub compacts it works fantastic. A loose fitting shirt easily conceals your firearm, and wearing this for extended periods doesn't cause notice.
If you're on a budget and need an effective, durable, and comfortable concealed carry holster, give this belly belt a try (Amazon link)!