Home Firearm Storage Options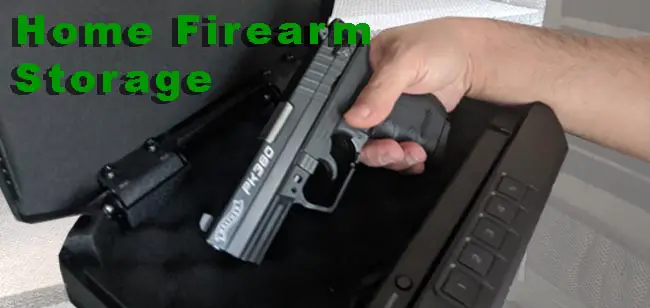 Page Under Construction – Thanks For Your Patience
If you're looking for quality construction, and top notch security for your home firearm storage needs, look no further. Whether you're in the market for a traditional gun safe, something more high tech, or just a hidden compartment I've got you covered.
Here's a look at the top gun safe and home gun storage alternatives that made my list:
Liberty Centurion 12 Gun Safe
24″ Concealment Shelf (Coming Soon!)
Vaultek Essential Series (Coming Soon!)
Field and Stream Sportsman 16 Gun Safe (Coming Soon!)
SentrySafe Quick Access Gun Safe (Coming Soon!)
Liberty Centurion 12 Gun Safe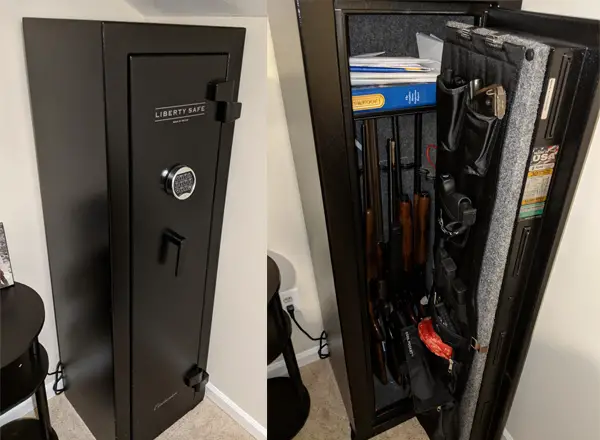 If you're looking for a safe to accommodate a growing collection of firearms, then you can't go wrong with the Liberty Centurion 12 Gun Safe. While this safe is a stand up cabinet style gun safe, it's more than capable of handling both rifles, shotguns, and pistols. Furthermore, with options like the hanging door panel organizer, you can multiply the storage capability.
Features
A cabinet style safe isn't for everyone, but if you notice your collection of guns grows by the year (or more frequently) then you'd be better served getting one now than having to continuously upgrade. The roughly 5 foot tall (59.5. inches to be exact) and 1.5 foot depth are great for storing an array of firearms. This unit weighs in at a tad under 250 lbs.
Now lets move onto the quality construction of this safe. First, the body consists of 14 gauge steel, and boasts 10 bolts to prevent prying of the door. The safe is rated for 30 minutes at 1200 degrees, which while on the low end, should provide ample fire protection. With a fully upholstered interior, you won't need to worry about harming the finish on your firearms.
While an electrical outlet doesn't come standard on the unit, one can be added and you'll increase the depth clearance by about 2 inches. On the interior, you've got two shelving units, which are great for storing extra mags, boxes of ammo, or a couple pistols.
Other Considerations
No information is provided about whether the safe is rated to withstand water damage/standing water. The seal within the door is heat activated which leads me to believe that it does not have this feature. Furthermore, the home firearm storage unit does not come equipped with any dehumidifier technology.
The unit does come with pre-drilled holes for bolting down the safe, and since the weight is minimal, this should be a top priority. However, in the instance of this safe, it's in a dedicated hidden room which makes discovery less likely.
All in all, this is a quality gun safe, made by an industry recognized brand. For your home gun storage needs, take a look at the Liberty Centurion on Amazon. Also, if you're in the market to expand your storage, check out the hanging door organizer which is also available on Amazon.
Safes and Other Home Firearm Storage Reviews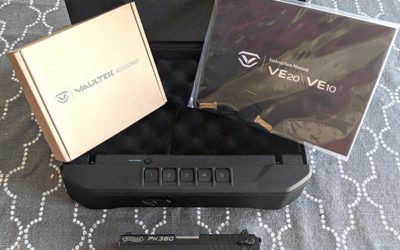 Sometime in October, I picked up the Vaultek VE20 pistol safe for some added pistol storage around the house. I opted to have my locksmith buddy come over and assist with the Vaultek safe review to provide you with an experts opinion.