Looking for stocking stuffers for your gun enthusiast that actually fit in a stocking?! You've probably seen some of the other lists out there. I am reluctant to believe items like rifle cases and guns are "stocking stuffers." Honestly, who does that? But never fear, I've got 11 gifts that are sure to make your gun owner grin from ear to ear this Christmas — and they actually fit in a stocking!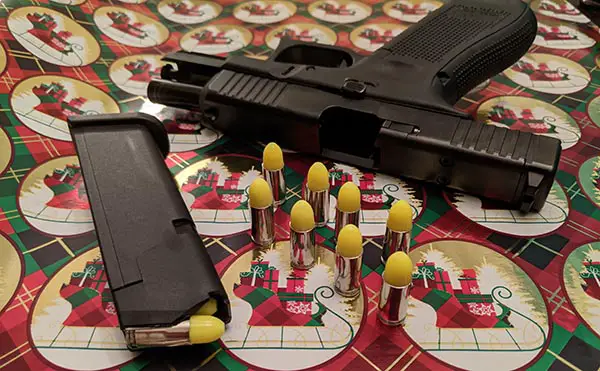 If you're looking for a stocking stuffer on a budget, dummy rounds are a great choice. Gun owners can use this for a variety of different training methods, including diagnosing shooting problems, malfunction drills, and more. I opted for the ST action pro dummy rounds for my range bag for several reasons.
First, the cost — these dummy rounds where the cheapest I found with the appropriate qualities. Second, the weight is similar to an actual round. Third, the rubber extends to the area where the primer would be to protect the firing pin.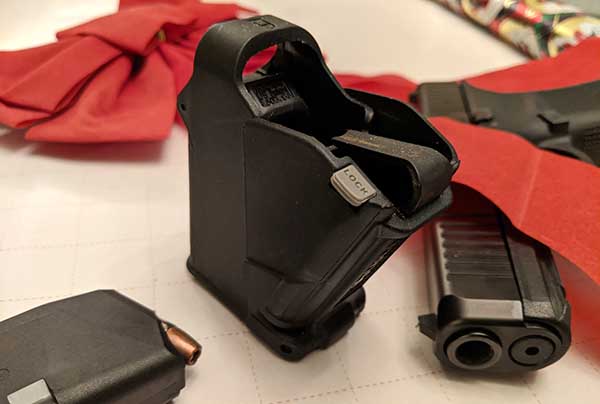 Another underrated stocking stuffer for your gun enthusiast is a speed loader. Save them time on the range by making their magazine reloads more efficient. Additionally, it will help prevent "magazine thumb" from constantly pushing rounds down into the mag.
A simple easy to use version of this is the Maglula speed loader — which I review in more detail here. Previously, this was available on Amazon, but not any longer. Instead check it out on Cabelas with all the available color options.
3. Electronic Firearm Training Aid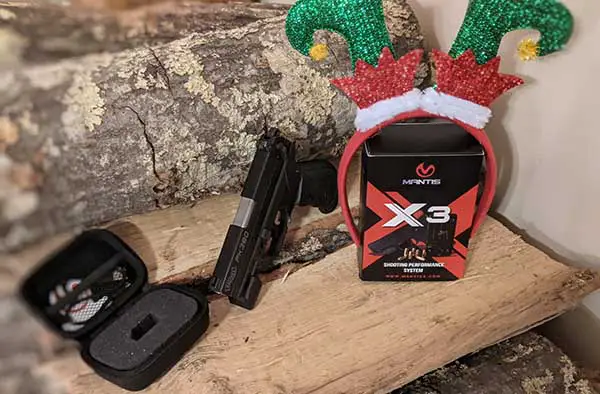 Shooter training aids abound on the internet. But, they also make a great stocking stuffer for a gun owner. If they need to diagnose problems with trigger control, follow through, or a plethora of other problems then an electronic training aid is essential.
Dry fire training will save your gun enthusiast tons of money — especially given the cost of ammunition nowadays. Additionally, some units like the Mantis X3 system can be used for both dry fire and live fire exercises.

Firearm training aids are compact which makes them ideal stocking stuffers and a necessary addition to any shooters tool kit.
4. Customized Accessory Stocking Stuffers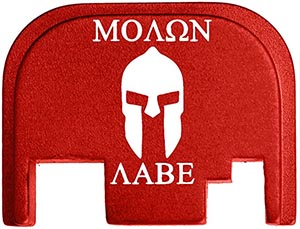 Personalized firearm accessories make a great gift. But, you need to know the person's taste and personality to make this type of gift a success. However, when done correctly, this is one of the best gifts for stocking stuffers come Christmas morning!
For example, you can get custom Glock back plates that match your gun owners military unit emblem. Or if they're a big fan of the Punisher, grab his logo for their slide back plate. Small gifts like this can make a big difference, and your gun owner is sure to want to show them off.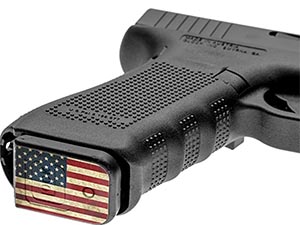 However, not everyone owns a Glock. So what gift can you possibly get someone when you don't know what kind of gun they own? Magazine skins work with all different makes, models, and calibers. Similar to the Glock back plate, this gift gives their guns a flair of personality.
Another great thing about magazine skins, is that they are also available for rifle magazines. Give the gift of personality this holiday season!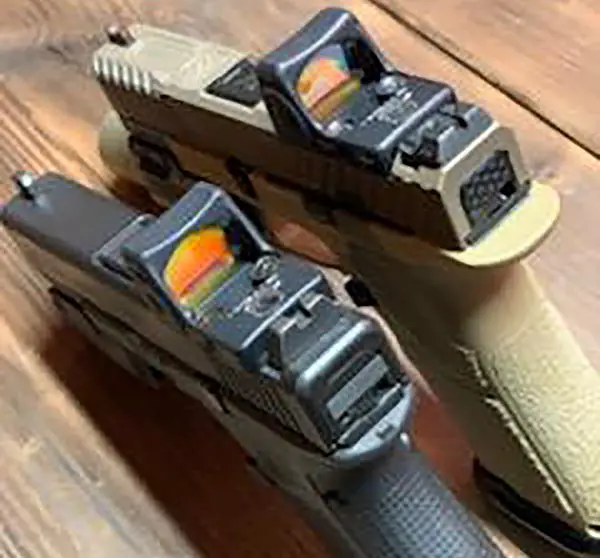 If your pockets are little deeper, you can venture into the world of optics for your gun owners gift this holiday. Definitely not recommended for smaller budgets, optics are a place where you get what you pay for.
However, if you want to see sheer delight on Christmas day, stuff your shooting enthusiasts stocking with a high end red dot. Many of my shooting companions swear by RMR optics, but ideally you'll fish for clues on their preferred gift prior to buying. But you can always get an Amazon gift receipt.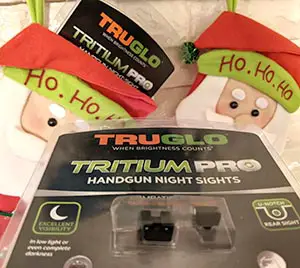 If you had a minor heart attack looking at the price tag for optics, then a budget friendly stocking stuffer option is aftermarket open sights.
I prefer tritium night sights for home defense. But every gun owner will vary. Truglo has a variety of setups to choose from.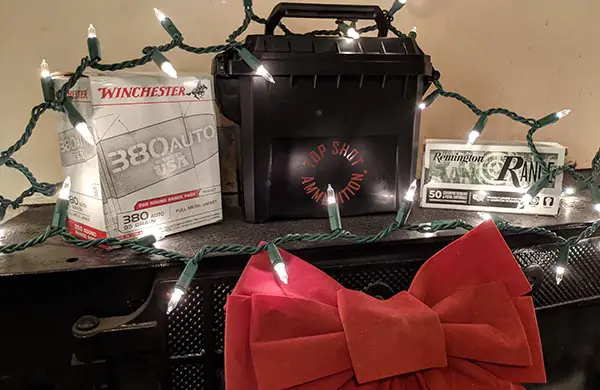 At the time of this writing, ammunition prices are soaring. So, it's no surprise that every gun owner could use some spare personal defense or range ammunition. Regardless, ammunition makes a great gift that you can be sure will be used. You can pick up various different calibers at Cabelas. Just make sure you know what size ammunition to pick up!
7. Spare Magazines For Their Gun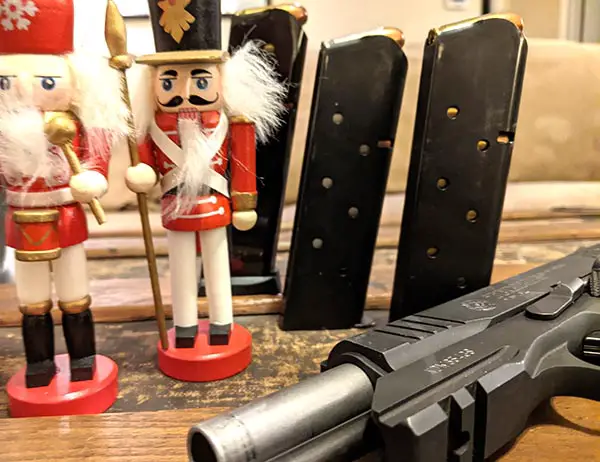 How many magazines do you need? The answer is always "one more." Spare magazines are a relatively budget friendly gift for your gun owner. However, you'll notice that the price can stack up pretty quickly when you buy in multiples.
While not the most glamorous option on the list, this is a solid gift that every gun owner can appreciate. Drop a couple in your gun lovers stocking this Christmas, and they're sure to appreciate it.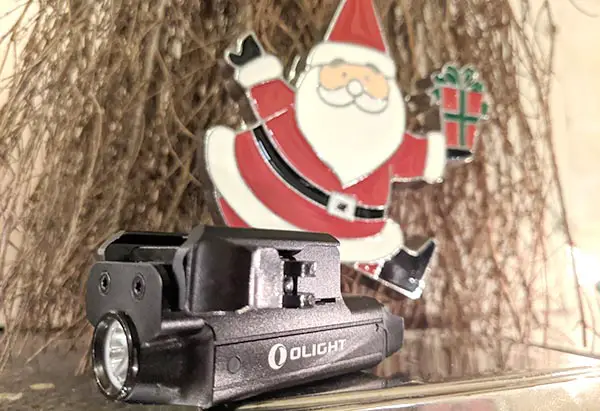 Light up their Christmas morning, with a flashlight in their stocking! Similar to optics, these can get a bit pricey. However, unlike optics there are budget alternatives that are also high quality. Personally, I opted for the Valkyrie model from OLIGHT which you can read more about.
Flashlights are excellent for home defense, and evening outdoor shooting sessions. If you're looking for other quality options, check out this list of the top flashlights. Whatever your choice, a pistol flashlight will make a great gift for the gun owner in your life.
9. Shooting Range Membership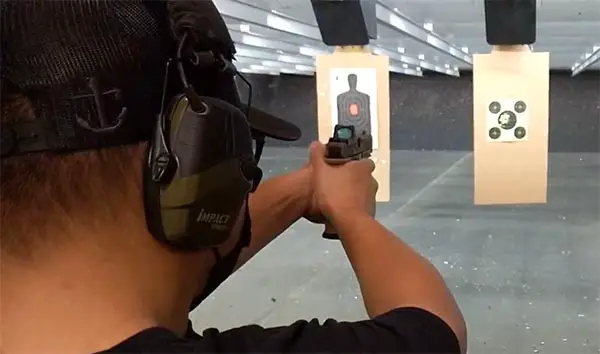 Unless your gun owner is fortunate enough to have enough land to shoot on their property, lane time is a must. Depending on your local shooting range prices, you can either gift a membership or a gift card equivalent to an hour of lane time.
Additionally, this gift pairs well with a box of ammo. Unfortunately, you'll need to do some leg work and call around to your local shooting range to see what your options are. But, if you can't get them a new toy for their range bag then lane time is the next best thing.
10. Electronic Hearing Protection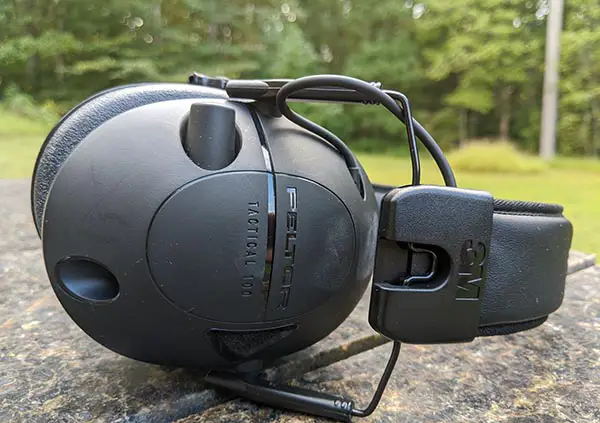 Speaking of range bags, electronic hearing protection is a great gift for your gun owner. Due to the packaging, you may need to remove them from the box to get them to fit in a stocking.
However, electronic ear protection is one of those items you can always have a spare set of. Furthermore, this is a great gift for those who may want to accompany their gun owner to the range.
I personally have both the Peltor Sport Tactical and the Bochamtec Norland as my backups. However, with all the people I bring to the range I am looking to pick up a 3rd set. If you have an avid shooter, you can't go wrong with this is a stocking stuffer!
Basic gunsmithing is one of those necessary evils for any gun enthusiast. Eventually you'll want to swap out for a new set of sights, replace a trigger, or any number of other tasks.
Even if your gun owner isn't into working on their own guns, a gunsmith toolkit is useful to have should they change their mind. Additionally, it will give them incentive to explore the world of tinkering on their own guns.
And that about rounds out the list of stocking stuffer gift ideas for gun enthusiasts. Have you received a gift you were particularly fond of, or given a gift you were particularly proud of? Don't see it here? Leave a comment below so that others can benefit from your experience. If you found this list useful, please share with your network. Happy hunting this holiday season!