For the longest time I put off purchasing a pistol mounted flashlight. But a good set of night sights and a quality flashlight are essential for your home defense pistol. After all, the bad guys are more likely to break in under cover of darkness. Well, today I'm reviewing the OLIGHT Mini Valkyrie pistol light. As far as budget pistol flashlights go, this is probably one of the best on the market.
Fitting The OLIGHT To A Pistol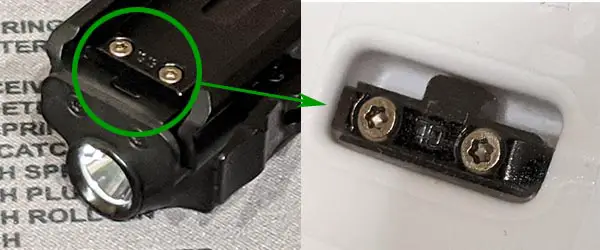 I've tested the OLIGHT Mini Valkyrie on several different handguns including Glock, Sig Sauer, and Walther pistols without issue. However, I did need to switch the bracket shown above when not using a Glock pistol. You can use the provided Allen key which has a star bit on one end to remove this piece and replace with the alternative. Because the flashlight is a budget friendly option, I expected some play or issues with handgun fit. However, I was presently surprised by the durability and versatility of this inexpensive unit.
How Bright Is The OLIGHT: Lumen Output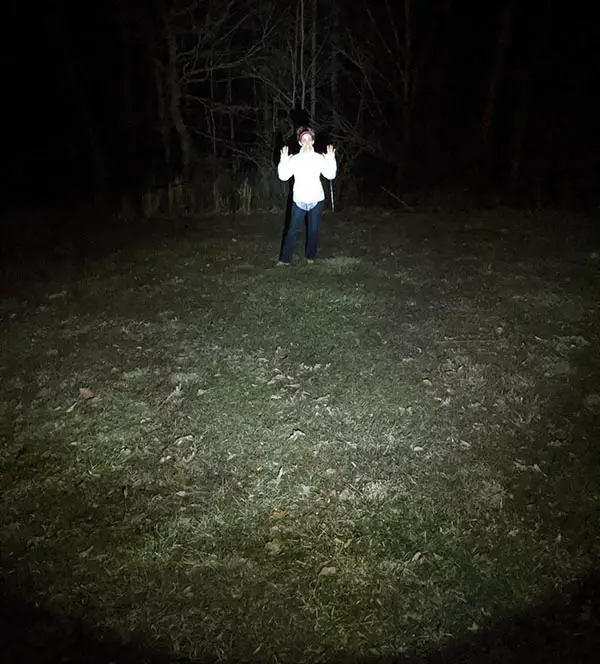 The original OLIGHT Mini Valkyrie emits 400 lumens, which is more than adequate for home defense. Additionally, the Valkyrie 2 emits 600 lumens of light, surpassing the original version. Below is a chart with the beam spread respective to distance from the target, to give you a better idea of illumination capabilities of the OLIGHT:
How Easy Is The Flashlight To Use?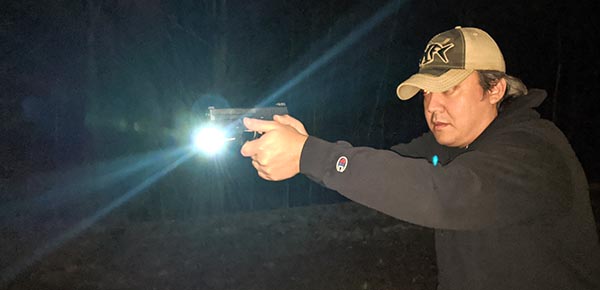 Although the OLIGHT Mini Valkyrie does not have some of the more advanced features found on other lights, it is extremely easy to use. Operating the light with a thumbs forward grip seems almost natural. Additionally, the slim profile won't interfere with your off hand when shooting.
Unlike some of the more expensive counterparts, you won't find a laser setting on this flashlight. Additionally, the flashlight functions are also limited. Pressing the switch on the rear of the flashlight will turn it on. To turn off the light, tap again.
Alternatively, you can press and hold the switch which will keep the flashlight on. Then, simply release the switch to extinguish the light. Although this method seems self defeating, it's surprisingly easy with a thumbs forward grip. If strobe functionality is important to you, then another flashlight might be better.
Ambidextrous Switch Operation
Another feature found on quality pistol flashlights, is the ability to operate with either hand. Because the OLIGHT has an ambidextrous switch, you can easily engage the light with the right or left hand. The Mini Valkyrie requires minimal pressure on the switch which doesn't move very far.
Keeping your flashlight charged up is important, especially if it's attached to your home defense pistol. Oftentimes people neglect to monitor their battery status, which can spell disaster if someone breaks into your house at night. Next, I'll talk about why the battery makes the OLIGHT Mini Valkyrie the best budget flashlight around.
As far as battery life, you'll have more than enough juice to sweep your house for an intruder. Additionally, you won't sacrifice brightness of the flashlight as the battery wanes. To test, I ran this flashlight constantly from a full charge for 73 minutes before the battery died. Furthermore, I've had this light sitting unused for several weeks without affecting the output from the bulb
Additionally, I was able to store my OLIGHT for more than a month without running out of juice. However, I only used the flashlight intermittently, and vigorous use may require a more frequent recharge. If you aren't using the light, you can store for several weeks (or more) without a problem.
Charging Instead of Changing Batteries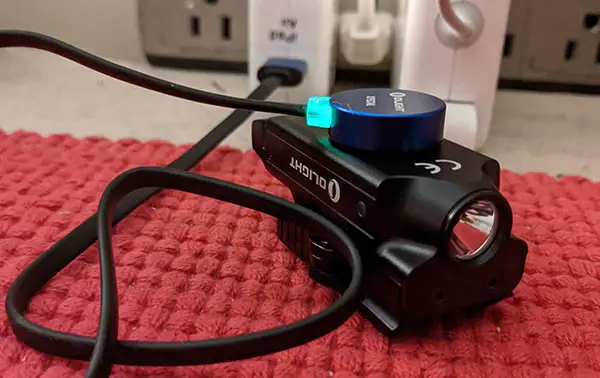 Unlike many pistol flashlights, the OLIGHT doesn't use disposable batteries. You might be wondering why this is a good thing. First, it means no searching WalMart for some obscure battery code and keeping at least one in reserve at all times. Additionally, you'll save money since you won't be buying those expensive batteries.
Second, that means you can recharge the flashlight with the magnetic charging cable. Thus, you can actually recharge the flashlight battery while not in use and still access your weapon quickly if the need arises. However, I don't recommend leaving the charger attached indefinitely, though I'm not sure if it is detrimental to performance. Finally, the charging cable uses a USB connection and can be used with any adapter.
OLIGHT Mini Valkyrie Weight Distribution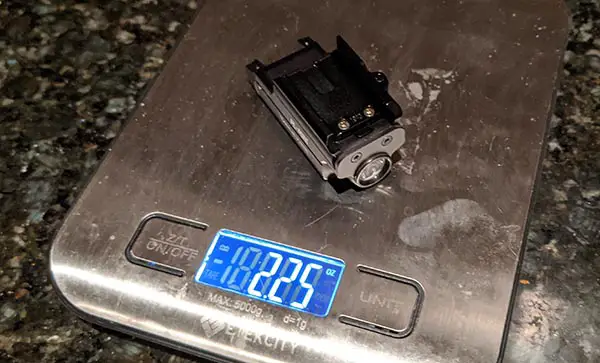 Weighing in at a mere 2.25 ounces, the OLIGHT is extremely light weight. This means your muzzle won't dip while aiming down the sights. Additionally, the slim profile coupled with the low weight, means your grip won't be compromised in any way. Although the unit is light, it's fairly durable.
Let's talk dollars and cents for a second. With a price tag between $80 and $90 (depending on model) the OLIGHT gives you comparable performance to other flashlights. When compared to the more expensive flashlights, the cost differential becomes evident. If you're looking solely for a mounted flashlight, then the OLIGHT delivers at a fraction of the cost and makes it an affordable alternative.
However, if you're looking for a more robust set of features, then another flashlight is going to be better. Althought, with a few exceptions, you're going to shell out more money for these types of models.
OLIGHT Variant: Mini Valkyrie 2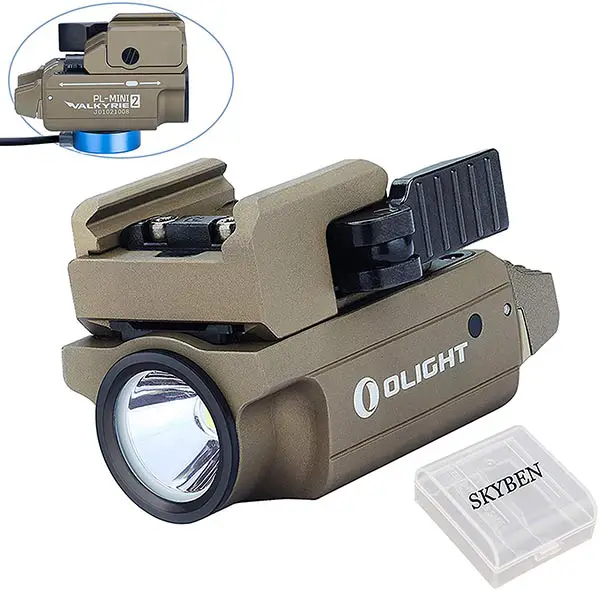 Honestly, if I had to purchase this flashlight again, I'd have opted for the Mini Valkyrie 2. Admittedly, I saw that the original version was $10 cheaper. Additionally, I didn't think the features were that different, despite the Mini Valkyrie 2 boasting a 600 lumen output.
However, hindsight being 20/20 I would purchase the Valkyrie 2 instead. Although I didn't think the adjustable light position was important I can understand how it would make this flashlight better suited to full size model handguns. While not a deal breaker, the color option is a nice choice not offered on the original.

If you're looking for a quality pistol flashlight at a reasonable price, I highly recommend the OLIGHT Mini Valkyrie. This flashlight does one job, and does it well. With a slim profile and light weight, this pistol mounted light won't mess up your aim. The easy to charge unit will save you tons of money on batteries. Finally, the low cost means you'll have money for other handgun purchases (like extra mags)! For anyone looking to buy the best budget pistol flashlight give the OLIGHT a try.