Today, I'm going to be talking about the Mantis X3 Shooting Performance System (Mantis X3 for short). As a part of the Mantis X3 review, I'll talk about some of the configurations and features within the associated app. Furthermore, I'll provide screenshots and animations for the setup and usage of the application. Needless to say, I highly recommend the Mantis X3 if you want to take your shooting to the next level.
The Mantis X3 comes in a formed leather case and the logo embossed on the cover. Because the Mantis is small, keeping track of the unit by itself would be troublesome, so it's good that the carrying case was included.
Soft foam with a cutout protects the actual Mantis X3 unit. Dual zippers keep the case closed. Additionally, there is a mesh pocket  on the interior to house the charging cable. Ideally, the case would be a hard shell, but this isn't really a deal-breaker.
But, enough about the case. You came for the Mantis X3 review, so lets talk about actually using the unit.
Mounting The Mantis X3 On Your Gun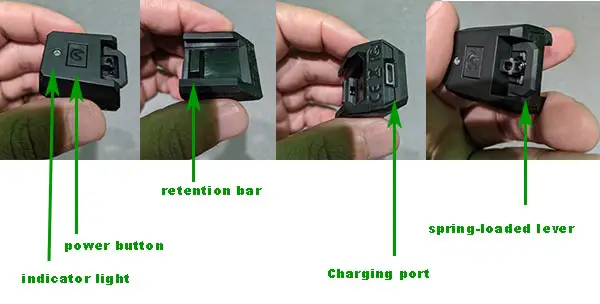 Mounting the Mantis X3 on your gun is relatively easy. On the front of the Mantis X3 there is a small spring loaded lever. Pulling down on the lever lowers the bar that locks into your rail system.

Mantis X3 Mounting Orientation
Fortunately, the unit can be mounted "forward" or "backward." So, how do you tell what the orientation is? If the charging port is pointed at the muzzle end, it's on backwards. Otherwise, it's mounted in what the app considers the "forward" position.
Furthermore, as part of my Mantis X3 review, I fitted the unit on several makes and models of pistols. For each of my pistols, I had to mount the unit backwards. Additionally, you MUST have a rail system or purchase one of the provided adapters.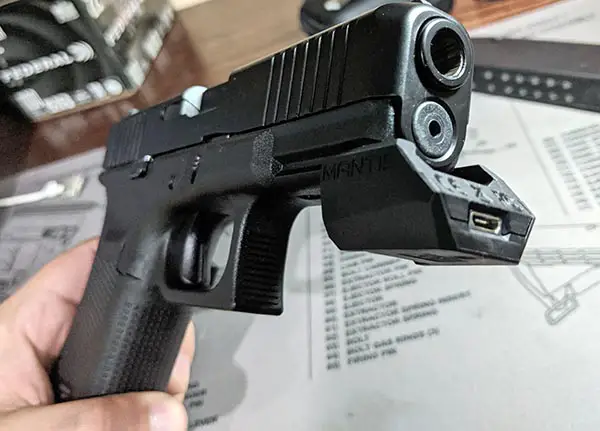 If you'll be using the unit for live fire exercises, make sure the locking bar seats appropriately. Once the lever is released the Mantis should not slide. To remove the unit pull down on the lever and slide off of the rail.
IMPORTANT: One Amazon Mantis X3 review claims this unit does not fit a Gen 5 Glock. This is FALSE, as you can see it is mounted on my Gen 5 Glock 45. I'm assuming the user didn't know you could mount it backwards.
Download & Setup The Mantis X3 App
So, where does the Mantis X3 data get stored? Well, you'll need to download the Mantis app from the Google Play Store or Apple Store. Simply search for "mantisx" and you'll get server several different versions of the Mantis Tech app.
Initial Setup of Mantis X3 App
The very first thing after downloading the Mantis app, you'll be prompted to accept the data and privacy policy agreement. Seemed pretty standard to me, including how Mantis Tech uses data, and information about location data.
After accepting the privacy policy, you'll be prompted to create an account. Conveniently, you can use your Facebook credentials to login. However, you can also use your email address to create a separate account.
Additionally, these steps tell you where to access your data online. To see your accumulated shooting data, visit train.mantisx.com and login with your credentials.
Preparing To Use The Mantis X3
Alright, so you've downloaded the app and you've purchased the Mantis X3 and are ready to do some dry fire (or live fire) exercises. First, you need to turn on the unit and connect it to the application.
To turn the Mantis X3 on, press the button on the bottom of the unit. Next, with the Mantis attached to your gun, lay the firearm on a flat surface and press the "Connect" button on your app screen. It's important to leave the gun on a flat surface for pairing. If the unit is moving the app will not sync.
Next, you'll need to complete some basic settings for your shooting session to begin collecting data.
Handgun & Shooter Settings For The Mantis
When you navigate to "Open Training" for the first time, you'll be prompted to complete some basic settings. Below are the different settings you should set:
Live or Dry Fire
Shooting hand
Mantis X3 Orientation
I won't go into too much detail on this, since it's fairly straightforward and the app does a good job explaining. The above are the basic settings you need to begin collecting your data. Navigate to "Open Training" and press "Start" in the app. Congratulations, you're done!
However, you can optimize your experience and organize your data so it's not just a jumbled mass of points on a chart. Next, I'm going to talk about some additional settings for avid shooters.
Tracking Different Guns Separately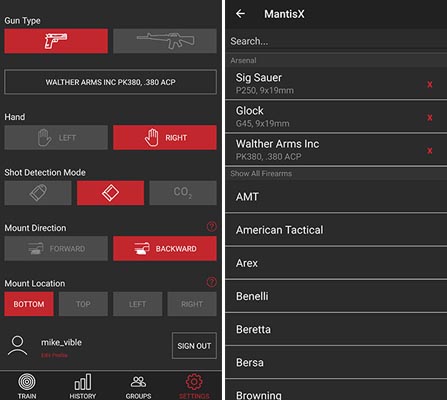 If you're like me, you have more than one handgun. Shooting proficiency can vary from firearm to firearm (as displayed above). Therefore, you'll want to organize data for different guns separately.
To track different handguns using the Mantis, navigate to the "Settings" section using the far right icon on the lower portion of the Mantis app. Here you can select a make and model of your handgun, along with basic settings for that handgun.
Additionally, once you've configured your settings for a given handgun, those settings are saved in your "Arsenal." Simply click the red "X" next to an arsenal entry to remove. This allows you to switch between multiple handguns on the range with a few clicks.
If your friend has a different handgun, you can even set them up on your account. However, this data will be stored in your account. They'll need to create their own account to track data separately.
Dry Fire v. Live Fire With The Mantis X3
Tracking your dry fire and live fire data is super simple with the Mantis X3. Before you run through your drills simply click "dry" or "live." Each shooting session begins when you click the "start" button and ends when you click "stop."
Additionally, there are some training systems out there that allow for CO2 based recoil. The Mantis even supports those training methods.
Your dry fire data will look much cleaner than your live fire data. However, you can compare your shooting technique and verify the differences in your actions when you know the handgun isn't loaded!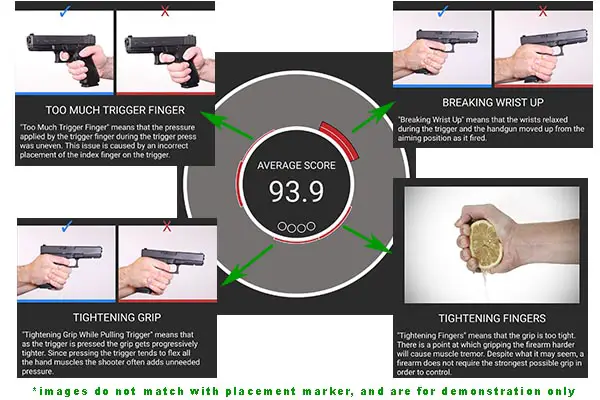 The Mantis X3 will provide live feedback, in the form of a little tutorial picture of correct and incorrect technique along with a brief description when pressing the red area of the target. Of course this is short lived and used for correcting mistakes on the fly. However, you can also review historical data to see your progression.
Additionally, you can filter your historical data using the "filter" option at the top of the shooting history. You can review your progression with a given gun or compare all your different live fire data.
IMPORTANT: During live-fire shot placement within the app does not necessarily reflect shot placement on target. If you're looking for that kind of POI feedback, you may want to try something else.
My first attempt to review my data, was a bit frustrating. After all, you simply see a shooting score for your most recent shot. However, I quickly learned that swiping left or right shows you several more screens of data on the Mantis app.
You can see a line graph of your shot scores to see if you're getting shooter fatigue: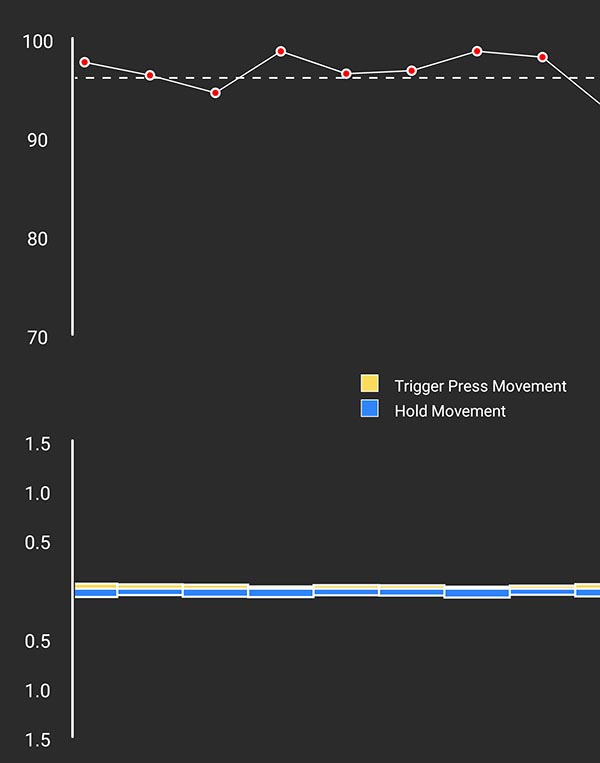 Or, you can see the timing of your shots to see if you're having trouble regaining proper sight alignment. During dry-fire timing varies due to resetting the trigger on your pistol.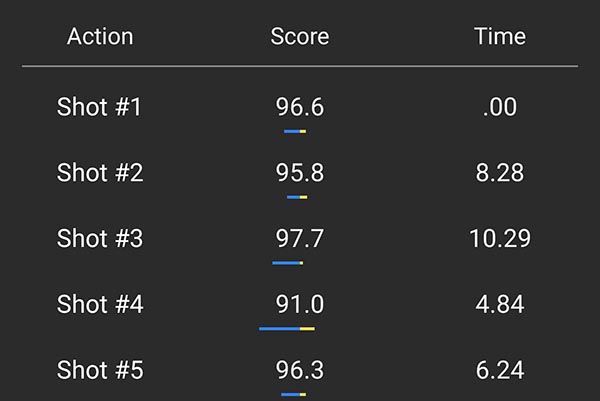 However, my favorite feature of the Mantis app is the muzzle movement tracker!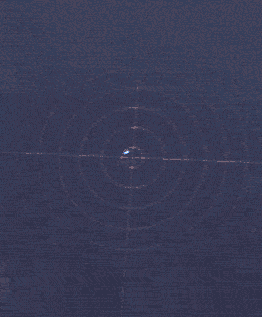 If you really want good feedback about your shooting technique then this tool is invaluable. Whether you are pushing the shot, anticipating the recoil, or any other problem you can usually diagnose it using the muzzle movement tracker.
What makes this tool so useful is it tracks data for 200 milliseconds before and after the trigger break using color-coded lines. Moreover, you can see an animation of your muzzle path.
Select the shot you wish to see an animation for, and click the ">" play button and watch the magic happen. Above is an animation of one of my dry-fire shots (apologies for the quality, couldn't screen record my phone). Beware, it gets a bit erratic on live fire following the trigger break.
Battery Life & Recharging The Mantis X3
One thing worth noting about the Mantis is that it has a rechargeable lithium battery and included charging cable. I can't speak to the runtime, because I recharge after a handful of range trips.
Each of these trips tend to be 1-2 hours. I expect you can run this thing for 10 hours without a recharge assuming you aren't constantly re-connecting to the app. Although I haven't timed it, I can recharge the unit in about an hour.
Sharing Mantis X3 Data Between Shooters
Unfortunately, this is one feature of the Mantis I don't have experience with. Not for lack of trying, but I don't have anyone who has their own Mantis so I can share data.
However, it appears to be pretty straight forward to train with others. You'll need to create a group and add a person by their username or email. If you end up purchasing the Mantis and want to share data, feel free to shoot an email to admin@everydaycarryconcealed.com and I'd be happy to train with you!
My Shooting Experience With The Mantis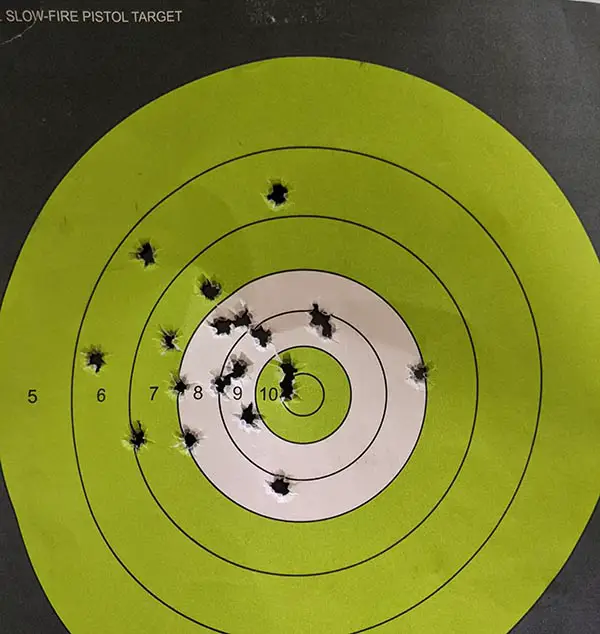 If you can't tell from this Mantis X3 review so far, I highly recommend this tool. Not only is this shooting improvement tool a blast to use with friends, it provides actionable feedback. Although I primarily use this as a dry-fire training aid, it's both fun and functional on the range.
With that being said, I have one problem with the Mantis. I can't use it with my holster. Of course the intent is to diagnose and fix shooting technique issues which is does masterfully. I just wish I could see if my draw technique affects my trigger control.
Other than that one minor drawback, I find this tool is incredibly useful and it has helped me immensely. Above is my most recent dry run for my instructor qualification, 20/20 @ 45 feet, after having used the Mantis for a month. Suffice it to say, I did not have a passing score prior.
Well, there you have it a comprehensive Mantis X3 review and basic user guide. Hopefully you end up getting one and we can share training details through the app. If you've found this review helpful, consider sharing with your other shooting friends, or following me on Facebook.