Finding a good range bag is essential for a successful range trip. Digging around your bag is not only a waste of lane time, it's also incredibly frustrating. However, the Osage River Tactical Range Bag is a solid choice with decent storage, organization, sturdy construction, that won't break the bank.
Osage River Range Bag Features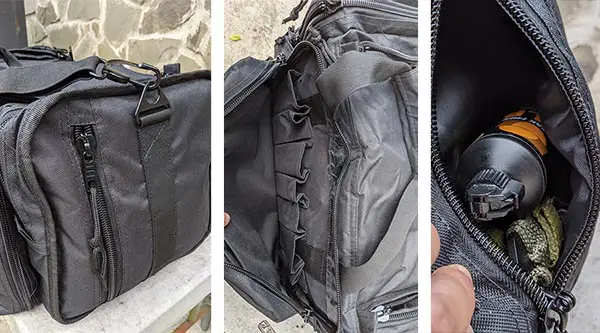 The Osage River Tactical Range bag has both carry handles and a shoulder strap for lugging your guns, gear, and ammo to the range. Additionally, it has several pockets with static organization features, such as magazine holders and dividers.
I would say the size of the Osage River range bag is slightly smaller than the NPUSA duffel bag. For the purposes of this review, we opted for the "standard" sized range bag. However, Osage River also offers the smaller "light duty" range bag if you want a more compact version.
Storage Capacity Of The Osage River Range Bag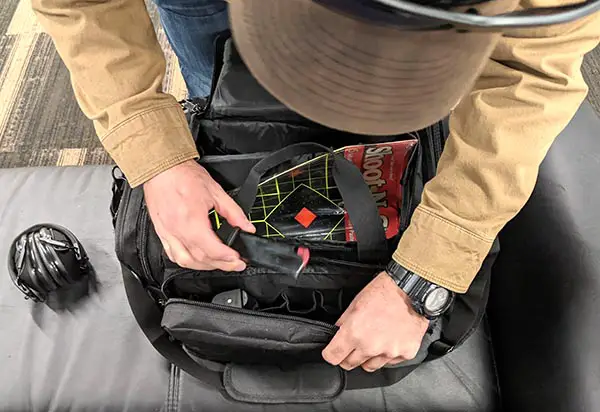 Tactical Range Bag: Number of Pockets
Five zippered pockets occupy the outside of this range bag. Four of these pockets run the full width and height of the bag on their respective sides. Additionally, there is the larger zippered main compartment. Finally, there is a smaller zippered pocket the front face of one of the end pockets.
The smallest zippered pocket, on the end, is great for things like; a multi tool, a bore snake, gun oil, or a speed loader. Unfortunately, fitting your eye and ear pro is going to be a bit snug.
Each of the large end pockets is capable of holding a small case. Pictured below is a set of full-size binoculars with soft cast for sizing reference, but a medical kit would also be a good fit. As you can see, there's even room to spare, and a small pistol case could probably even fit.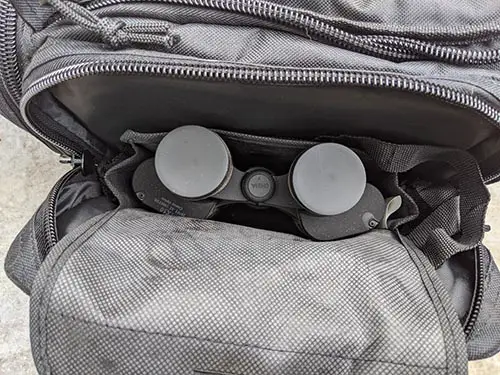 Unlike the side pockets, the front and back pockets are configured with both mag pockets and folder style separators. I'm not a huge fan of this setup. I prefer individual pockets as opposed to dividers within a larger pocket.

However, if you have different types of small targets (e.g. splatter vs dot drill) you could easily separate them using the folder separators. I'd say that anything over 8 inch targets will need to be folded to fit.
If you're looking for an abundance of magazine storage, then the Osage River Tactical Range Bag is for you! With 14 magazine pockets, most shooters can bring two or three pistols and have plenty of mags already loaded up.
These mag carriers are stitched into the bag, so you won't be able to adjust them. Although they fit every pistol magazine I tried, they are not suitable for rifle magazines. If you need rifle mag storage, your best bet would be to throw a couple rifle mags in the folder separators I talked about earlier. Alternatively, you could run them in one of the side pockets.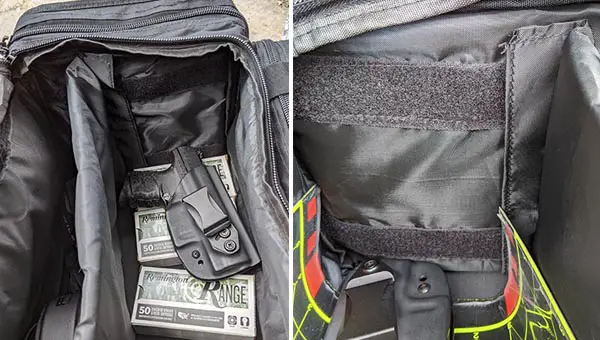 One feature I was particularly fond of, was the Velcro divider in the main compartment. A velcro strip runs the width of the bag, and you can place the foam divider for optimal usage of space. You can see an image of it above.
My buddy uses his to store his eye and ear protection, and leave the other side for ammo and of course his pistol.
Tactical Range Bag Style & Color Options

Another nice little perk of the Osage River Range Bag is that is comes in a variety of configurations. In addition to the light duty and standard duty sizes, you also have several color options. It's worth noting that the pink and teal colors are not available in the smaller range bag.
The smaller range bag is significantly smaller in terms of overall storage space, and coming in at 1064 cubic inches. Meanwhile the standard bag comes in at 2340 cubic inches. If you bring multiple handguns to the range I suggest the large version.
Additionally, if you need to pack both rifle and pistol mags, then the standard Osage River range bag is best. However, if you only have one pistol and one type of ammo then the light duty should suffice.
Although this range bags configuration isn't to my liking I do think it is a fine range bag. The price point and sturdy construction make it a decent buy. Hopefully the information and photos contained within this review of the Osage River Tactical Range bag have given you some helpful information. If you have any questions, leave a comment below.