I was in the market for a new range bag after abandoning my free F150 duffel bag. Having used that for several years, I knew what was required for a good range bag. On Prime Day, I decided to pick up the NPUSA duffel bag at a discount. For those wondering whether this was worth the investment, I'll say that I couldn't be happier with the way this 22 inch duffel has performed thus far.
NPUSA Duffel Bag Features
The NPUSA duffel bag is kind of a vanilla style duffel. It has the standard carry handles with velcro strap to join them as one. Additionally, it comes with a canvas strap for over the shoulder carry. However, it does have a significant number of pockets which make organizing smaller shooting supplies a breeze. Furthermore, there are a couple plastic D-rings that are great for attaching carabiners. Durability is to be determined, but they haven't snapped yet. Although I would avoid attaching anything of significant weight.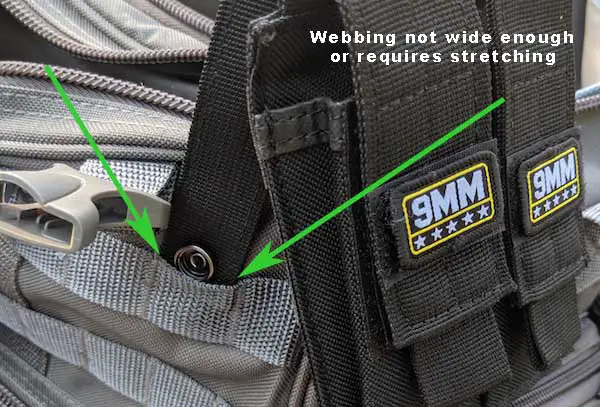 Unfortunately, the MOLLE webbing on the bag is little more than for show. As you can see in the above image, standard pouch straps won't fit through the MOLLE webbing. I tried several different MOLLE pouches to make sure it wasn't one particular type that didn't work with the NPUSA duffel bag.
If you're willing to pick up some aftermarket D-rings, then you'll likely be fine. Also, if you want to take the time to stretch the canvas you may be able to make them work, but it isn't easy. Alternatively, if you have a pouch that uses a thin metal clip, then it may be compatible with the MOLLE webbing . Below is the image of one of my universal mag pouches attached to the webbing on the outside of my duffel bag.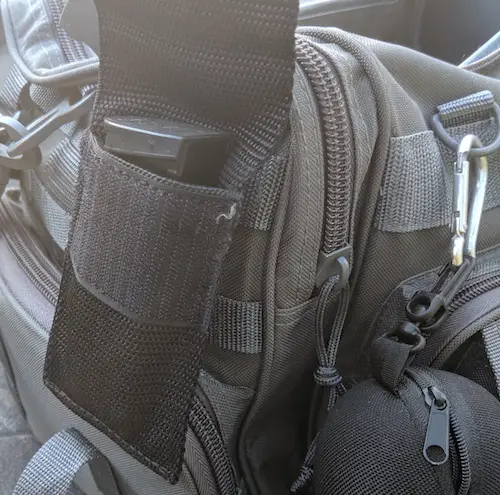 Storage Capacity Of The NPUSA Duffel
Alright, so I've touched on one issue I have with this duffel, now lets talk about what makes it a good buy. If you have a ton of smaller range gear that you need to organize, then this duffel bag is ideal. With an array of pockets and retention styles, you'll be able to fit, spare mags, ammunition, shooting safety gear, and more. Basically, it can hold everything you'll need for a range session.
This duffel bag boasts 9 external pockets plus the large main compartment. On the front of the bag, there are 5 small pockets. Additionally, to either side of the NPUSA duffel bag there are two medium sized zippered pockets. The first of these side pockets runs the full height of the bag, while the other is about half the height of the duffel. Finally, the main compartment is a 3/4 zippered pocket, so the top flap can be folded to easily rummage through the bag contents.
There are no internal pockets, or hidden compartments, on this duffel bag. What you see, is basically what you get. But what you get is a whole lot of storage and organization!
NPUSA Duffel Storage Details
So we've talked about the number of pockets. However, this doesn't really give you any insight into how this duffel bag functions for housing your range supplies. Next I'll discuss the retention methods and pocket sizing, and use common range supplies for reference.
Front Pocket Retention and Size
As mentioned, there are a total of 5 pockets on the front face of the NPUSA duffel. Each of these runs roughly half the height of the bag. Of these 5 pockets, 3 are zippered and 2 use buckle retention. The 2 buckled pouches sit directly on the front of the left and right zippered pockets. I use the zippered pockets for smaller shooting supplies, like gun oil, speed loader, and bore snake.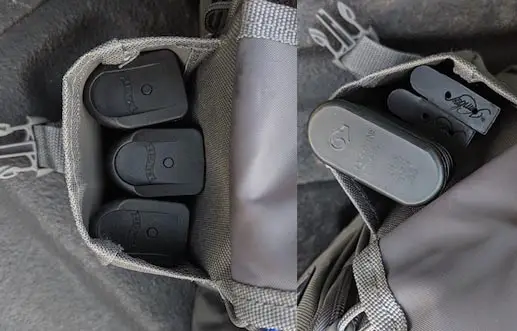 All 5 of the pockets are tall enough to house standard capacity magazines. Single and double-stack magazines are not a problem and you can fit 3 double-stack magazines wide. It's worth noting that I was able to fit a 10 round (extended mag) for a 1911 (.45 ACP)  in the two buckled pouches, but only because the flap and buckle could fold over the magazine base plate. Above is a top view of the front pouch of NPUSA duffel loaded with magazines of varying height — notice the extended mag sticks out a bit for the image on the right.
There are two sets of pockets on either end of the duffel bag. One pocket runs the full height of the duffel bag, the other runs about half the height. Both sets of pockets are zippered. Above the smaller pocket are two rows of MOLLE webbing.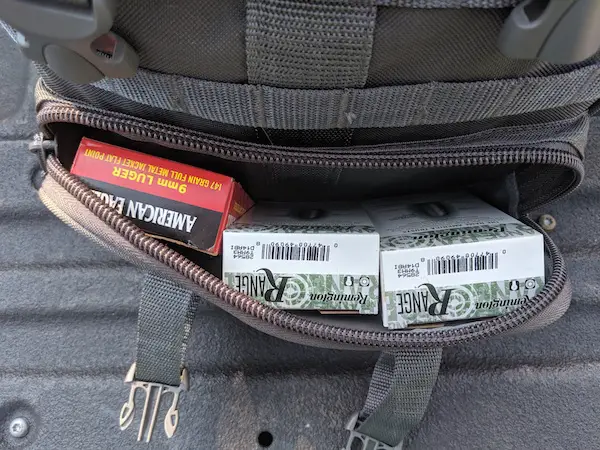 As for the capacity, I can comfortably fit 3 boxes of ammunition (50 rounds each) in any common pistol caliber inside the smaller pockets. You'll need to stack them in a portrait manner to allow for maximum storage capacity. It's also worth nothing that I can fit several boxes of shotgun ammunition (3 boxes of 10 shells – 2 3/4″ 1 oz.) in these same pockets. However, it is a bit snug, so unless you're going for an extended shotgun session it's probably best to store the 5 shell boxes instead.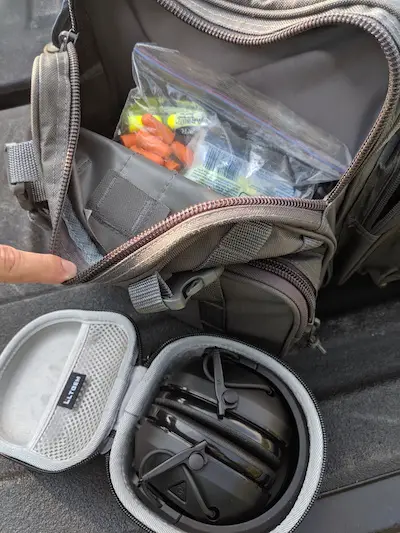 The larger of the pockets I use to house various medium to large size gun range supplies. On one side I keep all my ear protection. This includes, two sets of earmuffs (one of which is in a clam shell style case) and a small bag of ear plugs (see the above image). The other holds my medical kit and tourniquet (see below).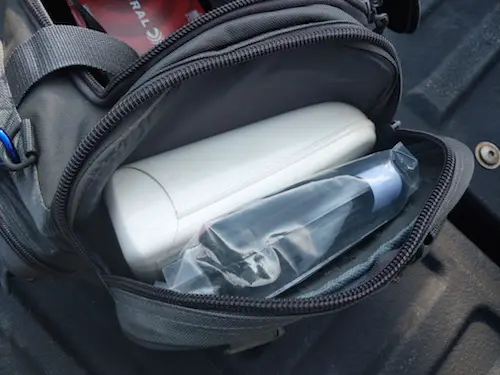 Unlike many shooters, I try to keep the large center compartment fairly empty. Generally, I'll roll up some targets and throw the tube in my bag on my way out the door. However, this portion of the bag can fit most any shooting accessory with ease, short of a rifle of course. I've had everything from the hard case for my 1911 to a rolled up shooting mat stuffed in this compartment.
I've left a few boxes of ammunition inside my bag for visual reference, but as you can see in the below image, there is a decent amount of space. The 3/4 zipper (which all zippers are on the NPUSA duffel) allows you to fold back the flap and dig through your range bag's contents easily. My one qualm is that the base (the black square) seems a bit flimsy, so I plan to replace mine with tempered hardboard for support and stability.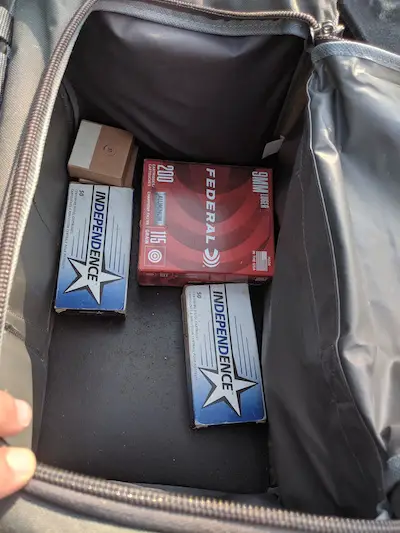 Although I opt for more drab colors (thus the gunmetal grey choice) the NPUSA duffel comes in a ton of color options. They've got camo variations (including one with neon pink accents for the ladies), to bright orange for the EMS community, and your standard black. You can check out all of the options here, on Amazon.
If you're looking for a reliable, and well built range bag on a budget then this is it. While I am not a fan of duffel style bags for everyday carry items, this bag could definitely be converted for that purpose. I'm sure there are more than a few emergency response and/or law enforcement who use the NPUSA duffel bag for their everyday items. Hopefully one of them will weight in on this review (hint, hint). However, if you're looking for the best gun range bag, then the NPUSA duffel is definitely a contender.