I admit that I took a bit of a chance on the Concealment Express kydex IWB holster. Having no prior experience with, or knowledge of the company I was skeptical of the quality this IWB holster would offer. However, with the price tag on this holster I figured it was worth the risk. Let me tell you, I was thoroughly impressed with what this IWB holster had to offer. Now, I use this holster for my everyday carry pistol which recently became my Walther.
For such a small and slim IWB holster, the Concealment Express kydex holster has a ton of configuration options. Additionally, the holster is made to be worn in multiple locations so you aren't pigeon holed into one concealed carry position. The kydex isn't the most comfortable holster I've ever used, but the small holster doesn't impede in so much as to render it unusable.
Similar to many IWB holsters on the market, this kydex holster is form fitted to specific models. My holster is fitted for my Walther PK380. Similar to the Blackhawk Serpa, this holster is setup for specific models. However, from what I can tell any model pistol that shares the same design, regardless of caliber will fit. Although, I can only speak to my experience with the Walther which doesn't have a comparable model chambered for a different round.
Adjusting Pistol Retention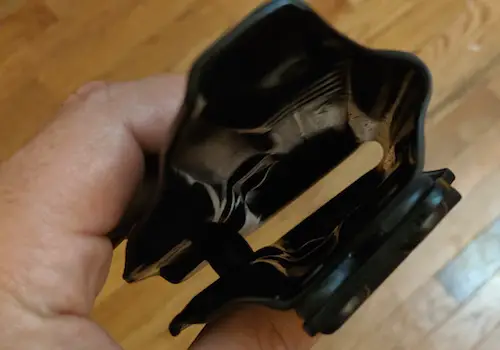 At first glance, I thought that pistol retention would be out of the question for such a tiny holster. However, there is a lone screw below where the trigger guard rests that can be adjusted to tighten the retention on your pistol. Unfortunately, retention adjustments are not as fine tune capable as other holsters I've used.
That being said, some adjustment capability is better than none at all. Unlike the Alien Gear Cloak Tuck, there are not additional grommets provided so tension is controlled by the single Phillips head screw only. There is an audible click when your pistol is fully seated in the holster, but the handgun is held in place by friction only.
Adjusting The Cant and Ride Height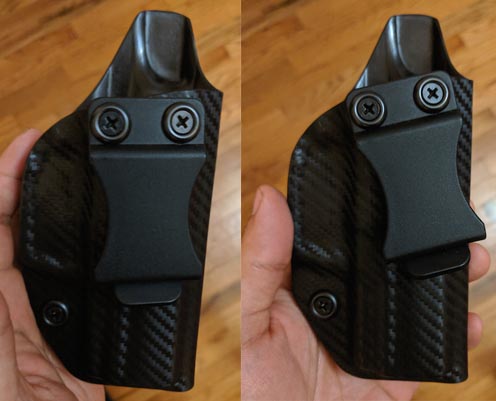 Despite boasting adjustable cant, the Concealment Express holster only adjusts between 0 and 15 degrees (left and right respectively). However, I've found the stock configuration to be more than acceptable. If you need to modify the cant, you'll need a Phillips head screwdriver to loosen the top 2 screws. Once you've got your desired pistol cant, simply tighten the screws. Pictured above are the two extreme angles.
Unfortunately, the cant and ride height are controlled by the same set of screws. Setting the cant to 0 degrees raises the pistol a whopping 1/4 of an inch — maybe. Therefore, for all intents and purposes, your ride height really isn't something you can adjust with this holster.
Draw Orientation And Holster Location
As with many holsters I've reviewed, you'll need to select your draw orientation at the time of purchase. However, the Concealment Express kydex IWB holster comes in both right and left hand draw. This holster can be worn in almost any location on the waistline, including appendix carry (strong or weak side cross draw) as well as hip, small of back, and anywhere in between. As previously noted, I generally prefer a 4-5 o'clock position but found this holster is best for appendix carry, though I tend to carry on my hip.
Concealment Express Kydex Holster Care
There's really no need to clean this IWB holster, the material won't suck up moisture or oils from your skin. However, if you feel the need to clean it, simply remove the screws and wash with soap and water. Afterwards dry the pieces off and re-assemble. Unlike the Blackhawk Serpa holster, there are no moving parts so disassembly and reassembly are a breeze.
Material And Construction
The Concealment Express holster is completely made of rigid kydex, so you wont get much play in the holster during wear. However, the holster does come in several different colors and finishes. I opted for the carbon fiber finish out of personal preference. The simple design means the walls of the holster are extremely thin (probably 1/8th of an inch thick). Therefore, it's almost as if the pistol itself is tucked inside your waistband, but with the benefit of the trigger being completely encased.
My Experience With The IWB Kydex Holster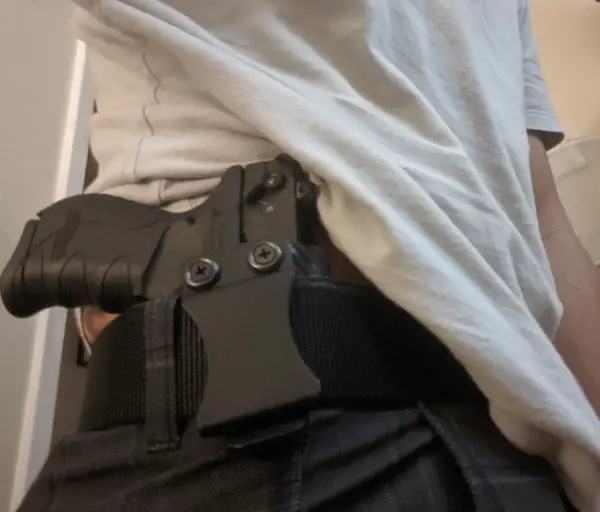 I can't speak to the longevity of the holster, but I can say that the holster has held up to near daily wear for a couple months without any sign of deterioration. Because the holster doesn't have any moving parts, I expect it will be a very long time until this holster breaks down. The clip fits over all of the belts I own, so you don't need to worry about thickness
Additionally, the holster is a breeze to take on and off. I frequently unclip the holster when I'm riding in my truck. However, the holster is just fine resting on my hip while I'm sitting at my desk at the office. At the range, un-holstering my pistol is incredibly smooth, and the same goes for re-holstering.
Only time will tell if this holster can stand up to the rigors of everyday carry. However, after repeated use in my daily routine and practice at the range I can confidently say that this holster is a quality option for anyone looking for a minimalist IWB holster. You may not get all of the options on more expensive holster models, but for basic concealed carry the Concealment Express kydex IWB holster is one of the best holster choices you can make.