Some concealed carry practitioners frown on deep concealment methods. Oftentimes, the added time required to un-holster your weapon is seen as less than ideal. However, deep concealment techniques, like this compression shirt from 5.11 Tactical, make hiding your pistol much simpler. I picked up the 5.11 as an alternate carry method for business casual situations like the office. This shirt is ideal for carrying a pistol when wearing multiple layers. In addition to being very comfortable, the 5.11 Tactical concealed carry shirt cuts down on printing.
5.11 Tactical Concealed Carry Shirt Features
The 5.11 Tactical compression shirt has two pockets located underneath your arms, with the opening sitting just to the outside of you pectoral muscles. Both pockets are deep enough to carry a pistol. However, I dedicate one pocket to carrying my pistol, and the other houses a spare magazine. Elastic compression material keeps the firearm tucked in close to your frame for easy concealment.
Because the 5.11 Tactical concealed carry shirt is universal fit, almost any size and caliber handgun can be hidden using this compression shirt. Generally, I carry a compact pistol as my everyday carry self defense handgun. However, I have tested the shirt with a full-size 1911 in the concealed pockets. It's worth noting that larger pistols can strain the velcro retention. Furthermore, smaller compact pistols will sit deeper in the pocket and may be more difficult to access. Therefore, I believe this method of concealed carry is best suited to compact model handguns.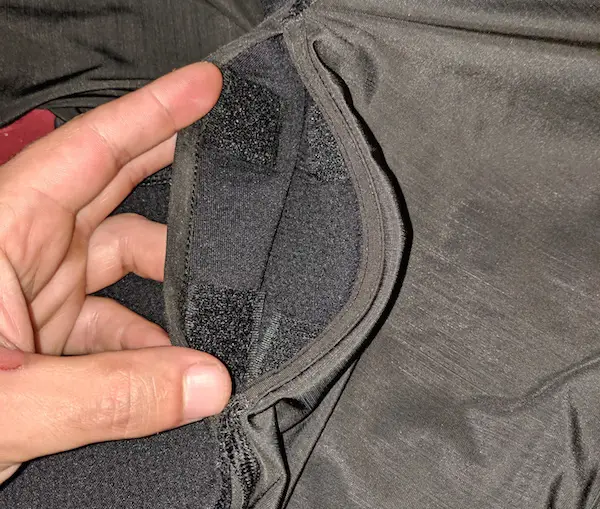 In order to prevent your firearm from slipping out, the compression shirt uses dual velcro fasteners on each pocket to seal in your firearm and/or extra magazine. As with any velcro fastener, these tend to wear out over time. However, the depth of the pockets is sufficient to keep the pistol holstered during most normal daily functions. Bending over at the waist can pose a problem with worn velcro.
This concealed carry shirt runs true to size in my opinion. However, for reference, I weigh between 195-215 depending on the time of yea (don't judge me). I stand at roughly 6′ tall, and wear a large in the 5.11 Tactical shirt. In the winter months, the shirt can get a bit snug around the midsection. However, with that being said I'm sure it shrunk a bit due to my failure to read up on the washing and care instructions.
Draw Orientation And Holster Location
Because the shirt has two pockets on either side, it is made for ambidextrous draw. Depending on the size of your pistol, the draw orientation will vary. However, with a compact pistol, I generally have to un-holster using a 6-12 draw because the handgun is tucked down into the pocket. If you have used a vertical shoulder holster setup, the draw is very similar.
Concealed Carry Compression Shirt Care
Do not dry this concealed carry shirt on high heat. Early on, I treated my first concealed carry shirt like any other garment, washing in cold water and drying on high heat. Well, that was a mistake. Failure to follow the care instructions of washing with warm water and tumble dry low, will result in shrinkage. Furthermore, no fabric softener should be used. Additionally, for those of you opting for the white version, do not use bleach. Finally, I've taken to actually air drying my concealed carry compression shirt just to be on the safe side.
Material And Construction
The 5.11 Tactical pockets are akin to the material on many soft holsters. Each side has a padded strip that runs up and over the shoulder as well as under the armpit. While the strip that runs over the shoulder is only about 1.5-2 inches thick, the pocket padding is significantly larger. However, this padding does not increase the bulk of the shirt in any way.
Because the shirt is 80% polyester and 20% spandex, the material is incredibly smooth. This combined with the padding makes this a very comfortable concealed carry method. As I have mentioned, my only qualm with this shirt is that the velcro on the pockets tends to wear out over time. However, every other stitch on the shirt is solid and I have not experience any fraying or tears in the several years I've owned this.
My Experience With The 5.11 Tactical Shirt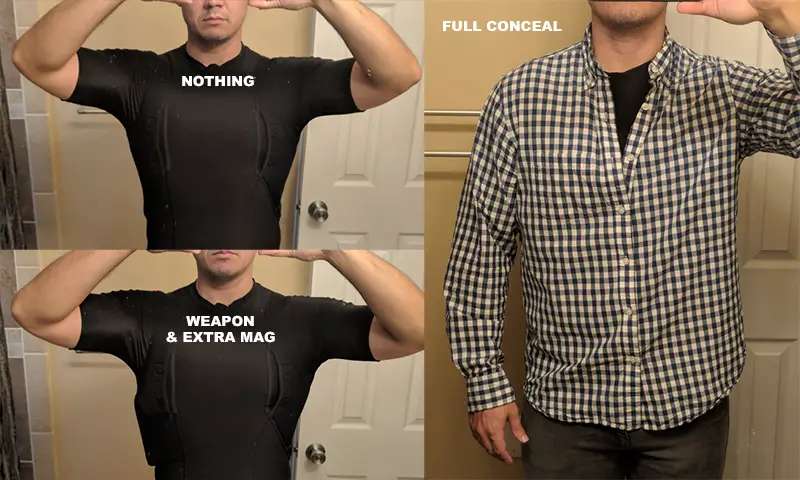 Because of my mistakes regarding washing and care, I ended up picking up a second shirt from 5.11 Tactical. While I can still wear the shrunken version, it fits best when I'm being good about my workout regiment. Otherwise, my belly causes it to ride up a bit. However, the second shirt I got fits perfectly, regardless of my weight.
After owning these shirts for a couple years, I can say that the quality is good. Stitching has remained intact throughout. Unfortunately, my former carry pistol was a bit bulky. That coupled with my weight fluctuations likely contributed to the velcro wearing out prematurely. However, I would still recommend this product but you'll probably need to replace the shirt with a new one eventually.
If you're looking for a quality compression shirt that's comfortable for concealed carry, then the 5.11 Tactical shirt is a good option. Having a deep pocket in addition to the velcro straps means that you can still use the shirt after the velcro has worn out — unlike some other concealed carry shirts on the market.