I picked up the Black Arch Entrada holster in early 2020 and I was surprised at the quality of this holster. If you carry appendix style, then this is a must have for your arsenal. Since I purchased the Entrada, it has become my go-to for carrying my Glock 45 inside the waistband. Today I'll be explaining what makes the Black Arch Entrada Appendix holster such a superb product.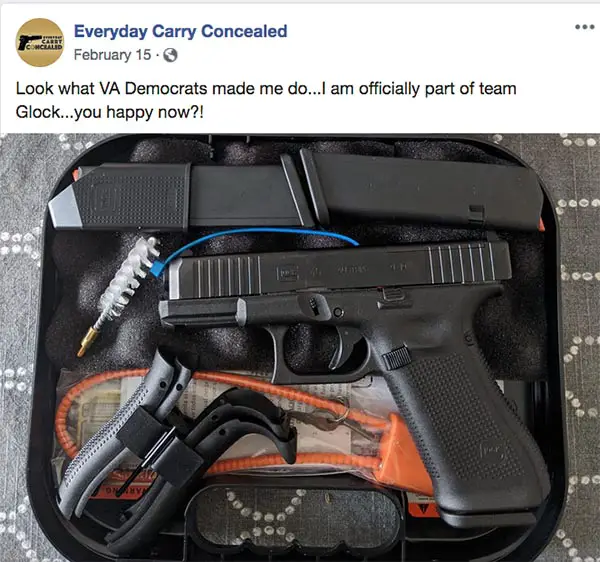 Let me explain the genesis of this exploration into the Black Arch Entrada appendix holster. Back in early February, when the VA senate was discussing new ways to infringe on my 2nd Amendment rights, I broke down and bought a Glock.
Mind you, I never liked the way Glock pistols fit my hand. However, I shot better with my buddies Glock than any of my pistols and it's hard to argue with results. With "magazine capacity" limits looming, I decided it was time.
Anyways, after getting my Glock 45 I needed a holster. After all, what good is a pistol without a holster to carry it concealed? Having no dedicated appendix holster with a side cart, I wanted to give them a shot. After much deliberation and research I finally ended up with the Black Arch Entrada.
Black Arch Entrada Appendix Holster Features
So, what about the Black Arch Entrada appendix holster enticed me to buy it? First and foremost, I needed a holster for my new handgun. Typically, I opt for molded shells because I know that those holsters are meant my specific pistol model.
Second, I needed a holster that was comfortable for everyday carry in the appendix position. Many of my other holsters were dual purpose and could be worn on the hip or appendix. I wanted a holster dedicated to the position I had become accustomed to.
Finally, as I mentioned, I wanted a holster that could accommodate a spare magazine. I was tired of purchasing spare magazine holsters. Keeping track of matching mag holsters and pistols was getting tedious. So why not keep them all in one unit?
Entrada Appendix Holster Handgun Fit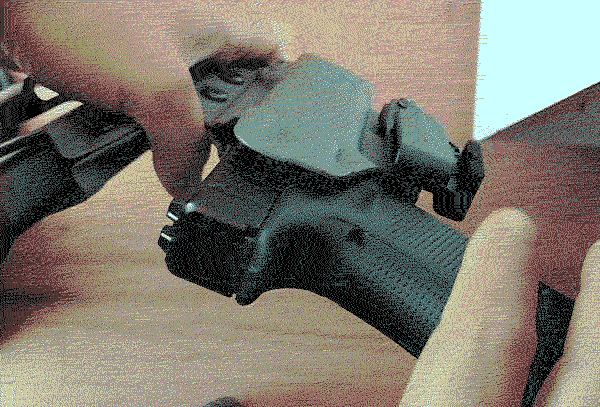 Similar to many of my other holsters, the Black Arch Entrada appendix holster comes with a molded kydex/polymer shell. Though it comes assembled, the shell for the handgun and the magazine are two separate pieces.
I suppose you could modify the retention by adjusting the screws that attach the belt clip to the shell. However, I have not modified the retention in any way since receiving the holster. Additionally, there is an audible "click" when seating the handgun in the holster.
I'd say the handgun fit is "Goldie Locks" for my Glock 45. I can easily un-holster and re-holster my pistol on the shooting range without any problems.
Appendix Holster Side Cart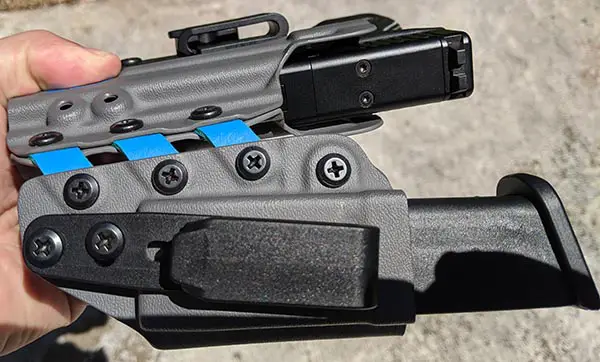 Next, lets talk about the magazine holster portion of the Entrada. The mag holster also contains the second belt clip. Unfortunately, the magazine holster is similar to the molded pistol shell and retention can only be loosened not tightened. However, I haven't needed to adjust the magazine retention either.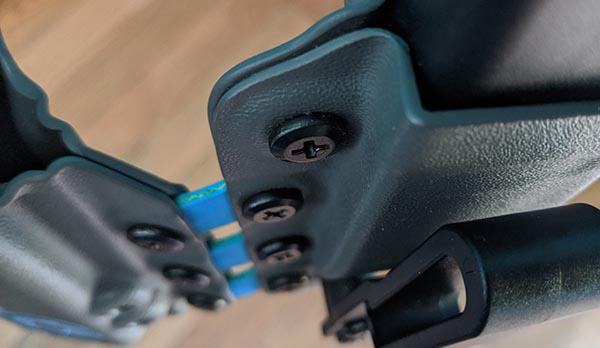 Additionally, the magazine holster is connected to the pistol holster via 3 strips of material. I can't identify what those strips are made of. Above is an image of them along with a detail of the magazine holster clip. The strips are flexible which makes the whole holster setup comfortable for appendix carry.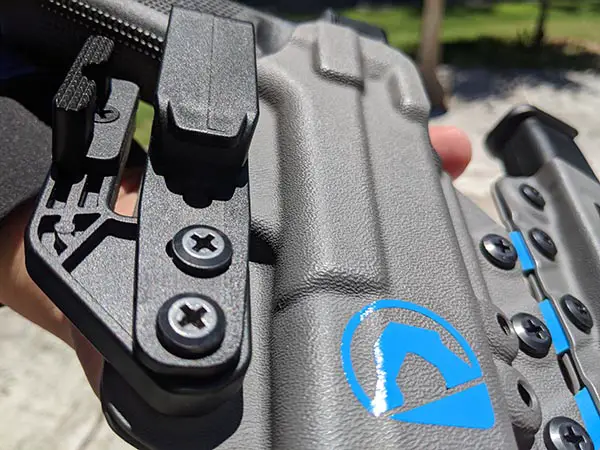 One feature I was super excited about was the holster claw. The claw has a dual purpose. First, the claw forces the holster in toward your body to prevent printing. Second, it serves as a spacer to match the belt clip on the magazine holster.
Additionally, the textured top of the holster claw helps prevent the holster from moving when you are un-holstering your firearm.
Black Arch Entrada Holster Construction
As far as construction goes, I've covered a decent amount of that information already. However, I will say that this holster has exceeded my expectations from what I saw online. At first I didn't understand what made this different from every other molded appendix holster.
At first glance, the dual belt clip setup may seem excessive and/or uncomfortable. But, those three flexible little strips of material I mentioned earlier make all the difference and result in one of the most comfortable IWB holsters I own.
Attaching To Your Belt & Adjustments
The belt clips are incredibly strong. I thought I would break these clips at some point given the weight I put on and the thickness of some of my concealed carry belts. Although, I will say that getting the holster on can take a bit of getting used to because the holster clips are a tight fit on some belts.
Furthermore, any adjustments to the holster (if even needed) can be done with a phillips head screwdriver. Adjusting the ride height is as simple as moving the belt clips down a 1/2 inch and use the uppermost screw holes on the belt clips.
The only feature lacking on this incredible IWB holster is some kind of cushioning on the back of the holster. However, to be honest, it isn't needed.
Black Arch Entrada Holster: My Experience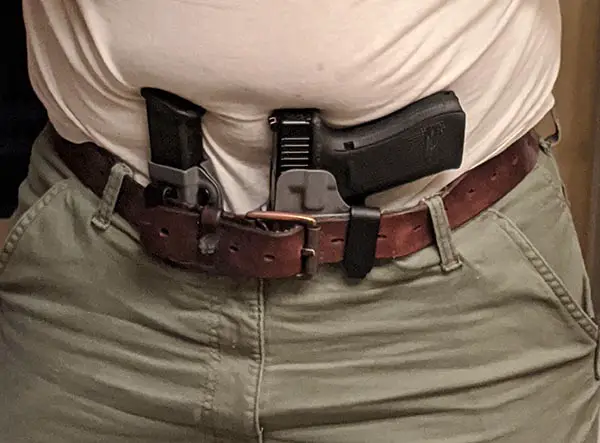 If it wasn't abundantly apparent at this point, I absolutely love this holster. Despite daily wear over the past several months, the holster shows no signs of breaking down. Furthermore, the ease with which I perform drills on the range makes this a must have for anyone who carries appendix.

Prior to investing in the Black Arch Entrada appendix holster, I thought all holsters of this kinds were the same. However, I have comfortably worn this holster to the office, out running weekend chores, and more. Each time I was more and more impressed with the comfort and conceal-ability this holster provides.
My only qualm with the Black Arch Entrada is that it can be a pain to get into place. Not only is it troublesome when getting dressed to head out the door, but also during bathroom visits.
However, the extra time spent positioning the holster is far outweighed by the performance and comfort this holster provides. If I am running to the convenience store I'll throw on my Concealment Express holster because it is simpler.
Is The Entrada Optics Friendly?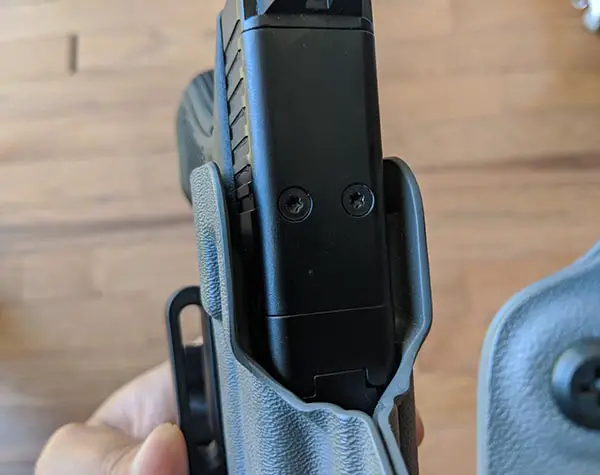 One thing I want to mention is that the Black Arch Entrada appendix holster appears to be optic friendly. I have a cut slide on my Glock 45 so it can accept a red dot sight should I decide to install one.
You can see where the holster ends and my cut slide begins in the above image. Because this holster is form fitted, I cannot verify if this is the case with other models. However, I imagine that this was a feature considered by Black Arch during design.
And there you have it, my review of the Black Arch Entrada appendix holster. I've been nothing but happy with the performance of this holster. If you have any experience with this holster please leave a comment for the community. Additionally, if you've found this information helpful and would like to purchase this holster you can use the link below. This helps me out a ton!