I've owned several different belly bands, and they have all broken down, many within months of usage. Therefore, I was looking for a durable solution when I came across the ComfortTac Belly Band Holster and decided to give it a chance. If you're looking for a belly band that won't break the bank, I highly recommend this holster. It's by no means perfect, but it hasn't broken down with prolonged use so it earns major points for durability. Additionally, there are several features that make this belly band holster superior to others I've owned.
ComfortTac Belly Band Holster Features
I prefer a belly band holster for when I am on the go and need a quick holster option. Belly bands are easy to adjust for proper fitment. Additionally, they can be worn high on the torso, or low around the waistline. There's no need to unbutton pants to put a belly band on. Simply lift your shirt, wrap the band around your belly, insert your handgun in the holster and you are on your way.
The Comfortac belly band holster is so comfortable you don't need to wear an undershirt, though I still do. Additionally, the pistol retention is good so your firearm won't be jostled around. Finally, the version on Amazon I purchased came with a free magazine holster — and who doesn't love free stuff?
Because the ComfortTac belly band is a universal style holster, it will fit just about any model handgun from subcompact to full-size. Despite the weight of a fully loaded 1911, I was still able to function throughout my day at the office without worrying about the security of my pistol. You'll need to decide draw orientation at time of purchase, since the stitching on the holster portion is based upon your selection.
Adjusting Pistol Retention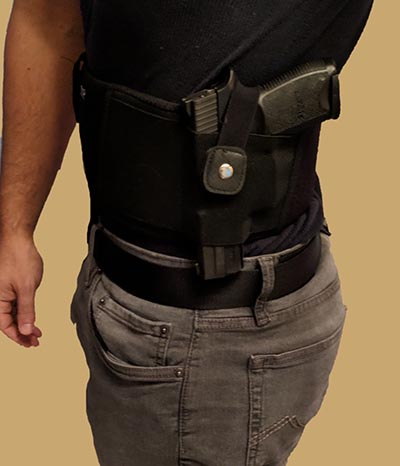 The belly band from ComfortTac uses a strap retention system. However, the pistol is generally fine for light activity using only friction. If you opt for the strap, it secures your weapon with a snap button so there is an audible click when the strap is fastened correctly. How snugly the weapon fits in the holster will depend on the size of your handgun. But the strap itself is elastic, so it works for both small handguns as well as full-size pistols.
Adjusting The Cant and Ride Height
Unfortunately, the cant of your pistol cannot be adjusted. Your pistol will be setup in a 12-6 orientation. However, you can adjust the ride height by changing the position of the belt itself. If you are so inclined, you can wear the belly band low on your waistline so the muzzle is tucked into your pants. Contrarily, you can wear the belly band high so the pistol is positioned underneath your arm.
Draw Orientation And Holster Location
As previously mentioned, the draw is vertical. The holster is stitched into the belt, so there's little in the way of customization. Because of this you'll need to choose your strong side when selecting the draw orientation at purchase. The ComfortTac belly band comes in both right and left hand draw orientation. As far as holster location, I've already covered changing the ride height. However, you can also rotate the belt to position your pistol for wherever is comfortable.
I've tested appendix carry and hip carry with success. I prefer to carry my pistol low on my strong side with this holster. Releasing the retention strap is difficult in the 3/4 carry draw position, and near impossible when carrying in the small of your back. Additionally, it's worth noting that the snap retention system takes getting used to and will add time to your draw.
ComfortTac Belly Band Holster Care
I've worn this belly band for about a year, and haven't needed to wash it. However, despite the soft inner material, I always wear an undershirt with this holster. Should you choose to wear it directly on your skin, you should probably wash it every so often. I did not see any care instructions in the packaging, and there is no label on the belt itself. However, I imagine you can machine wash if you remove the mag holder. To be safe I would hand wash and air dry to avoid shrinking the material.
Material And Construction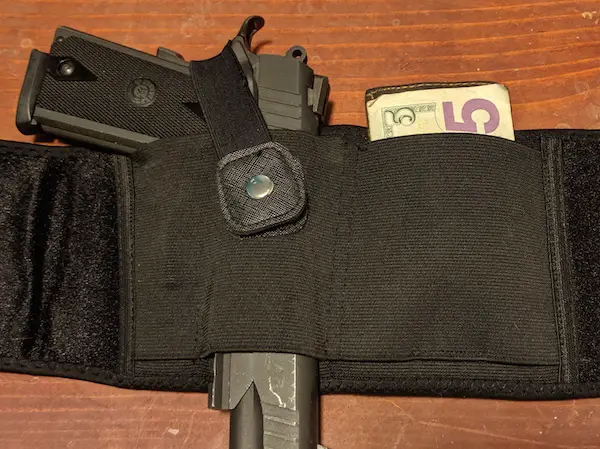 The belly band holster from ComfortTac has a neoprene backing which makes it breathable. However, heat can still build up below the belt, and that's why I wear an undershirt to prevent sweat and oils from soaking into the material. To fasten the belt, there is a strip of velcro as wide as the belt and 2 inches across. The retention strap is stitched to the belt, and is flexible. Over time, this strap is the part that is most likely to fail. The belt itself is 4 inches wide, and material is about an 1/8th of an inch thick so there is decent padding.
Another little perk of this holster is a secondary pocket that sits just to the side of the holster which is pictured above. It's deep enough to house your wallet, spare cash, or even a phone if you're so inclined. While it's not really feasible to use for some everyday carry items, a multi tool or extra cash can be hidden here easily.
My Experience With The ComfortTac Belly Band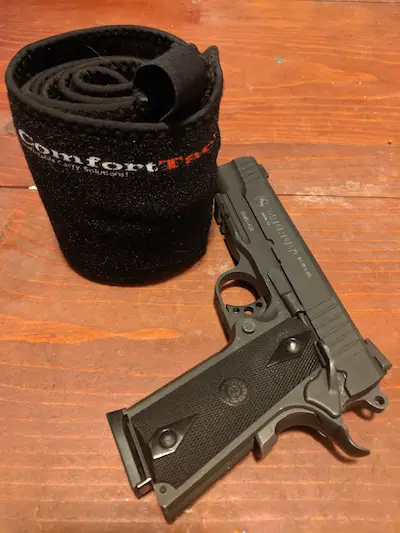 Upon purchasing this holster, I was surprised that I received a free gift. The holster came with a free velcro mag holster. You can change the position of the mag holster as the entire backing is velcro. Unfortunately, this is more of a novelty than an actual bonus. If your magazine plate is not perfectly flat and parallel to the ground, the retention strap on the mag holder is of little benefit. But, it is still usable with an upright orientation.
I've had this holster for about a year, and it shows minimal signs of wear. The retention strap is still intact and useable, though I imagine in the next year it will probably fray and begin to deteriorate. However, despite the belt being held on with velcro, the grip is still sturdy even after a year of repeated use. There has been some bunching on the back of the belt. However, this does not impact the functionality of the holster.
When you aren't using this, the belly band rolls up nicely to save space on your dresser or dump tray. For a quick concealed carry option, simply unroll the belly band and it's ready to go.
For the price, you really can't beat the ComfortTac belly band holster. After prolonged usage, this holster still hasn't broken down like others I have tested. Because of the versatility of carry positions and ride height, this holster is the best holster for those on a budget. With quick deployment and easy storage, it's a great holster choice for your on-the-go concealed carry needs.