Everyday Carry Tools and Equipment
This section is under construction, please bare with me.
Being able to adapt and overcome your environment is part of the EDC philosophy. Ideally, your pack will consist of the necessary equipment to help you accomplish this. I've compiled my favorite EDC tools that either made it into my EDC backpack, or that I carry on my person.
Here's the criteria I used to develop this list of tools:
Versatility – Can this tool be used for multiple uses
Ease of use
Quality construction
Convenience of carry – Can it easily be carried on person, or in a backpack without hindering the user
Top Tools To Carry Every Day
Leatherman OHT MultiTool – One hand operation and an abundance of fixed tools make this the MVP of EDC tools. Quality construction from an industry leader.

Maglite RL1019 LED Rechargeable Flashlight

– Everything you want in your torch. Powerful, not too big or small, and phenomenal run time. All this from a trusted brand.

Off Grid Tools Survival Axe – This is the big brother of the multitool and is outfitted with a versatile set of tools. It's suited to handle bigger jobs where more muscle and leverage is required.
Gereber Mini Prybar – Coming soon!
CARAPEAK Heavy Duty Locking Carabiner – Oversize is great, rated for climbing, can fit whole hand inside to use as handle, and more!

Maglite RL1019 LED Rechargeable Flashlight
Coming Soon!
Off Grid Tools Survival Axe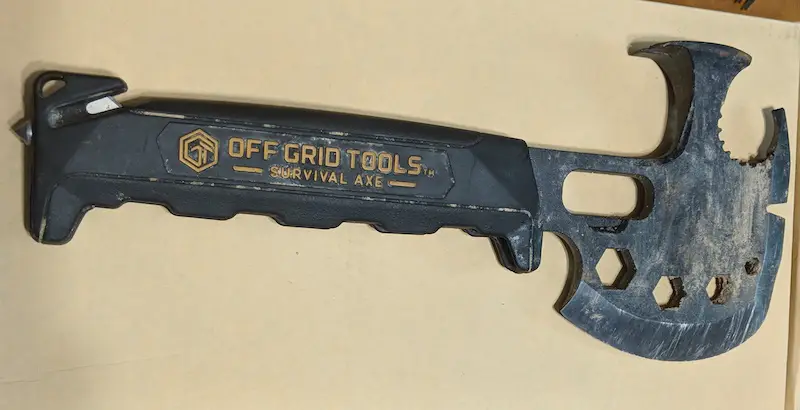 If you work outdoors, or live in a rural area, this tool is a must have for your EDC kit. This heavy duty tool is the big brother of your pocket carry multitool I reviewed above. Definitely meant for larger jobs, the Off Grid Tools Survival Axe delivers on durability and functionality.
Features
First off, lets talk about the bread and butter of the survival axe, the blade. As you can tell from the image above, this thing has been loved. The material is durable, and the blade itself can be sharpened should it ever lose some of it's edge. It's got a black oxide coating to help prevent nature from reclaiming it.
Beyond the hatchet, you've got a built in hammer, and the pry bar is also built into the top. There's a dedicated nail puller, but I think the pry bar works best for this. It has a claw similar to the back of a hammer. Beyond that, you've got multiple hex head holes built into the top, should you ever need to pull a hex bolt.
Finally, you've got a seatbelt cutter built into the handle along with a glass breaker. There's also a bottle opener built in, but I think I'll opt for my Leatherman for cracking open a beer. Using an axe seems like overkill. Of note, there's also a nylon sheath. I'm not sure if this comes with the axe, or if it's been made an add on item. Apparently there's the cloth and a leather version, which is why I think the casing might no longer be included.
All in all, the Off Grid Tools Survival Axe (Amazon Link) is a great addition to your EDC kit. Whether you live in the country, work construction, or just like to take road trips on your motorcycle and camp out, this tool needs a spot in your pack.
Gerber Mini Pry Bar
Coming Soon!
CARAPEAK Heavy Duty Locking Carabiner
Coming Soon!
Your content goes here. Edit or remove this text inline or in the module Content settings. You can also style every aspect of this content in the module Design settings and even apply custom CSS to this text in the module Advanced settings.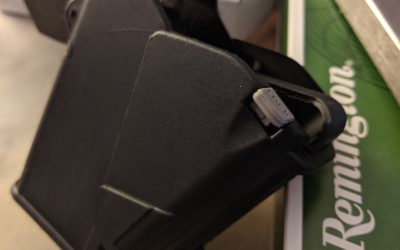 I've needed a speed loader for some time. After using my buddies speed loader at the range I decided that at the very least this thing would save my thumbs on the reload. Eventually I settled on the Maglula speed loader. I couldn't be more happy with this small, light-weight, universal fit speed loader.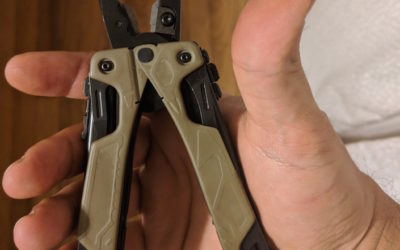 One of the biggest pieces in an everyday carry kit is the multitool. I was tired of using the cheaply made options you can pick up at a discount from your local Walmart. So I decided to test the Leatherman OHT and provide some feedback about my experience.