Take a trip to your local sporting good store (don't go to Walmart), and you'll see shelves stacked with various calibers of ammunition. With all of the different sizes of ammo, it can be a daunting task to select the best caliber for concealed carry. However, without a doubt, the best caliber handgun is the one you can conceal effectively and shoot accurately. For many the best caliber choice for concealed carry is the 9mm. This round has adequate stopping power with minimal recoil. Additionally, handguns chambered in 9mm are often easy to conceal. But, today I'm breaking down various common caliber ammunition and the pro's and con's of each round.
TL,DR notes below. If you're looking to skip ahead, use the table of contents below the star ratings!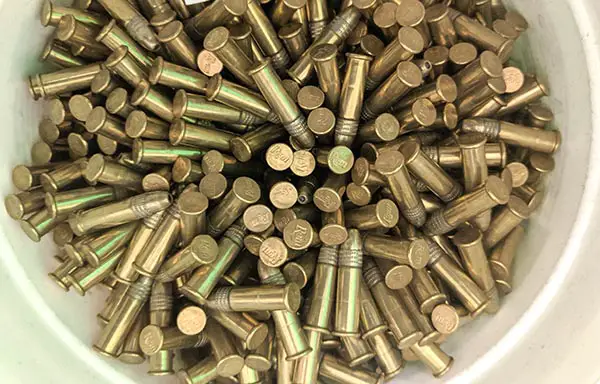 First on our list of common handgun caliber rounds is the .22 LR. More commonly referred to as "22" ammunition, these rounds can be purchased in bulk far cheaper than any other round. More often than not, these rounds are used for plinking rather than concealed carry. However, you can check out the below criteria to decide for yourself if this caliber is suited to be your concealed carry pistol.
The availability of .22 LR ammunition is widespread. As previously mentioned .22 rounds are spectacular for plinking. In addition to the low cost, you can buy these rounds by the brick. Aptly named, because the 500 round boxes of this caliber ammunition are roughly the size and shape of a brick. This caliber is so prevalent, my buddy has even been given some for free as a return customer. You'll be able to find this caliber round at any sporting good store, and up until recently at your local Walmart.
Recoil? What recoil? Honestly, firing the .22LR round results in hardly any recoil at all. This round is great for improving marksmanship. Additionally, firing rounds in succession is a breeze because the muzzle doesn't hop at all. Regardless of the platform, rifle or handgun, controlling the recoil is incredibly easy when compared to almost any other caliber round. Because of the minimal recoil, the .22lr if a great introductory caliber for first time shooters.
When it comes to the best bang for your buck (pardon the pun) the .22LR is leaps and bounds above the other ammunition. I promise you won't find 500 rounds of any other caliber ammunition for a similar price. While I have seen the price spike in the past, at the time of writing, you can get a brick of 40 grain .22 for just under $25, not including tax. If you can find a better deal at a gun show, by all means scoop it up!
Unfortunately, the one area where the .22LR comes up a bit short is stopping power. Man the puns are strong today. In all seriousness, the small profile of this rim fire round coupled with small grain count results in a round that is not conducive to personal defense. While the internet has had some surprising stories about the stopping power of this round, it usually involves a near point blank range shot, and precision round placement. Sure, if you need to drop a rabbit or a squirrel you'll be fine. However, when your life is on the line I don't recommend this round. But, a small bullet is better than no bullet at all!
Ammunition Types: Round Variations
Another fatal flaw with the .22 round is that the variety of ammunition types are limited. Unlike some other larger caliber rounds, you won't find hollow point or other specialized rounds. However, you can pick up some subsonic ammunition which cuts down on the noise. However, that's really the extent of the specialty ammunition. Therefore, I don't recommend this caliber for concealed carry.
Your options for a handgun models in .22 caliber are going to be slightly more restrictive than other common pistol calibers. However, you do have several decent options from Ruger, Browning, and other major manufacturers for comparable concealed carry pistols on the market. Unfortunately, there are also a bunch of .22 pistols designed specifically for competition shooting. Beware when buying one of these models because finding a holster to fit may be difficult!
Rating Metrics
Availability: ★ ★ ★ ★ ★
Recoil Management: ★ ★ ★ ★ ★
Cost of Ammo: ★ ★ ★ ★ ★
Stopping Power: ★
Handgun Selection: ★ ★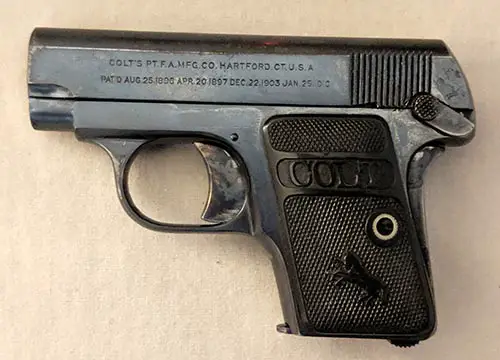 Next we have the bigger brother of the .22 LR in the .25ACP. Basically, this caliber round has all of the cons of a .22 with none of the benefits! However, the handgun models available are very easy to conceal and can even be carried in a pocket or small handbag. But the cons far outweigh the benefits and this is without a doubt NOT the best caliber for concealed carry. Although, having a .25 ACP is better than bringing a knife to a gun fight.
When you can find this round, you'll likely find it in abundance. Your best bet will be to pick this up at a gun show in bulk. However, you could also order it online in bulk. Hoping that a small shop will carry this round in any kind of abundance is unlikely. Usually, I'm able to pick it up from my local sporting goods store. Unfortunately, if they are out of the round they generally can't promise that there will be more in the upcoming shipment. While not super rare, this is a "dying round" and as such will become less and less available.
Similar to the .22 caliber round, a .25 ACP round is going to have very little recoil.The grain count for .25 ACP ammunition is very close to .22 caliber. Generally speaking, the grain count will differ by about 10-15 grains. Additionally, while a .22 lr round is rimfire, .25 ACP is centerfire ammunition. This likely won't impact the recoil that much but it is worth noting. I've fired both .22 lr and .25 ACP handguns and couldn't tell the difference.
Cost per round is another area where .25 ACP ammunition loses some marks particularly when compared to the .22 lr. Ideally, when selecting your caliber ammunition for concealed carry, the cost of ammo will play a significant role. While not always the case (*cough* .380 *cough*) it is generally a consideration. A quick search showed that .25 ACP is more than twice the cost of .22lr when purchased in similar quantities.
The cost variation between the two rounds is likely twofold. First, the supply and demand affects production costs. A popular round like the .22 lr is often used by many firearms enthusiasts for plinking and has numerous pistol and rifle applications. Thus manufacturers produce this in larger quantities and in turn lower the cost. Contrarily, the .25 ACP is used in select firearms and not widely used. Second, the materials used in production affect cost. While a .22lr is a rimfire round, the .25ACP is a centerfire cartridge. Having to use a primer results in an increased cost per round.
I know it seems like I'm just bullying the .25 ACP cartridge, but in all honesty I'm just reporting my findings. Due to the size of the round and relatively low grain count on most .25 ACP ammunition it gets low marks for stopping power. Sure the round is capable of being a personal defense round. But you better make sure you're a crack shot if you intend to put an attacker or intruder down for good.
Ammunition Types: Round Variations
Most ammunition manufacturers are only going to supply FMJ rounds in .25 Auto. FMJ is also known as "ball" ammo and there's nothing special about these rounds. Typically, FMJ rounds are reserved for use on the shooting range. Because it tends to pass directly through (unless striking bone) ball ammo is not generally used for personal defense. Hornday does make JHP or jacketed hollow points, but I wasn't able to find a ton of other variants for this type of round.
Unfortunately (or fortunately), the handgun selection for this caliber round is going to be limited. I found a couple of options floating around the internet, but in reality you're probably going to be restricted to a secondary market. However, if you're really interested in this caliber for your concealed carry pistol the good news is you'll likely be able to find a handgun for pretty cheap.
Rating Metrics
Availability: ★ ★ ★
Recoil Management: ★ ★ ★ ★ ★
Cost of Ammo: ★
Stopping Power: ★
Handgun Selection: ★ ★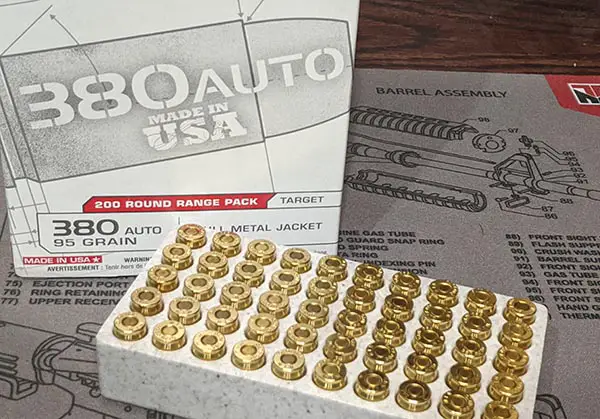 Another option for concealed carry is the .380 ACP, which I personally believe is on par with the 9mm with a few exceptions. After carrying a 9mm pistol for several years I made the leap to my PK380 because it was easier to conceal. You can read my article comparing the two caliber rounds to evaluate their similarities and differences.
For the time being, .380 ACP ammunition is relatively easy to find. Until their recent (dumb) decision to stop selling ammunition I could find .380 Auto cartridges at my local Walmart. Unlike other popular caliber ammunition you may have a smaller selection of manufacturers to choose from at local retail stores. However, this round is not nearly as scarce as the .25 auto. With somewhat of resurgence in .380 handgun models I don't think this round is in danger of going extinct just yet. But only time will tell.
When comparing the .380 auto round to .22 or even .25 ACP the recoil is significantly more. However, this it not a fair comparison as the round is significantly larger with significantly more powder per cartridge. Fortunately, the 9mm is a good comparison tool and I can say that firing my Sig P250 vs my Walther PK380, there is a noticeable difference in recoil. The recoil on my 380 is much easier to manage and I find myself using less effort to manage the muzzle hop.
Unfortunately, the cost for a box of .380 ammunition is where this round loses some marks. If cost per round really matters, then you're probably better off picking a 9mm handgun as your concealed carry firearm. A quick search on a major retailers site makes it plainly clear the cost differential between rounds. For 9mm ball ammo, 100 rounds is going to run you about $20. The same brand and quantity ammunition in .380 is going to cost you about $33.
Alright, it's unpopular opinion time. Personally, I believe that the .380 is comparable to the 9mm when it comes to stopping power. You can read my justification for this on the .380 vs. 9mm article. Please note, I said comparable not superior. The .380 caliber round has gained popularity as personal defense round, especially among the female population. With the plethora of options available for this round to increase effectiveness, I don't see any major flaws with the stopping power of the .380.
Ammunition Types: Round Variations
Here's where we really get into traditional calibers for concealed carry, as evidenced by the wide array of ammunition. This round offers you access to various different ammunition manufacturers. Additionally, there are a plethora of round types. Looking for more punch to your rounds? Try the +P ammunition which is "overpressured" ammo. Of course make sure your firearm is safe to operate with these types of rounds first. Need a round for personal defense? Try .380 Auto in JHP for one of the best calibers for concealed carry. Of course there's also good old fashioned ball ammo for your range day.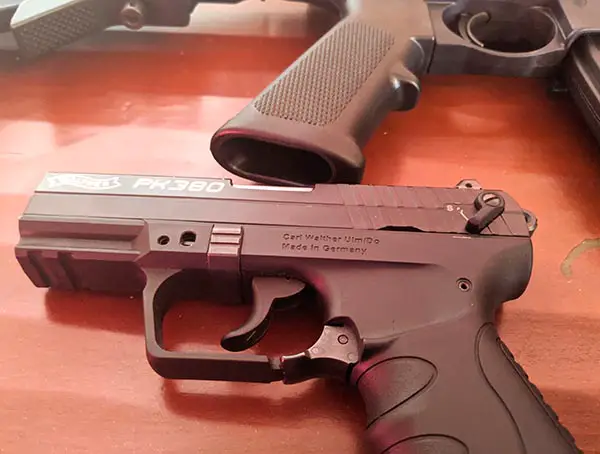 Both the primary and secondary markets are rife with opportunities to pick up a handgun chambered in .380 Auto. Thus, an argument can be made for .380 ACP as one of the best calibers for concealed carry. While not a prevalent as the 9mm market, there are plenty of different makes from popular manufacturers like Walther, Sig Sauer, Smith & Wesson, Kimber, and more. Even Glock is getting in on the action with their model 42. Needless to say, but if Glock is getting in on the market then there's definitely a demand!
Rating Metrics
Availability: ★ ★ ★ ★
Recoil Management: ★ ★ ★ ★ ★
Cost of Ammo: ★ ★ ★ ★
Stopping Power: ★ ★ ★ ★
Handgun Selection: ★ ★ ★ ★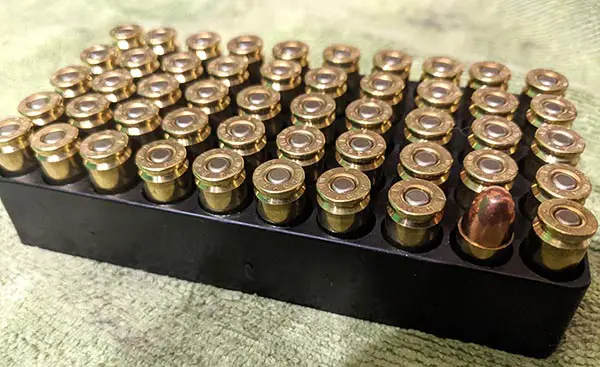 Finally, we've arrived at what most consider the best caliber for concealed carry. The infamous 9mm cartridge. I can see the fanboys of this round salivating all over their keyboard. However, I'd be hard pressed to disagree that this round is definitely one of the front runners for best concealed carry caliber. There's so many positive and yet so few negatives it's hard to argue that this is a good caliber round.
It's hard to argue with what you see on the shelves everyday. Go to any sporting goods, outdoor enthusiast, or firearms supply store and you'll discover just how popular the 9mm round is. It has the most shelf real estate of any round on the market, by far. The only problem with availability of the 9mm cartridge is likely due to the store being sold out. When Obama held the presidency and fears were at their height, you couldn't find 9mm ammunition without a "connection." However, this is less of a problem now but be sure if there's ever a perceived threat to your 2A right, these rounds will become scarce again. Of course, if there's ever an apocalypse this is the round used by military and law enforcement alike so there shouldn't be a shortage if you find a supply depot!
Of the common handgun calibers, the recoil of the 9mm round is relatively low. In fact I'd say it's only slightly more than the aforementioned .380 auto. For sure it's going to be less than the heavier and larger rounds we'll discuss later. However, the muzzle hop on a 9mm pistol when compared to the .22 lr is like comparing a glacier to an ice cube. It's all in your perspective. But as far as concealed carry calibers, this one definitely ranks closer to the top for manageability.
The cost per round of 9mm ammunition is where this caliber really shines compared to it's counterparts. While not the same cost as .22 lr, 9mm is definitely one of the most cost effective options for acquiring ammo in bulk. If you want a break down of some of the costs, feel free to check out my article on gun show pricing to get an idea of how cheap you can get ammo. You can compare my research with other calibers if you'd like but regardless of the source, 9mm ammo is going to be cheaper than most other handgun ammuntion.
I mentioned this already, but this round is the most widely accepted ammunition for law enforcement and military issue. There's a reason for this, as it has adequate stopping power at minimal cost, and without compromising accuracy. With an average FPS that is slightly higher than the .380 and an ever so slightly larger bullet you could make the claim that the 9mm round has better stopping power. Personally, I think this is negligible but that's not the point of this section. Suffice it to say that the 9mm has decent stopping power.
Ammunition Types: Round Variations
There's a reason that 9mm boxes take up a ton of real estate on local store shelves. Without getting into too much detail (perhaps I will in a later article) there are so many various types of ammo available in 9mm. As with most of the common caliber rounds you've got tradition FMJ ammunition. However, personal defense rounds like JHP are broken down into the bullet core material. One could get utterly confused by the sheer volume of ammunition available in 9mm. When it comes to round variation this is probably the most diverse type of cartridge.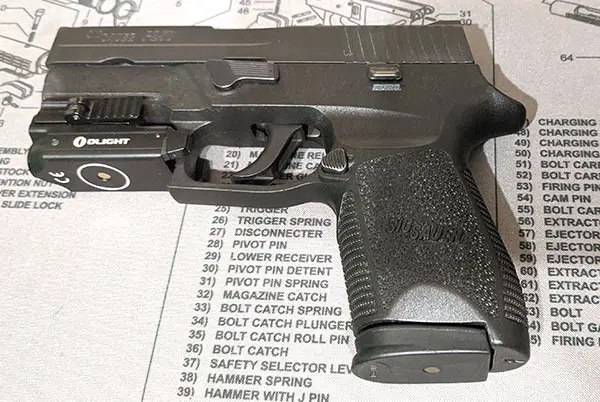 Go on with your bad self 9mm! Once again, the 9mm shines in the sheer quantity of handguns available in 9mm configurations. If you want a diverse selection of firearms, than your best bet is 9mm. First, you've got access to full size, compact, and sub-compact model pistols. Arguably, some models could even be considered pocket pistols. Additionally, every major gun manufacturer produces a 9mm model. Even manufacturers like Kimber who made a name with their .45 ACP 1911 models is into the 9 mil market. Foreign or domestic you've got options. My buddy picked up his PPQ M2 chambered in 9mm from the German gunmaker Walther. The list goes on, but this is another reason why many consider 9mm the best caliber for concealed carry!
Rating Metrics
Availability: ★ ★ ★ ★ ★
Recoil Management: ★ ★ ★ ★
Cost of Ammo: ★ ★ ★ ★
Stopping Power: ★ ★ ★ ★
Handgun Selection: ★ ★ ★ ★ ★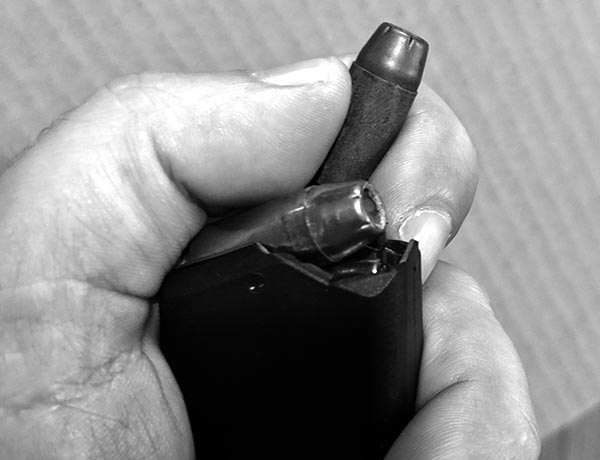 While some calibers of ammunition have seen a resurgence, others are fading into obscurity. Enter the .40 S&W as one such example. While this is a fine round and I have no qualms with it, the market seems partial to other more popular rounds. As such, this round loses points in several areas due to it's lack of popularity.
Unfortunately, the availability of .40 caliber handgun ammunition closely follows the model of the .380 auto. When you find it at a retail store, there's usually only a handful of options. Comparatively, 9mm ammunition has every major ammo manufacturer chomping at the bit to develop the latest and greatest round. While .40 cal isn't as prevalent on the shelf space, I can't help but feel that a dedicated group of proponents are currently keeping this round from extinction.
If we're comparing the .40 cal bullet to other smaller handgun rounds, the kick on this type of round is significantly larger. Personally, I can tell little difference between a .45 ACP and this round. But I can definitely feel the difference between a .40 and 9mm. Larger guys or those with muscular builds won't likely have a problem controlling the recoil of a pistol chambered in .40. However, several females I spoke to dismissed the .40 as a potential candidate for the best caliber of concealed carry because it was too difficult to manage recoil reliably.
Another circumstance that results in slightly lower marks for the .40 S&W is the cost per round. I established earlier that production costs and demand often drive ammunition costs. The larger .40 cal round requires more raw materials than it's smaller counterparts, and with the limited demand for the round this is a recipe for an expensive cartridge. While slightly cheaper than the .45 ACP when purchased in similar quantities, the population of shooters is smaller. I'll explain this in more detail below.
I think my biggest concern with the .40 S&W is that it wants to have the same power as the .45 but tries to mimic smaller rounds with a lower grain count. When it comes to power, I think the round is more than capable to stop an assailant. On paper it is a nice split between .45 ACP (approx. 230 grain) and 9mm (approx. 115 grain). However, the difference in grain count coupled with the size of the round isn't sufficient to provide ample control to shooters of a smaller stature. Contrarily, many who can control the .40 S&W have no problems using the .45 ACP. Thus they often opt for the larger round.
Ammunition Types: Round Variations
Currently, the .40 S&W has a decent offering when it comes to non FMJ ammunition. You can still pick up JHP ammo from either Winchester or Remington, both of which are respected names in the firearm industry. However, you won't find the same ammo variants as other smaller calibers nor the selection of ammo manufacturers.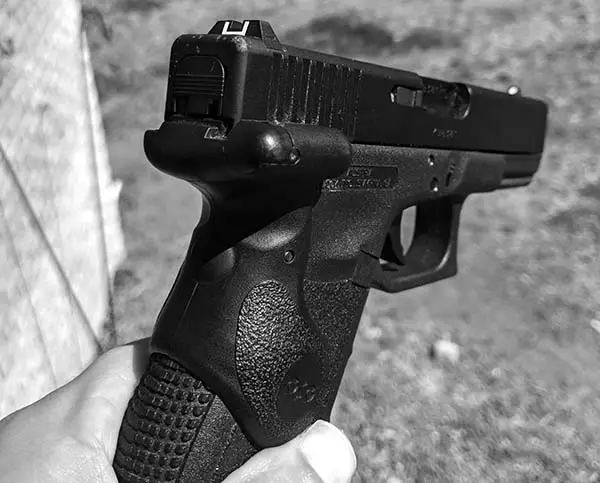 As it currently stands, there are plenty of current and secondary market options for pistols chambered in this type of round. Personally, I expect the offerings to dwindle over the next couple decades until this pistol ends up like the .25 ACP. Perhaps readers like yourself will be cause for a resurgence, but I doubt it. Regardless, even powerhouses like Glock still offer models chambered in .40 S&W so no need to fret just yet.
Rating Metrics
Availability: ★ ★ ★ ★
Recoil Management: ★ ★
Cost of Ammo: ★ ★ ★ ★
Stopping Power: ★ ★ ★ ★
Handgun Selection: ★ ★ ★ ★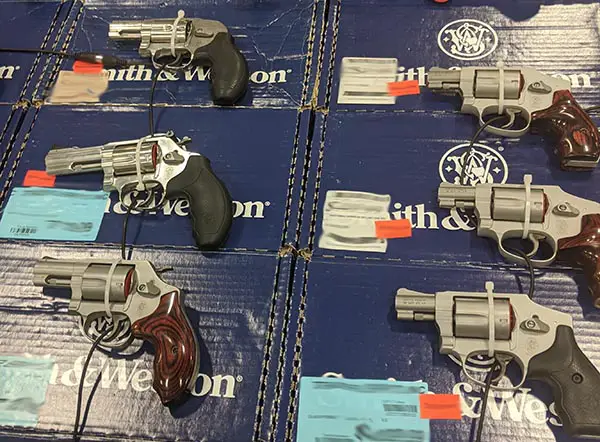 Ironically, there is an abundance of ammunition in .357. Perhaps it is because this firearm also accommodates .38 special and people will sometimes train with the less powerful round in lieu of the .357. Either way, you're bound to find ammunition for any handgun chambered in .357 relatively easily. Of course, there is a distinct difference between the .38 special and .357, but more on that next.
If you prefer your handgun to kick like a mule, then the .357 is likely the round for you. Arguably one of the most volatile shooting experiences I've had. Perhaps it was because of my age, but it seems that I am not alone in this assessment. Additionally, most of the handguns available for this caliber are revolvers which IMHO are more wily than most automatics. But, that is up for debate. However, I can say that the .357 causes a significant increase in muzzle movement over other common rounds like the 9mm.
Despite the availability of .357 ammunition, for some reason the cost per round remains relatively high. For instance, a box of 50 rounds of .357 cartridges is going to be on par or even more expensive than .45 ACP in the same quantity. Since there is a significant grain difference between these two rounds, I can only assume it has to do with other raw materials or the demand. Regardless, the cost per round is going to be a bit more expensive than other common handgun rounds.
You'll get no arguments from me regarding the stopping power of the .357 cartridge. However, you do make certain sacrifices with a round this powerful. Most notably is the ability to maintain proper sight alignment with consecutive shots (see above). However, if you're just looking for raw power I think this round is MORE than capable of stopping a would be attacker.
Ammunition Types: Round Variations
With the ability to use two different types of ammunition in a handgun chambered in .357 you have a plethora of options. All the major ammunition manufacturers produce .357 magnum rounds. Additionally, you'll have access to JHP ammo in abundance likely due to it's usage primarily as a defense round. Ironically, it may be more difficult to locate FMJ ammo in this caliber. Therefore, it's a net 0 gain in my opinion. However, i think this still receives high marks due to the versatility of any handgun in this caliber.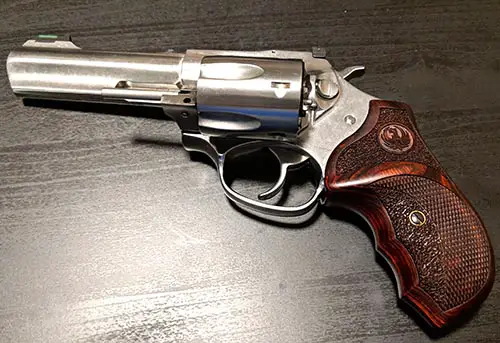 Unfortunately, if you're interested in a .357 Magnum round, you'll be looking at revolvers almost exclusively (there are a few options). There are other variants of the round (e.g. .357 Sig) which is different and made to fit automatics. The ballistics of the round are different and therefore not synonymous with the .357 Magnum. Another interesting dilemma this creates is finding a holster to accommodate said revolver. Finally, even if you get an automatic, most handguns chambered in .357 Magnum are full size pistols. Restricting access to both pistol type/size and holster selection means this likely isn't the best caliber for concealed carry.
Rating Metrics
Availability: ★ ★ ★ ★
Recoil Management: ★
Cost of Ammo: ★ ★ ★
Stopping Power: ★ ★ ★ ★ ★
Handgun Selection: ★ ★ ★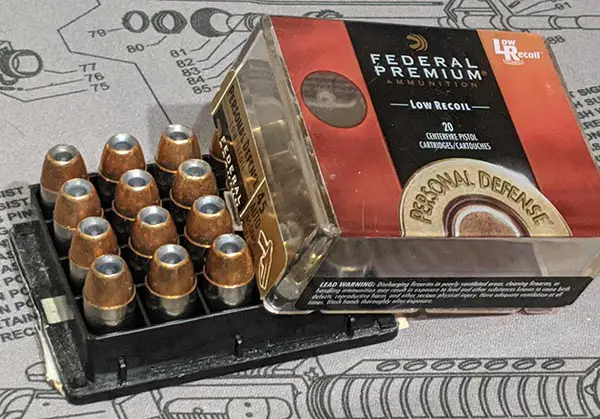 Congratulations, you've made it to the final caliber on the list. The infamous .45 ACP. An argument could be made for this being one of the best calibers for concealed carry due to the abundance of handgun options available. Additionally, it's not short on stopping power. After all, the iconic M1911, used by the military for a VERY long time used .45 ACP. So how does this stack up against the others concealed carry rounds so far?
While this round isn't as popular as the 9mm (at least according to retailer shelves) it is one of the most widely available rounds on the market. Sure in a zombie apocalypse you'll be a little more hard pressed to find an ammo depot stocked with .45 auto. Regardless, the availability is through the roof with major manufacturers of all kinds producing multiple variations of this cartridge.
Enjoy a little extra pop in your shot? If so, then the .45 auto may be the round for you. I've shot every caliber on this list, and the recoil on a .45 ACP isn't as absurd as you might think. However, I'm also a grown man and weigh in at an average of around 200 lbs. For those with a little less mass, the gun can be a bit unwieldy. However, many female and first time shooters don't like the kick of my 1911 and so it loses some marks in this area.
It's cheaper than the .357 Magnum, so it has that going for it. Honestly, due to the popularity, the price point isn't that much higher than 9mm. Sure there is an increase, because the raw materials required are greater. But, it's comparable to other smaller rounds which means it shouldn't lose any marks in this area. For example, you can pick up a box of 50 cartridges of 9mm for about $16-$17 and you'll probably end up paying an extra couple dollars for .45 ACP. Not a bad deal!
I touched on this a bit in the recoil management section, but the round is more than capable of stopping someone with ill intent. There really isn't much else to say, but if you're worried about the science (and further opinion) you can check this article for more detail. Regardless, it appears that the .45 ACP caliber round is no less efficient than it's smaller counterparts.
Ammunition Types: Round Variations
Need ball ammo? That's not a problem for the .45 ACP. Need JHP ammo? Well that's covered as well. From Winchester to Federal and beyond, you'll have plenty of options from different ammo manufacturers. When it comes to personal defense, there's a bunch of "PDW" or "home defense" language surrounding this round.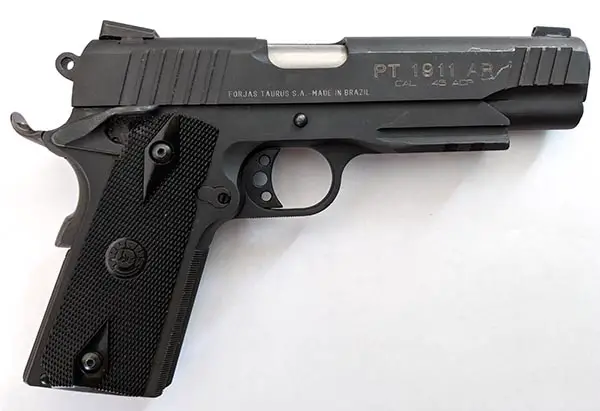 I've already talked about the iconic 1911 model used in military application. But the sky is the limit when it comes to the .45 ACP. My buddy has an old Ruger that is chambered in .45 auto. Almost, and dare I say every, gun manufacturer has some model handgun made to accept .45 ammo. You're not short on different sized handguns either. Need holsters? Chances are you'll be able to find them no problem.
Rating Metrics
Availability: ★ ★ ★ ★
Recoil Management: ★ ★ ★
Cost of Ammo: ★ ★ ★
Stopping Power: ★ ★ ★ ★ ★
Handgun Selection: ★ ★ ★ ★ ★
Other Calibers Not Mentioned
In an effort not to offend those who own firearms of other calibers, I'm going to touch on a few outliers below. While not nearly as comprehensive as the above, I figured since I did touch on some obscure rounds (like the .25 ACP) I should at least give a shout out to other concealed carry calibers at your disposal. However, some were omitted because they so closely mirrored other rounds discussed that for all intents and purposes you could use the above data. Others seemed a bit out of place, and so I'm mentioning them as options without the expansive detail.
Essentially, this is the same round as the .357 magnum. I've never used these rounds interchangably, but you can view the history and additional information here. Therefore, much of the information provided for the .357 is applicable to the .38 special. Short of the grain count on the ammo their other metrics are on par with one another. It's also worth noting that the .38 special cartridge is NOT the same as the .380 ACP.
Because this shell would have been the only shotgun shell on the list, there was really no comparison to any other round. Additionally, I'm only aware of "The Judge" and other variants thereof that are pistol models chambered to handle this type of shell. Therefore, I decided to omit this from the list of best calibers for concealed carry.
I'm gonna level with your folks, I've never shot a 10mm pistol. Therefore, I didn't think it accurate to include on the list of my evaluations. However, according to the wiki world, the 10mm had issues with "excessive recoil" and therefore likely wouldn't make a good concealed carry pistol. This is secondhand knowledge and you may want to fire one for yourself as this caliber seems to be making a potential comeback as the rounds are offered on major retail sites.
The big boy round on the block is the .50 cal cartridge. Without a doubt the most iconic pistol the "dessert eagle" is chambered for this round. For reference, the pistol is huge and I've seen more than a couple people almost hit themselves in the face from the recoil. Needless to say, I figure it probably isn't conducive to the concealed carry community.
There you have it folks, a comprehensive guide to the various calibers available for your handgun needs. Without a doubt, my money is on 9mm ammunition being the best caliber for concealed carry. For bulkier shooters, perhaps the .45 is more your speed. And for smaller shooters, maybe you opt for the .380 auto. However, the great thing is, you can test out some handguns chambered in different rounds and find the round best suited to your shooting. Good luck, and leave a comment if you found this information useful.