I recently switched my everyday carry pistol from my Sig to a Walther PK380. One day at the range, a friend of mine offered me a chance to shoot his Walther PPQ. After squeezing off a few rounds, I admit that I was thoroughly impressed with the Walther brand. I had already been considering switching out my Sig for another pistol. I wanted something with a single stack magazine and a slimmer profile, that was easier to conceal . Ultimately, I decided on the Walther PK380. Once I picked up my new pistol, I needed to find a comfortable good quality holster. What you see below are the 7 best holsters for the Walther PK380.
Concealment Express PK380 Kydex IWB Holster

R&R Kydex OWB Holster
AlienGear Cloak Tuck 3.5 IWB Holster
DeSantis Pocket-Tuk Soft Leather Holster

Falco Hard Leather Holster IWB/OWB
VlaMiTex IWB 2 For Walther PK380
Foxx IWB Concealed Carry Holster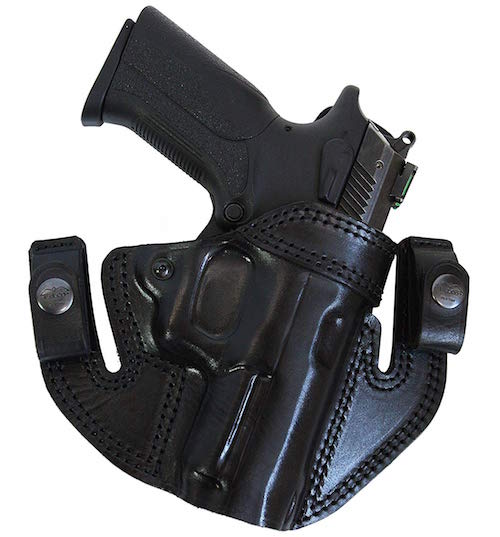 Falco Hard Leather Holster IWB/OWB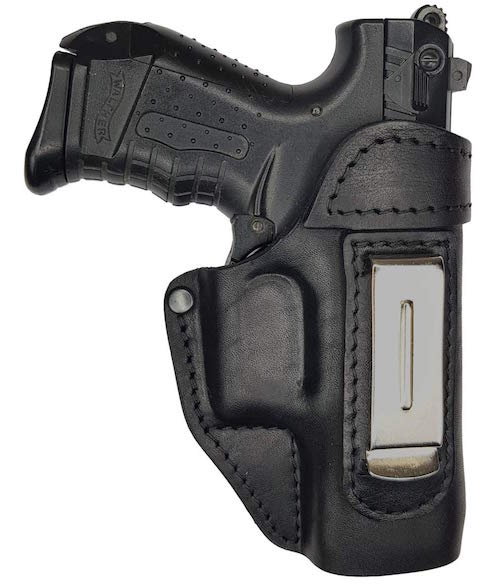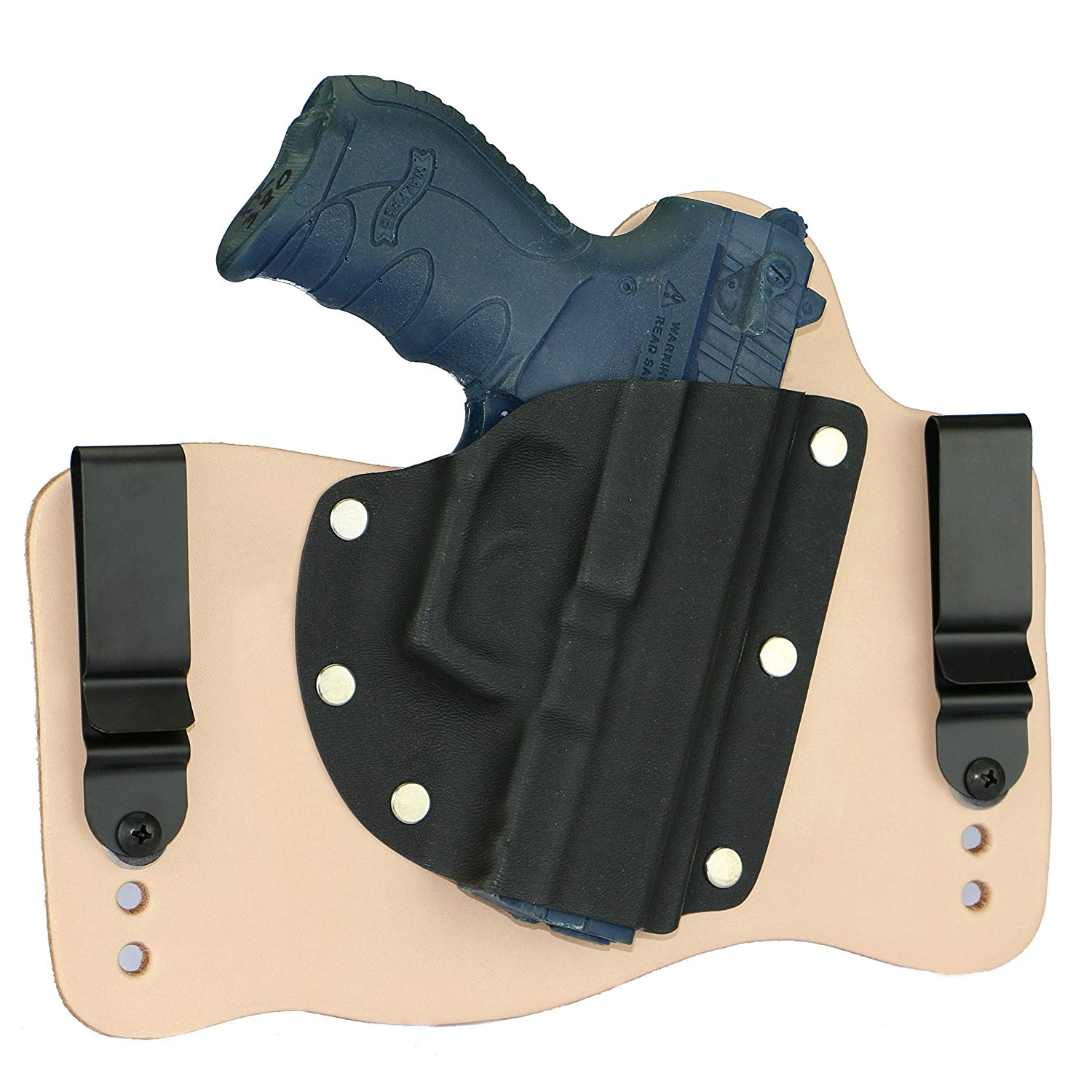 Foxx IWB Concealed Carry Holster
1. Concealment Express PK380 IWB Kydex Holster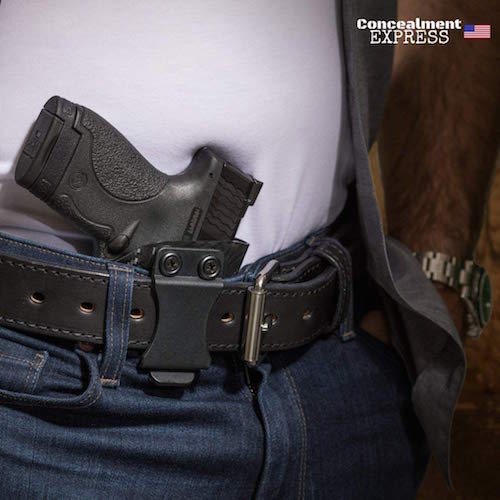 You know the best holster for the Walther PK380 would be the one I decided on for myself. In all seriousness, this holster was the best choice for my needs. The slim profile of the PK380 is accented by this minimalist IWB holster. With adjustable cant, the Concealment Express kydex holster is a decent choice for appendix carry. However, I've found it more comfortable for the hip or 3/4 carry position. If you're interested in a more detailed review, check it out here.
Pros: Minimalist design, adjustable cant, suitable for multiple positions of carry
Cons: No padding/sweat guard means you'll want to wear with an undershirt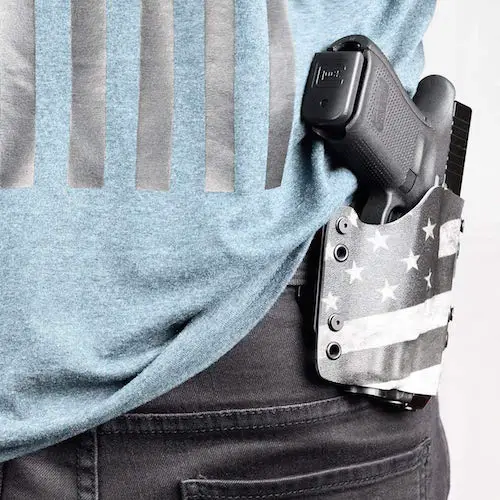 The R&R is another kydex holster option for the PK380. However, this is strictly an OWB holster. Clips adjust for a modified ride height, and pistol cant. Because the external safety is ambidextrous, enable or disable it without un-holstering your pistol. Unlike the various IWB holsters, the R&R has loops that require you to thread the belt through. The loops can fit 1.5″ belt comfortably, though some claim it fits a 2″ belt.
Pros: Adjustable ride height, clip adjustment allows for modifying cant
Cons: OWB style makes concealment more difficult
3. AlienGear Cloak Tuck 3.5 IWB Holster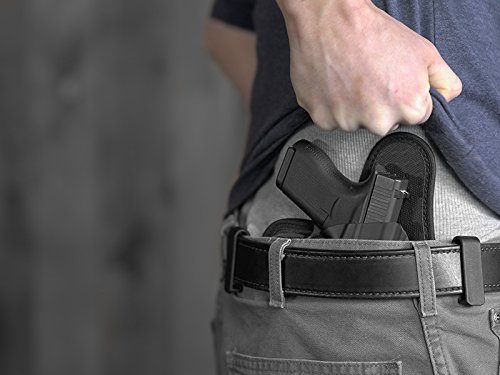 I've had a good experience with the folks at Alien Gear. On top of making a quality holster, the Cloak Tuck is incredibly comfortable to wear. You can check out my experience with the Cloak Tuck holster here. Because the Walther PK380 is a smaller framed pistol, the dual clips may be a bit excessive for support, particularly because of the spacing. However, the adjustable cant and ride height options earn this IWB holster one of the top 3 spots.
Pros: Extra padding to prevent slide from digging in, extremely comfortable holster
Cons: Overall holster size may be overkill for the size of this pistol
4. DeSantis Pocket-Tuk Soft Leather Holster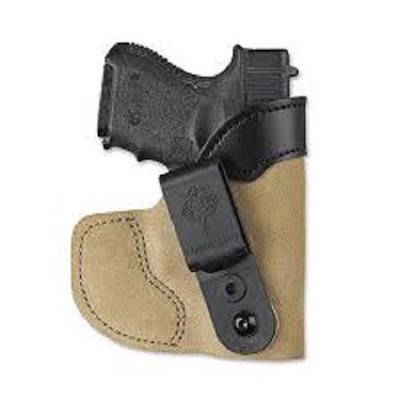 The DeSantis Pocket-Tuk is a small soft leather holster that fits several different model pistols. Because this is a universal fit style holster, the retention isn't as good as a molded kydex holster. Although, the material is probably more forgiving on your pistols exterior. Additionally, this holster is versatile (multiple carry positions) and can be worn in the pocket with or without the clip.
Pros: Versatile wear – not locked into pocket carry, soft leather is easier on pistol finish, removable/adjustable clip
Cons: Universal fitment means retention isn't as good
5. Falco Hard Leather Holster IWB/OWB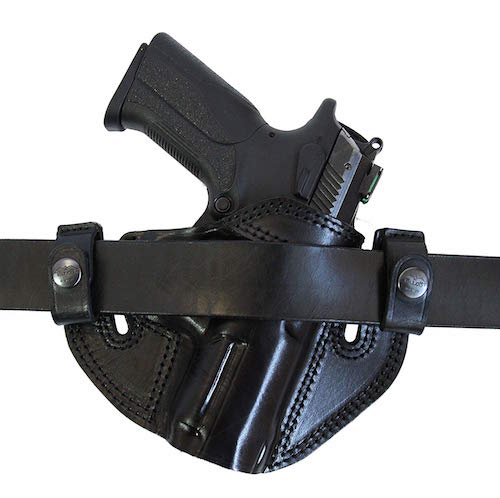 The Falco holster for the PK380 is a unique design unlike anything else on the list. Similar to the DeSantis, the strength of this holster is its versatility. Because this holster was designed  to be worn IWB or OWB, it is probably the best holster for the Walther PK380 if you're still trying to figure out your carry style.
 A hard leather holster made to accommodate up to a 1.6″ belt. Additionally, the loops on the holster attach with snap buttons. Unlike some other OWB holsters, this allows you to remove the holster without taking off your belt. To adjust retention, you'll need a hex key.
Pros: Double stitching for extra durability, versatile design for IWB or OWB wear, adjustable retention
Cons: Cant is not adjustable.
6. VlaMiTex IWB 2 For Walther PK380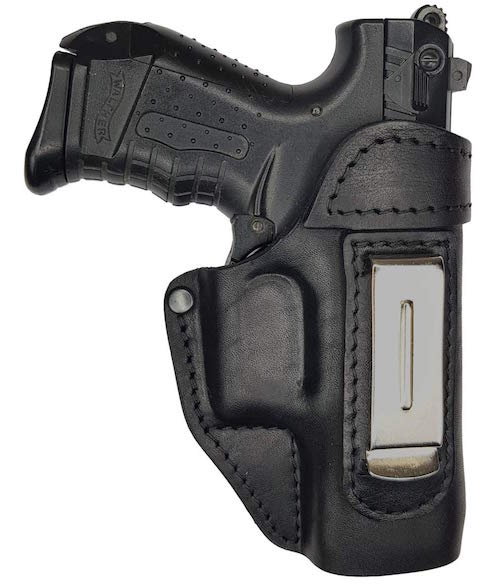 Vlamitex put out a quality leather holster, that snugly fits the PK380. Additionally, the interior of the holster is extremely forgiving on your pistols finish. Unlike some other IWB holsters, there is no sweat guard to protect your slide from rubbing on your skin. Molded leather means no adjustable retention.
Pros: Quality leather construction, safety easily accessible
Cons: High ride height that isn't adjustable, retention is fixed
7. Foxx IWB Concealed Carry Holster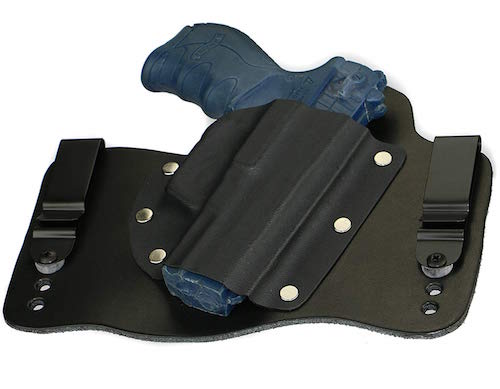 While the Foxx is a decent IWB holster, I'd recommend the Cloak Tuck if this holster is your style. Although this is a fine holster, it does leave a few things wanting. This holster is good for adjusting ride height and cant by moving the clips accordingly. However, even though the friction retention is good, because it isn't adjustable it might be "too good" for some. Finally, the leather is stiff, and will require a break-in period. During that time it may be a bit uncomfortable.
Pros: Audible seating of pistol, adjustable ride height and cant, relatively inexpensive when compared to similar model holsters
Cons: Retention not adjustable, requires break-in period for comfortable wear
PK380 Features and Holster Considerations:
The Walther PK380 has some unique characteristics that may impact your holster choice. First and foremost is the mag release lever. Unlike traditional automatics, which have a mag release button, the Walther has a lever where the grip and trigger guard intersect. When selecting the best holster for your PK380 it's important to make sure the mag release lever won't catch on clothing.
Second, the Walther PK380 comes with a double/single action trigger. The condition in which you carry your Walther will impact your holster choice.
Finally, the PK380 is a smaller frame and lightweight pistol. Therefore, it is easily concealable and your holster choice should reflect this. Two of the top three spots on the list of best holsters for the PK380 use a single clip to attach to your waistline.
Weapon Condition, Safeties, and Holster Selection
Because the Walther has an external safety and a single-action/double-action trigger you can carry this weapon in several different configurations. Holster considerations must be adjusted based upon the condition in which you carry your pistol.
Empty Chamber and Safety On
First, you can carry your Walther with the chamber empty, and the safety on. In this condition, you should focus on what is the most comfortable holster for your Walther PK380. Because the chamber is empty and the safety is on, there is a dual layer of protection against an accidental discharge. Additionally, unless the hammer is cocked the trigger is in double action and greater force would be necessary to cock and drop the hammer.
Carrying The Walther PK380 With A Round in the Chamber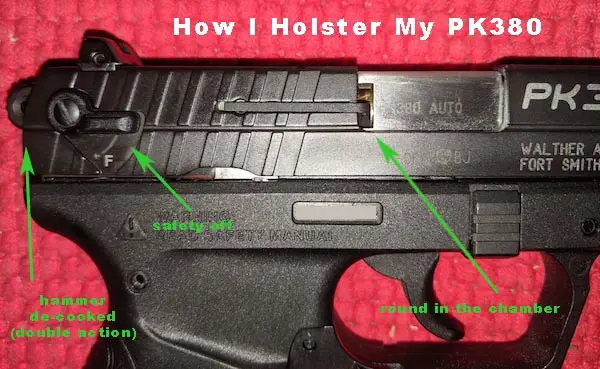 Moving on, there are 4 different ways to carry your Walther with a round in the chamber. First, is with the hammer de-cocked and the safety on. Second, you can have a round chambered of your PK380 with the hammer cocked and the safety on. Third, there can be a live round with the hammer de-cocked and the safety disabled. Finally, you can have a round in the chamber, hammer cocked, and safety disabled.

If you carry with one in the chamber you should ensure the holster covers the entirety of your trigger guard. While finding a comfortable holster is important, safety should be your first concern. While the external safety is good, each layer of protection you provide makes it safer for you and those around you.
If you carry with the hammer de-cocked then the trigger is in double-action. Personally, I carry with a round chambered, hammer down, and safety off. Whenever the hammer is cocked, your trigger is single action. Carrying with one in the chamber, safety off, and hammer cocked is the most likely to result in a discharge. It is extremely important to choose a secure holster if you carry this way.
Holster Selection: IWB vs. OWB vs. Pocket Carry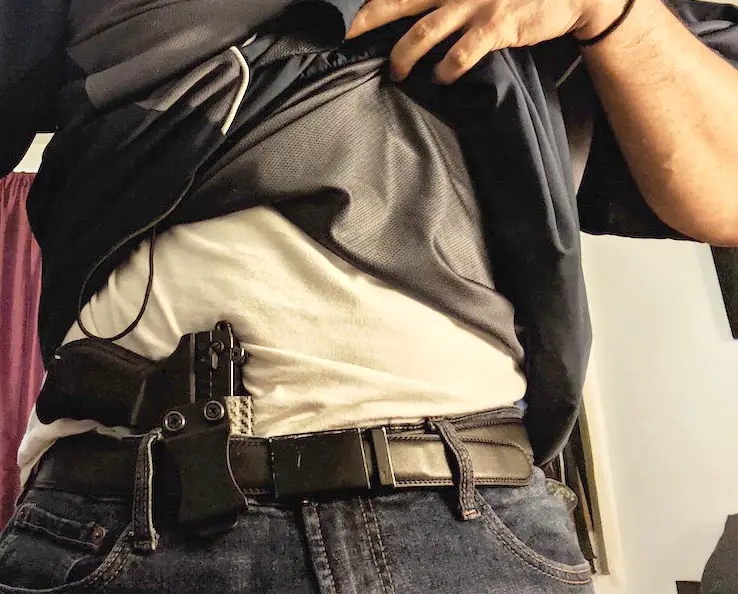 Due to the slim profile of the Walther PK380, I recommend an IWB holster. The small frame means less variance in the waistline size of your pants. However, because of the sizing of the Walther, you could potentially conceal carry using either an IWB or OWB holster. Generally, I'm not a fan of pocket carry, but this pistol is small and slender enough it could be concealed in a pocket..
If you intend to carry outside the waistband, pay attention to the holster which allows for an adjustable ride height. You can raise the positioning of your OWB holster to make it more easily concealable. Similarly, adjusting the ride height of an IWB holster is also beneficial. Changing the ride height of your holster can prevent jabbing tender areas on your hip or abdomen (for appendix carry).
As with any holster you intend to conceal, your attire plays a pivotal role. You'll need pants with deep pockets to accommodate both your pistol and holster if you opt to pocket carry. Loose fitting pants will make it easier to conceal your pocket holster.
Choosing the best holster for your Walther PK380 is about choosing the condition you'll carry your weapon in. Additionally, holster comfort, holster position, and your budget will impact your decision. Fortunately, the PK380 is one of the more forgiving pistols for concealed carry. Although, admittedly there are fewer holsters on the market made for the PK380 than I had hoped. If you've found this article helpful, please leave a comment for the rest of the community.