There is some confusion about the identifying characteristics for various handgun sizes. However, there are no hard and fast industry rules about which pistol fits into what category. With that said, there are 4 different sizes of automatic handguns; full size, compact, sub-compact, and pocket pistols. I'll be covering the different size of handguns listed below.
Grip fits in hand without a magazine.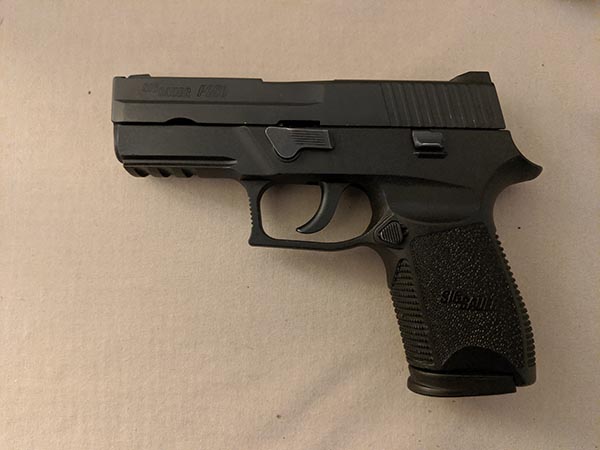 Grip fits hand with or without magazine.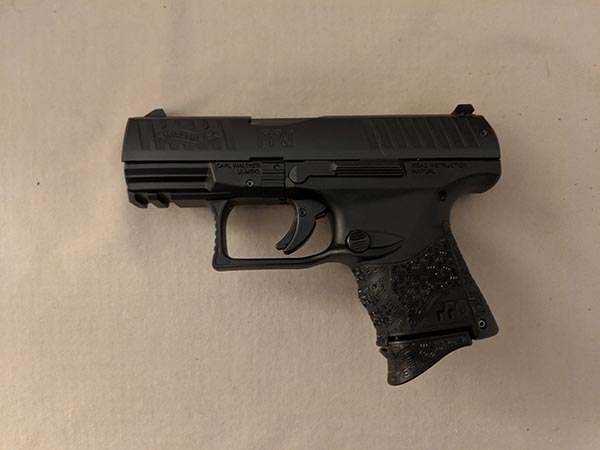 Grip is insufficient without magazine inserted.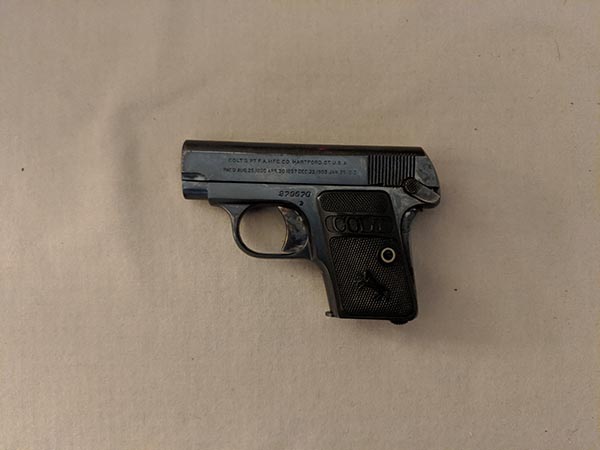 Length of grip insufficient even with magazine inserted.
Contrary to what many believe, neither pistol caliber, nor magazine orientation necessarily dictate the size of handguns. However, there are characteristics that are common among certain handgun sizes. For instance, many full-size pistols have double-stack magazines. Although, a full-size 1911 does not follow this trend. Therefore, the barrel size and grip length are the most reliable traits to determine the size of a handgun.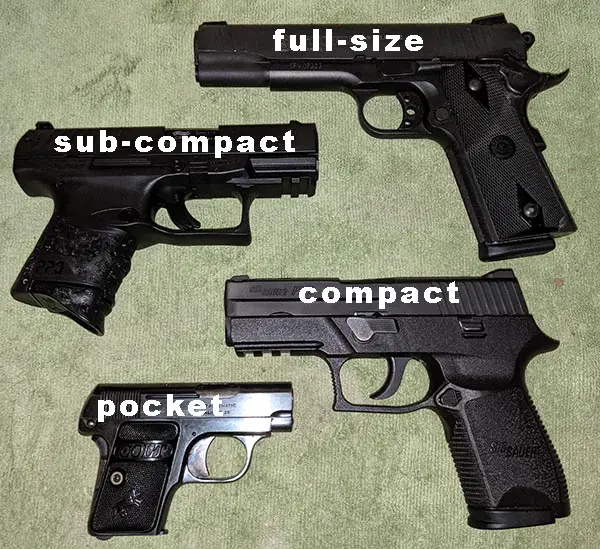 A full size pistol will have a 4.5 inch or greater barrel length and is the largest category of pistol. Additionally, the pistol grip on this size of handgun will fit the users palm without requiring the magazine to be inserted. Pictured below is the barrel of full-size pistol when compared to a compact pistol for comparison.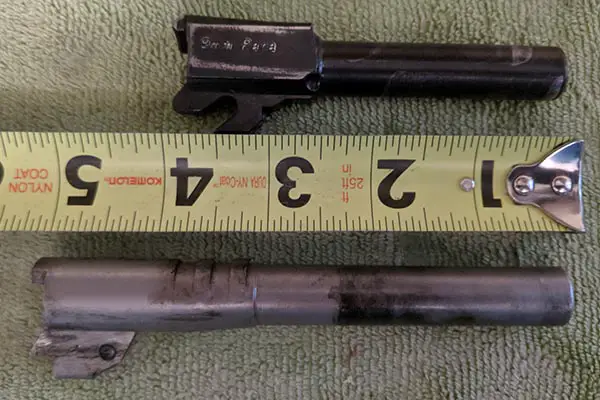 Frames on full size pistols are also generally larger than any other pistol size, and as such are more difficult to concealed carry. Additionally, full size pistols are usually more comfortable for individuals with larger hands. The preferred method for concealing a large full size pistol is a shoulder holster. Full size pistols can range in caliber from .22lr through .50 caliber.
Compact pistols will have a barrel length between 3.5 – 4.5 inches, slightly smaller than a full size barrel. Generally, the pistol grip on a compact will fit the users hand without a magazine. Contrary to full size pistols, less of the grip is exposed below the fist.
For better concealment, compact pistols usually have a smaller frame than their full size counterparts. Compact pistols (and smaller pistol sizes) are tailored for concealed carry. Because of their size compact pistols can be worn in many different ways (IWB, Belly Belt, Concealed carry shirt, etc.).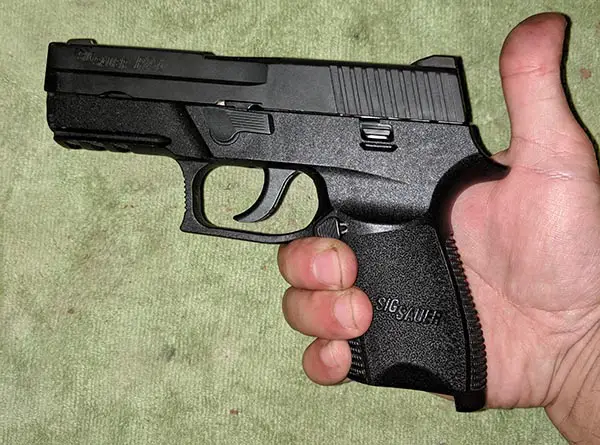 Shooters with smaller hands may feel more comfortable shooting a compact over a full size pistol. Compact pistols come chambered in an array of calibers. However, carrying with a smaller caliber round is more common.
How Sub-Compact Pistols Measure Up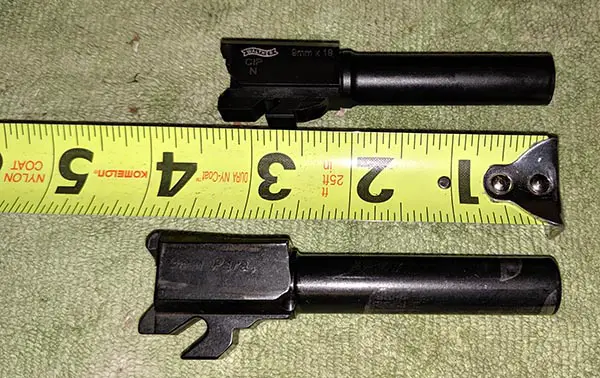 Next, we have the sub-compact pistol. Sub-compact pistols have significantly smaller frames, barrels, and grips when compared to a full size pistol. Generally, any barrel size between 3 – 3.5 inches classifies the pistol as sub-compact. Additionally, the grip on a sub-compact is insufficient when holding the gun without a magazine. Above is an image of a compact and sub-compact barrel for comparison.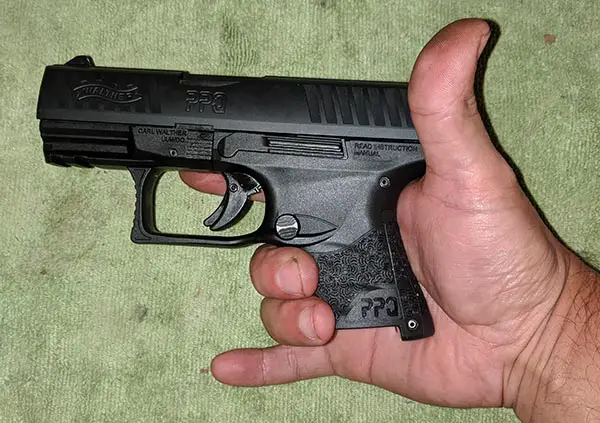 Sub-compact pistols have grips that are shorter than compact pistols and generally do not fit the full height of a shooters fist (see above image). However, to make these pistols usable, the magazine usually has some kind of grip extension (fig. 2 below). Additionally, there are magazines that extend both the grip and magazine capacity (fig. 2 below). However, this can be ideal for concealed carry. You can maintain the smaller barrel and frame of a sub-compact, while expanding the magazine capacity to match larger counterparts.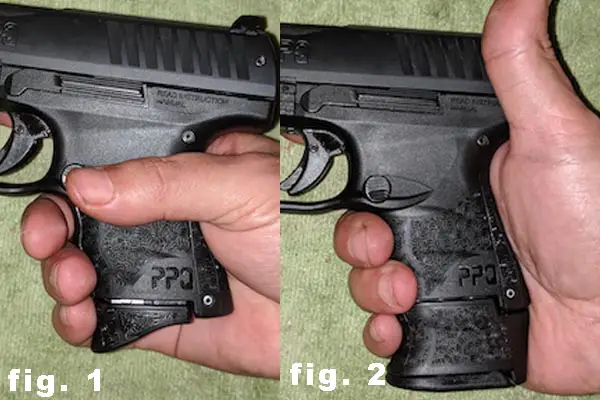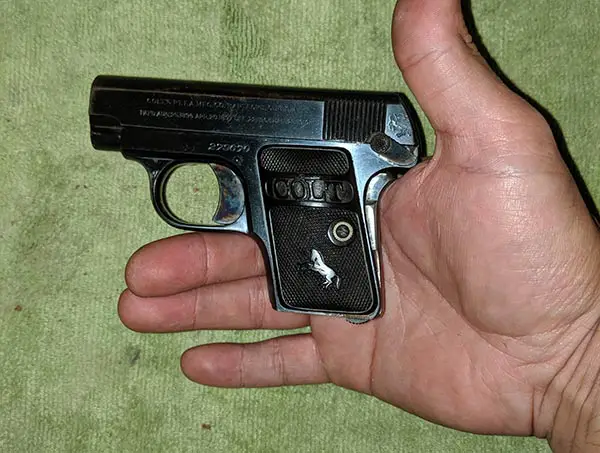 Pocket pistols have been popular at various different stages in history. Probably the first occurence of pocket pistols was the Derrigner pistol in the early to mid19th century. More recently, these pistols were marketed as personal defense firearms for women. But, what do these small pistols have in common? Pocket pistols are characterized by barrel lengths of 3 inches or less, with small frames whose grips do not fit flush in the shooters hand.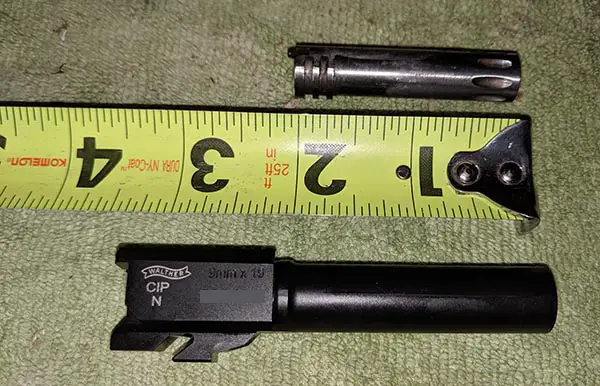 Due to their extremely small frames, these types of handguns are easily concealable. Additionally, these pistols often come chambered in smaller calibers than any of the aforementioned pistol sizes. Controlling the muzzle hop would be difficult if these pistols used a larger round. Above is a visual comparison of the barrel size for a sub-compact and pocket pistol.
So where do revolvers fit in the pistol size discussion? Unlike automatics, there are no traditional revolver size categories. Instead, revolvers are referred to by barrel length. Anything larger than a standard 4 – 6 inch barrel is usually referred to as "extended barrel." Similarly, I've never seen a revolver listed as a "sub-compact revolver." The closest denotation for a shorter barreled revolver is generally referred to as a "snub nose" revolver. Snub nose revolvers usually have a barrel length of less than 3 – 3.5 inches. While revolvers generally follow similar guidelines for barrel length, they do not follow the same nomenclature.
Hopefully this article has provided some clarification about the different classifications of size of handguns. When selecting a firearm, you need to account for a number of factors. If you have small hands or a weak grip, then full size pistols are probably not for you. If you'll be concealed carrying then a compact or sub-compact are going to provide you more holster options. Do you have questions that weren't answered? Feel free to leave a comment in the section below.