Today I'm bringing you an EDC backpack recommendation from a close friend of mine. I'll be taking a closer look, and giving you a review of the TruSpec Circadian backpack in all its glory.
If you're in the market for a durable multi-purpose EDC backpack, then the Tru Spec Circadian is a great option. While the bag is smaller than the RUSH 24 from 5.11 Tactical, it still has plenty of storage. Additionally, it has many of the same features you'd expect from a tactical style pack, including MOLLE webbing and a hydration port. Although, the Circadian also boasts a few surprises as well.
Circadian Outer MOLLE Webbing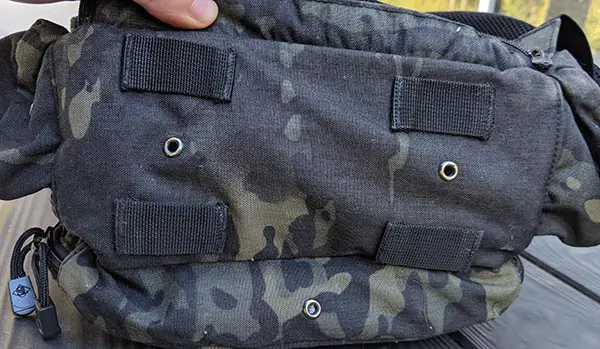 If you need expandable storage on your EDC backpack, then the industry standard is MOLLE webbing. The MOLLE webbing is available on most surfaces of the bag, including the bottom of the backpack. Unlike the RUSH 24 however, the webbing does not run the full height of the bag on the sides. Instead, there are 2 attached pockets, one per side, with 3 rows of webbing each. Great if you need to add a small pouch for extra storage.

When testing with various pouches and accessories, I didn't run into any issues with webbing sizes like I did on the NPUSA Duffel Bag. The MOLLE webbing was able to accommodate everything from the straps on my Leatherman to straps on my magazine pouches.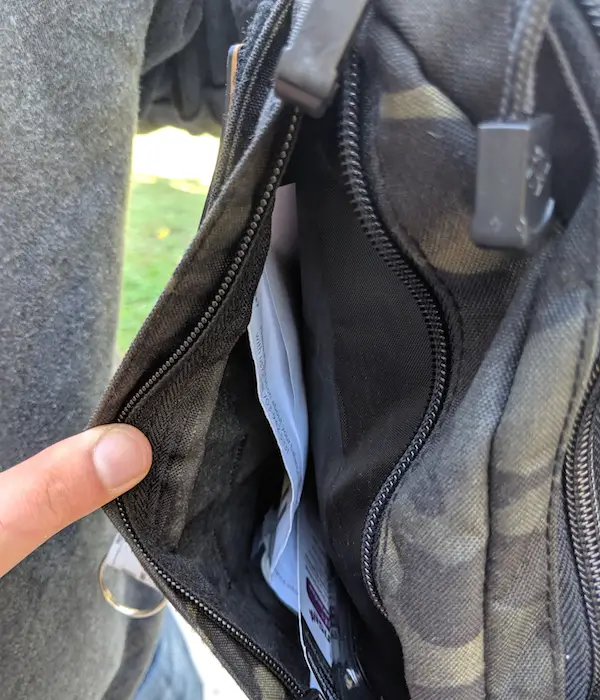 One extremely useful feature on the Tru Spec Circadian is the side access pocket. If not for my buddy pointing it out, I would have completely missed this feature. However, if you need to keep sensitive documents or petty cash easily accessible you can make good use of this pocket. For instance, when traveling you can keep your boarding pass or passport here to stow and go through those TSA lines.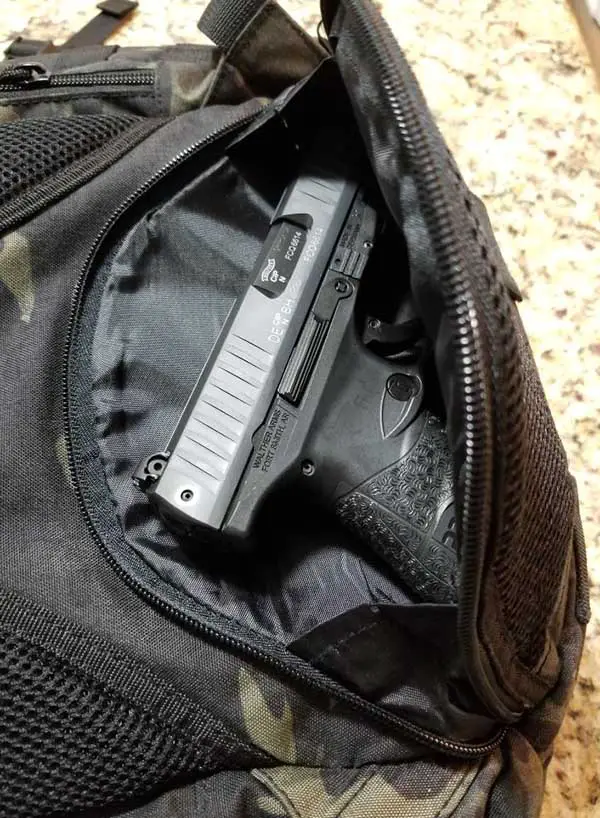 Should you prefer to carry your concealed handgun off body, there's a concealed carry compartment on the back of the bag. The concealed carry pocket is zippered and located in the lower back region. However, quick access could be a problem and this is more of a deep concealment form of carry.
As for the size of the pocket, you'll be better off with a compact or subcompact pistol. Larger frames may not fit. However, in testing, my buddy was able to squeeze his full-size Ruger .45 in the pocket. But I don't recommend walking around with that pistol tucked in that pocket. Alternatively, he is able to easily fit his Walther PPQ with ease. I tried both my Sig and PK380 and there weren't any problems.
TruSpec Circadian Storage Capacity Review
The Tru Spec Circadian has a 22 liter capacity, compared to the 37 liter capacity of the RUSH24 as a point of reference. Because my buddy works in the technology industry, he has to carry multiple laptops, tablets, and a host of charging cable and other accessories for his work. There was ample storage for all of this with room to spare. Below are some details you may be interested in.
This backpack has 6 external zippered compartments; two side pockets, the concealed carry compartment, front access pocket, side access pocket, and the main body of the bag. However, there are additional organizational compartments within several of these pockets. On the interior of the main compartment there are a couple of mesh zippered pockets. Additionally, there are various partitioned pockets for organization.

Circadian Storage Capabilities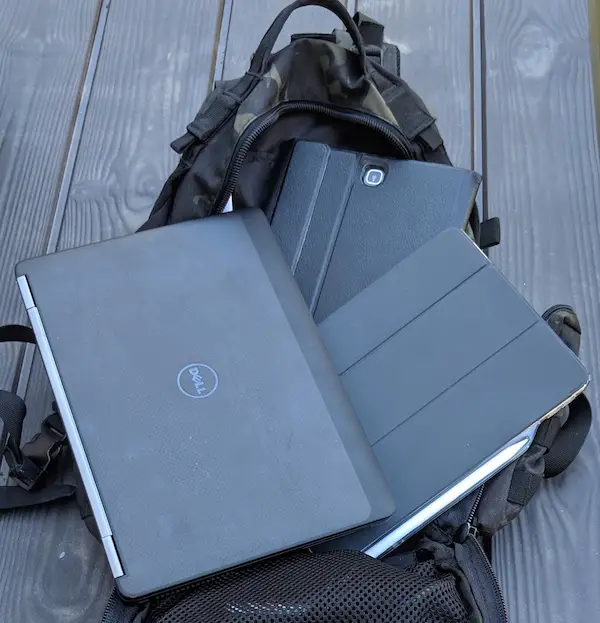 As I mentioned, my buddy does IT work, so he needs plenty of storage for his devices. You could easily fit multiple laptops and/or tablets in the main compartment. Secondary pockets provide space for his charging cables and other accessories.
If you're looking to use this backpack for an excursion, then there is a hydration port available. Unfortunately, he doesn't use this feature so I can't provide a whole ton of feedback for this portion of the review. I did test the 2.0L bladder from my Camelbak and the setup seems standard.
Tru Spec Circadian Durability & Construction
As far as comfort goes, the Circadian offers padded shoulder straps and various buckled harnesses to keep things in place. As you can see from the images, there is also padding on the back of the main compartment, including the concealed carry pocket. You'll want to keep this pack higher on your back if you'll be on the move for any extended period of time since there is no lower lumbar support.
Even though the TruSpec Circadian only utilizes single stitching, the bag has withstood many a travel both domestic and abroad. Having owned the bag for several years, there were no indications of fraying at any of the seams. Additionally, the zippers are sturdy and comparable to those found on the RUSH24. Finally, the mesh pockets haven't torn which is unusual in my experience. Particularly since he stores charging cables which tend to snag.
Tru Spec Circadian Style and Color Options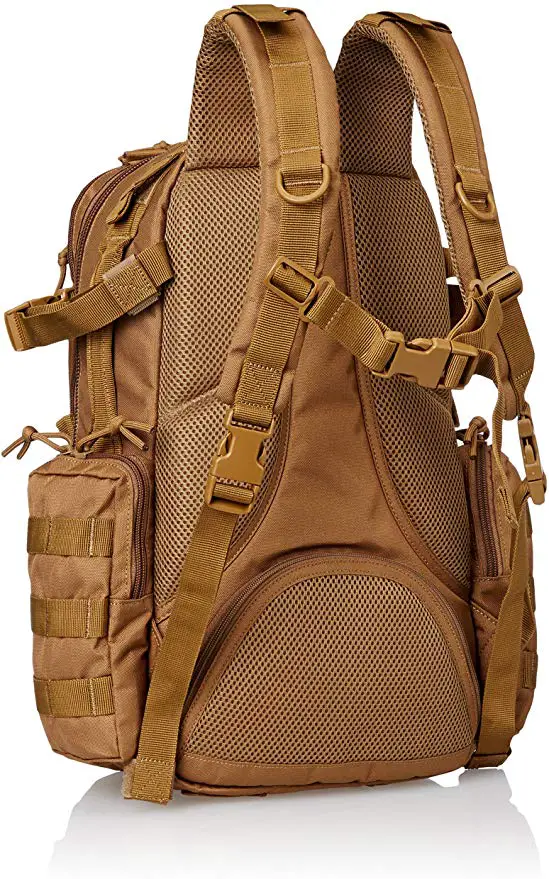 Your color options are somewhat limited when compared to other packs. The Circadian comes in either Coyote, Black, or Camo . Of these options, Coyote is the cheapest and Camo is the most expensive (at the time of writing). If you want to add a little flair to your setup, there is the velcro patch display on the front of the pack. As you can see my friend opted for the Doc Holiday patch for his kit.
This bag is a little small for my needs. However, after reviewing the TruSpec Circadian backpack I can honestly say the bag is a quality EDC backpack. While best suited to a 12 hour bag, it is capable of being a 24 or 36 hour bag in terms of storage. This backpack has a few unique features such as the concealed carry pocket which set it apart from other tactical bags. Because of the durability (it's lasted several years) this would definitely be a good investment for your EDC kit.