Laugh all you want, but when it comes to your EDC backpack or bag, size matters. Ok, now that you've gotten the childish giggles out of your system, let's talk about backpack sizing. Ultimately, the correct size backpack comes down to your kit. However, for most people the best EDC backpack size is between 20-24 liters. First, figure out what's in your kit and estimate your storage needs, then build in 10-20% for additional storage as your kit varies.
Today we're only going to discuss sizing. We're not going to cover what goes in your kit, selecting the right type of bag, or any other facets of everyday carry. If you want more information on that, you can check out my article on setting up and maintaining an EDC bag.
Determine Your Kit Volume
First and foremost, you need to figure out what you plan to carry in your EDC kit. For many this consists of their daily needs for the office, a handful of tools, and water/food. I recommend you lay out what exactly your kit entails and grouping similar items together. Once you've laid everything out, it's time to estimate the size backpack you need.
Now, get yourself some handy Ziploc gallon bags and start packing your kit an fill as many as is required for your kit. Each gallon bag is just under 4 liters when filled to capacity. Therefore, multiply the number of gallon bags required to house your kit by four. For example, if you need 4 gallon bags then your EDC kit volume is 16 liters (4 x 4 = 16).
Measuring The Size Of Other Items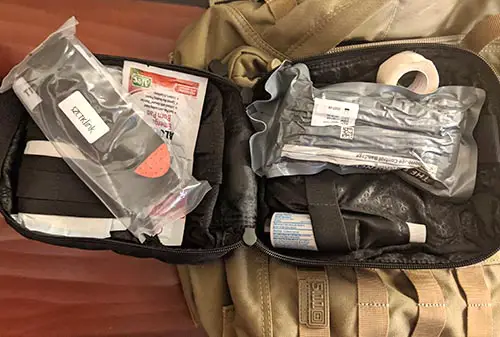 If only everything could fit in gallon bags, then this would be the end of the article. However, some parts of your kit will be awkward shaped. For instance, computers don't exactly fit into a gallon bag. Furthermore, if you're in the tech industry, you may have multiple laptops or a tablet that you need to carry every day.
Usually, these items are going to be housed in the main backpack compartment. Therefore, the best you can do is measure the dimensions of those items that are awkward shaped or overly large.  Compare the measurements you take to the overall size dimensions of any backpack you are looking to get.
Building Space Into Your Kit
In addition to carting around your kit, you'll likely acquire items at some point you need to lug around. For instance, you might shed articles of clothing that you no longer need. This happens most often to me in the Fall. I may set out in the morning wearing a pullover hoodie when the air is crisp, but by noon I'm sweating and need to shed layers.
Whatever the scenario, at some point you'll eventually run into a situation where you need to add items to your backpack. Therefore, I recommend you build in another 10-20% storage space to accommodate any unforeseen additions to your pack. Take your volume calculation from earlier and multiply by 1.2. Using our previous example, your 16 liter volume multiplied by 1.2 means the best size pack would be 19.2 liters.
Formula For Determining Best EDC Backpack Size
Regardless of what size you ultimately end up with after all your math, I always round up to the nearest whole liter when determining the best size for my EDC backpack. As with concealed carry, I'd rather have the space and not need it then need the space and not have it.
Number of Gallon Bags Filled X 4 = Kit Volume
Kit Volume X 1.2 = Total Bag Volume
Round Total Bag Volume To Nearest Whole Number = The Best Size Backpack For You!
How Much Space Is Too Much?
Alright, so now we know roughly the size our backpack should be in terms of volume. But can an EDC bag be too big? The answer is yes, a bag with too much extra space can be difficult to carry. A good way to check if the bag is too large for your kit is to load everything up and throw the pack on. If you can feel the contents of your backpack jostling around when putting your backpack on or off then chances are it's too big.
Another sign that your backpack may not be the correct size is if parts of your kit become jumbled or dislodge from their storage position. If you have to dig through your kit to find what you're looking for, you either need to re-evaluate your backpack size or your organizational structure.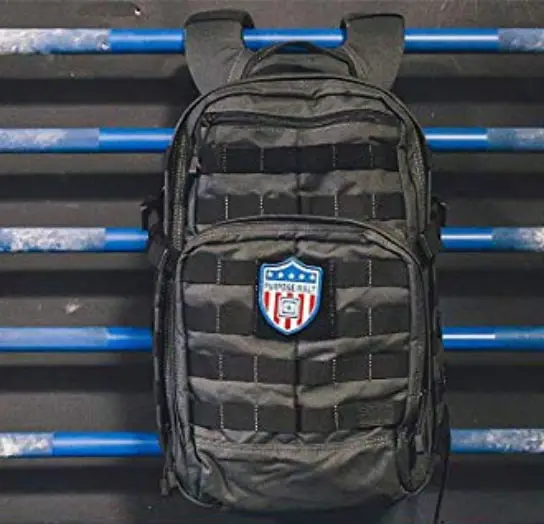 Now we're onto my recommendations for the best EDC backpacks. Regardless of the size you think is best, 5.11 Tactical has a line that sure to meet your needs. If you're looking for a day pack to get to and from the office, I suggest you try the RUSH 12 backpack (on Amazon). The RUSH 12 has a 20 liter storage capacity which makes it near perfect for most scenarios.
However, if you're looking for an even smaller backpack, you can try the RUSH MOAB slingbag (on Amazon). Not only is the overall volume smaller, but the profile is less cumbersome since you'll only have one strap.
Finally, we have the RUSH 24 overnight backpack. Because I take day trips to visit family, I needed something a bit more robust to fit a change of clothes (or two). You can read my review of this day pack here. Regardless of which option you choose, the construction and durability are excellent.
There's nothing worse than choosing the wrong size EDC backpack. A bag that's too big will mean your kit is constantly shifting, which is uncomfortable. Additionally, shifting contents means that locating a specific part of your kit is more difficult. Hopefully, this guide has given you a good baseline for determining how to select the proper size for your backpack.
However, each persons kit will vary along with your needs. This is meant to be a baseline not a hard and fast rule. If you're looking to outfit your EDC pack, you can get more ideas here. Do you have a different formula for calculating EDC backpack size? Share with the community so others can benefit.