The pandemic has changed our everyday experience. Since I'm not commuting to the office and away from my home for extended periods of time, I decided to get a smaller bag. Therefore, here's the American Rebel Concealed Carry backpack review to discuss how this pack measures up against others I've tested. Not only will I be covering the technical specs of this backpack but also what I found useful, where improvements can be made, and what is more form over function.
TLDR — watch the video review where I discuss the key items in this article
Key Features On The American Rebel Backpack
Taken as a whole the American Rebeal Concealed Carry backpack is excellent for urban environments as it definitely does not scream tactical backpack to those around you. But, you'll be trading away things like MOLLE webbing and outdoors performance for a more incognito appearance.
Additionally, there are a couple features that may make this bag appealing to you. Of course, the most notable is the ambidextrous concealed carry pocket. However, another design element is the quick release shoulder straps.
Ambidextrous Concealed Carry Pocket
Because the concealed carry pocket is likely the selling point for many of you, I'm going to discuss the details of this pocket in depth. First I'll touch on the pocket location. Next, I'll talke about the "holster style" and some considerations. Finally, I'll touch on the options for modifying the pocket.
Concealed Carry Pocket Location
The American Rebel concealed carry pocket is positioned at the bottom of the bag closest to your back. Therefore, your gun will be resting against your back. However, the holster style and padded backing mean the frame of the gun won't dig into your spine and cause discomfort.
This position is ideal for concealing your firearm and simultaneously mitigating unwanted access by others due to the close proximity to your body.
American Rebel Holster Style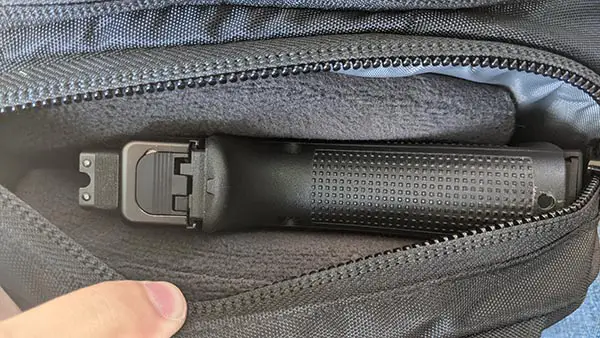 The "holster" within the American Rebel concealed carry pocket is anything but traditional. Essentially, your gun will be sandwiched in between two cloth covered memory foam inserts.
After placing your firearm into the holster it will form to the shape of your gun. Don't worry, the foam will reset to the original shape if you don't leave the firearm in place for extended periods of time. Therefore, you don't always need to carry the same firearm on each outing.
While the design is unique, I'd worry about carrying a gun with a round in the chamber for this holster. You'll need to wedge your hand in between the inserts to get a positive grip on the gun when you unholster. Wandering fingers around a loaded firearm make me nervous — but each person will need to make their own decision.
Concealed Carry Pocket Options
However, you aren't tied to using the foam insert holster. A single 4.5 in. X 2 in. piece of velcro holds the holster in place. Therefore, you can easily remove the holster. This option means you'll have additional storage space if needed. Alternatively you could replace the holster with another velcro enabled holster style if you choose.
Quick Release Shoulder Strap Buckles
Another interesting design element is the addition of quick release shoulder strap buckles. Theoretically, this would make bringing the holster to the front of your body easier should you need to access your firearm.
However, in practice this seems more like a "good idea fairy" concept as the buckles are integrated into the should strap adjustment clasps. Growing up I became conditioned to loosening this strap to take off my backpacks. However, for someone who does not do this, I can see how this feature might be appealing.
American Rebel CCW Backpack Storage Capacity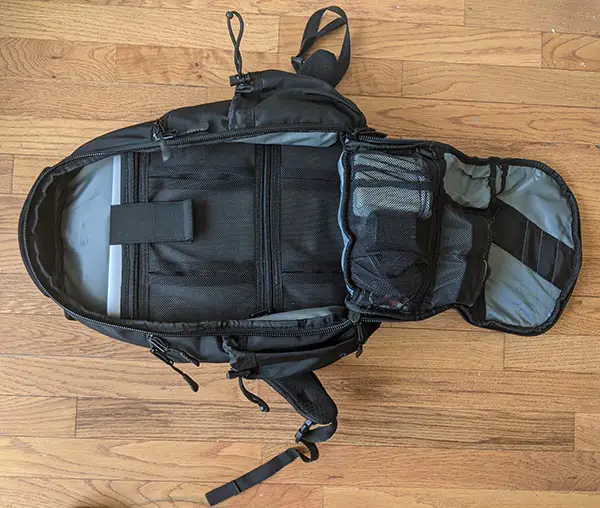 The dimensions of the American Rebel Freedom bag are 17.9" H 11.4" W 6.7" D and is significantly smaller that the 5.11 Tactical RUSH24 I am used to toting around. However, this doesn't really speak to the storage capacity. Below are some technical specs on the number of internal and external pockets and the upper limits of what this backpack can hold.
Number of External Pockets
Including the concealed carry compartment, there are a total of 8 external pockets with zippers. The main compartment is pretty standard and runs the height of the bag.
On the front panel, there are 3 pockets of varying sizes. However, the two vertical zippers utilize the same space but are segmented inside. Above those pockets, there is a small pocket for your knife, keys, or other small item.
On either side, there are two thin zippered pockets that run about half of the height of the backpack. Additionally, these pockets each have a drawstring dump pouch style pocket, suitable for a 1L water bottle.
Finally, there is a zippered pocket that runs the width of the bag and half the height. This is a pseudo main compartment that sits above the concealed carry holster pocket.
Internal Pockets & Organization
To be perfectly honest, I stopped trying to categorize and count the number of internal storage pockets for this American Rebel concealed carry backpack review. However, I will say that most of the pockets on the inside of the bag are zippered.
Unfortunately, a vast majority of those zippered pockets are constructed of mesh. In my experience it's only a matter of time until these end up torn and no longer usable.
Overall, you'll be able to organize most of the small items in your EDC bag. I almost would have preferred fewer pockets since you're limited by what the designers thought was the best use of space. But, only you can tell if it fits your needs.
Durability Of The American Rebel Backpack
At this point, I've only had the American Rebel backpack for a couple months. However, I did travel to Hawaii with the backpack as a stress test. Not surprising, the backpack withstood the stress of air travel and hiking trails. Since you can't fly with a firearm, I had to forego some tests while traveling.
As I mentioned above, the mesh pockets are my biggest concern for the longevity of this bag. However, I packed some of those pockets pretty full during my flight, with chargers and cords and they did not rip.
Another source of concern for me are the zippers on the smaller pockets. I don't recommend testing the strength of these zippers by over-stuffing the American Rebel.
Where this bag will shine, is as an EDC backpack for the commuter. Going to and from the office shouldn't be a problem. However, I would avoid relying on this bag to pull double duty on camping trips.
Unfortunately, the American Rebel concealed carry backpack review is limited when it comes to aesthetics. However, I can tell you that only the grey and camo versions of the bag offer a significant design difference.
Beyond these two bag designs, the bulk of the material is black and has only trim accents. There are three options; pink, orange, and grey. Not the most diverse palette, so hopefully you can find one to your liking.
All things considered, this is a fine backpack for the commuter. Without a doubt you'll have no problems blending into a suburban to urban environment and nobody around you will likely ever realize you're carrying a firearm. Additionally, it has plenty of organizational value for those who are OCD.
However, this backpack shouldn't be confused with a regular trail bag since the zippers and construction are a bit dainty for heavy outdoor use. If you've found this content helpful please leave a comment or like and share with your network. Or if this sounds like the backpack for you click the link below to support the site.