I've been a big fan of Sig Sauer pistols for as long as I can remember. Since it's release in 2017, the Sig P365 has been gaining traction among the concealed carry community. While the pistol itself is a testament to fine craftsmanship, it requires an equally exceptional holster. Whether you prefer Kydex holsters over Leather holsters or IWB over OWB holsters you're sure to find what you're looking for. Without further ado, here's a list of the top 7 best holsters for the Sig P365 and what makes them a good match for your concealed carry needs.
Crossbreed Holster IWB Mini Tuck
Tulster Sig P365 IWB Holster
Fierce Defender IWB Appendix Carry Holster
DeSantis OWB Thumb Break Mini Slide Holster
ANR Design Kydex IWB Holster
Relentless Tactical The Defender IWB Holster
Alien Gear ShapeShift Appendix Carry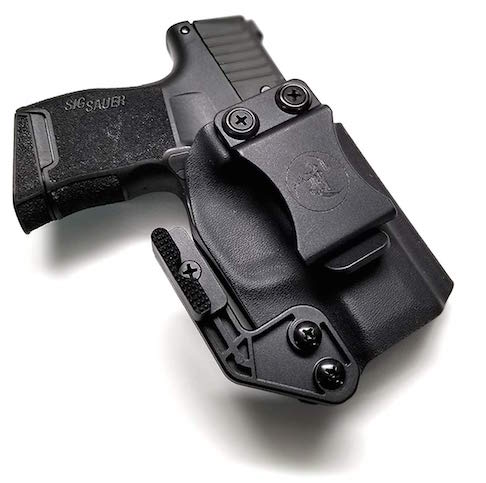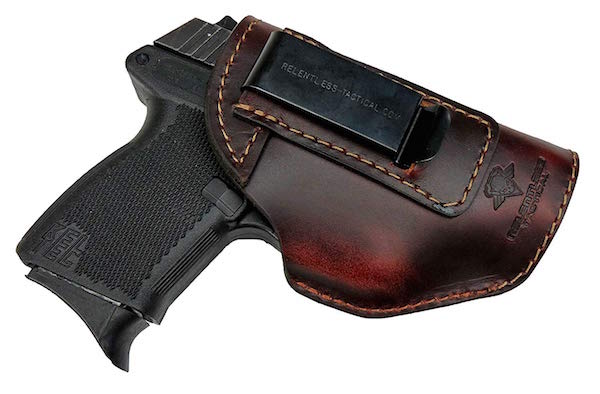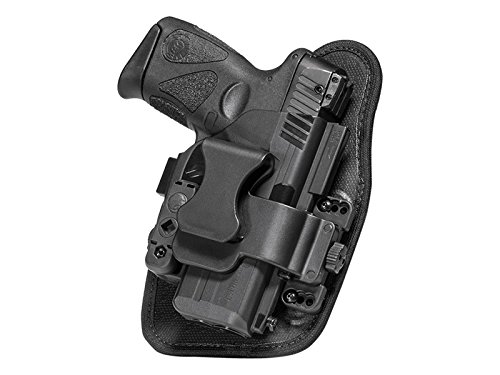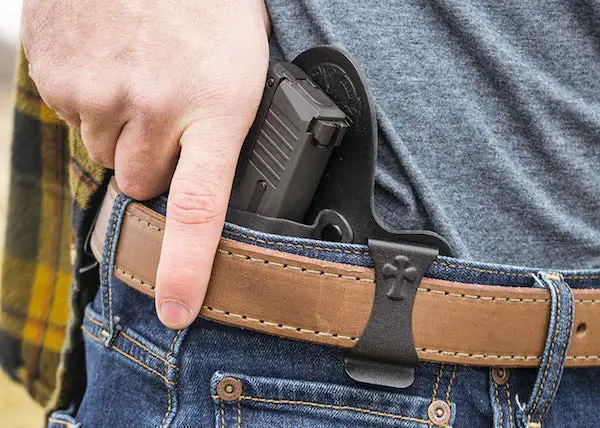 This holster is probably one of the best IWB holsters for the Sig p365. It mirrors the design of the Alien Gear Cloak Tuck 3.5 IWB holster. However, the design has a smaller profile above the waistband and less material where the muzzle protrude at the bottom of the holster.
Pros: Dual clips allow for better weight distribution of your loaded handgun to prevent sagging and minimize need for a belt.
Cons: Can be bulky to some users who prefer a minimalist style holster.
2. Tulster Sig P365 IWB Holster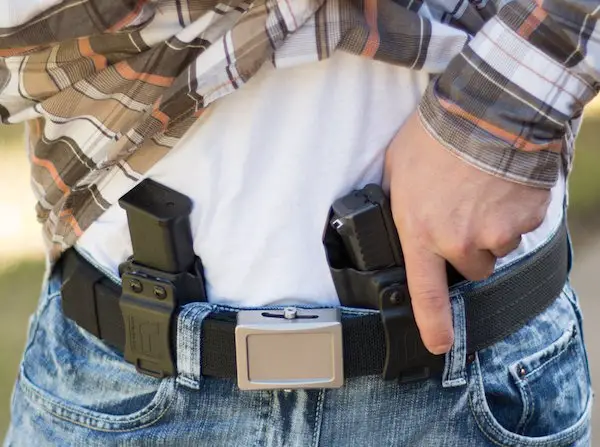 The Tulster holster offers a great option for those wishing for a minimalist IWB holster.With an array of holster colors, you can customize the look to suit your concealed carry needs. A large clip makes it ideal for use with a concealed carry belt.
Pros: Lightweight design and construction. Adjustable clip allows you to modify the cant. Screw adjustment allows you to modify the retention.
Cons: The holster doesn't have much padding so hip carry is less comfortable. Does not cover the magazine release button.
3. Fierce Defender Appendix Carry Holster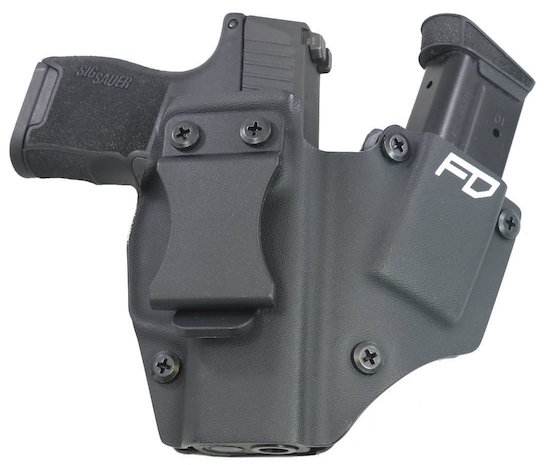 The Fierce Defender kydex holster is one of the best options for the Sig P365. However, the learning curve is a bit steep and you should be accustomed to concealed carrying in the appendix position prior to purchase. The belt clip is sized at 1.5 inches and is suitable for most belts.
Pros: Comes with a magazine holster side cart for carrying additional mag. Sturdy construction and thin material. Adjustable retention for both mag and pistol.
Cons: Depending on holster positioning, contact with the mag release button may cause ejection of the magazine. Rides higher on the waistline than other holsters. Not beginner concealed carry friendly.
4. DeSantis OWB Thumb Break Leather Holster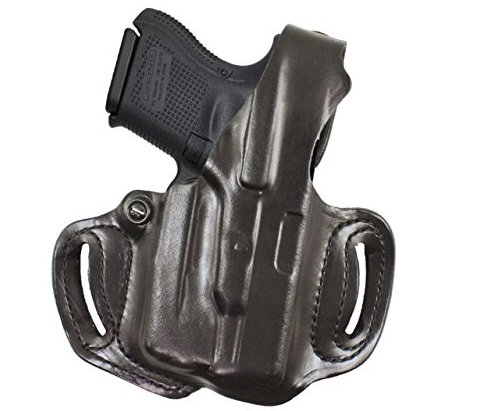 If you're looking for an OWB holster that delivers comfort and good retention, then the DeSantis is the holster for you. Molded leather fits the firearm nicely to protect the finish, and a retention strap keeps your Sig secured. It's worth noting that the muzzle is completely encapsulated which is different from many of the models on this list.
Pros: Thumb break retention strap to keep pistol in place. Dual belt slots ensure a secure fit to the waist.
Cons: The cant is not adjustable, although the angle offers draw angle that is slightly forward. Slightly higher ride on the hip when compared to IWB holster models.
5. ANR Design Kydex Holster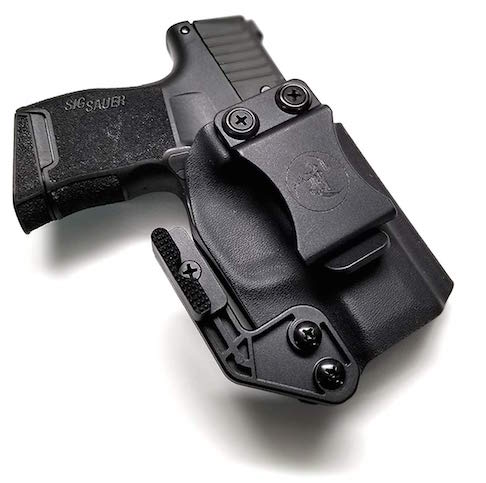 The ANR Design holster is very similar to the Tulster holster.Unlike the Tulster, the retention is controlled by rubber grommets, like the Alien Gear Tuck. The belt clip comes in models that fit either a 1.5 inch or 1.75 inch belt width.
Pros: Additional clip allows the holster to fit tight to the body.
Cons: Cant is not adjustable.
6. Relentless Tactical The Defender IWB Holster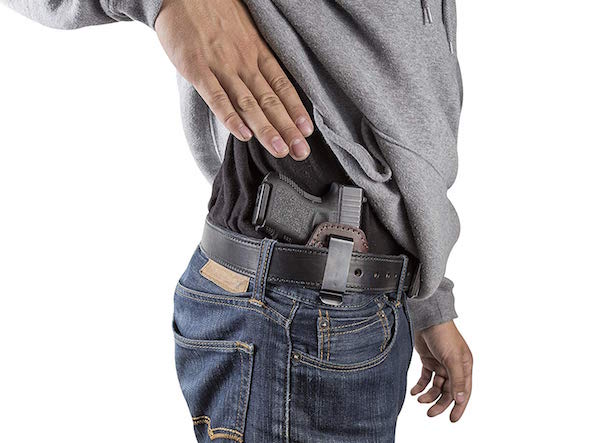 For those looking for an IWB holster that fits their Sig P365, the Relentless Tactical is a great option. This holster is more of a minimalist design, and the single point attachment is sufficient when using a belt.
Pros: Comes in multiple genuine leather finishes. Accompanied by a lifetime warranty. Because it is not form fitted, may allow for some pistol customization (e.g. built in grip laser)
Cons: Friction retention only. Cant is not adjustable.
7. Alien Gear ShapeShift Appendix Carry Holster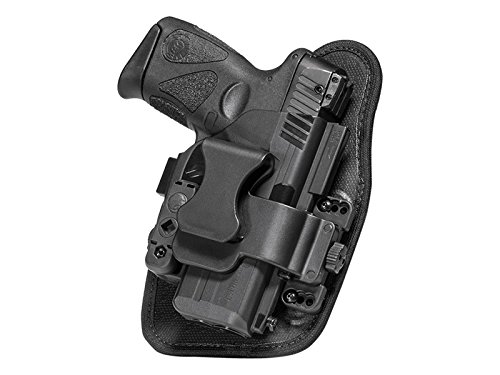 Finally, in the line of polymer holsters for the Sig P365, we have the Alien Gear Shapeshift. This appendix carry style holster has a waterproof backing to protect your firearm from perspiration. The single clip easily attaches at the waistline, and is one of the most comfortable appendix carry models.
Pros: Can be worn with a belt of any size or no belt at all due to clip design, no threading. Alien gear has superb customer service. Screw adjustable retention.
Cons: Cannot adjust the cant angle without repositioning the holster.
Quick Reference: Holster Buyers Guide
IWB Holster vs. OWB Holster
Whether you choose to carry inside the waistband (IWB) or outside the waistband (OWB) both methods allow you to carry your Sig P365 concealed with the right choice in attire. If you are opting for IWB, you should select the correct size pants that work with your chosen holster. With proper fitment, you should be able to easily conceal your handgun and holster with a shirt.
Concealed carry with an OWB holster is a little more difficult. You will still need to build in space to the pants to fit the paddle or waistband clip to prevent chaffing. However, concealment with and OWB will require a loose fitting jacket or long sleeve shirt worn un-tucked.
Where you plan to carry your concealed handgun will dictate what type of holster you'll want. The traditional way to wear a holster is on the dominant hand hip, also known as hip carry. Another common concealed carry configuration is appendix carry. Finally, some in the concealed carry community carry in the small of their back.
Although these are the most common configurations, there are some variants. If you think about your waist as a clock with your belly button as the 12 o'clock position, where you wear your holster corresponds with the position on a clocks face.
Appendix carry holsters are worn in the 12-2 o'clock position for right hand dominant shooters. I've found that smaller pistols like the Sig P365 can be worn appendix style with little irritation. Other IWB holsters can be worn anywhere from the 3-6 o'clock positions for a right hand shooter.
Choosing the right material for your holster is important. Breath-ability is good to prevent sweat marks that might cause printing. However, rigidity of the holster is probably the most important consideration when selecting a holster. Nylon, while inexpensive, is generally loose and prone to allowing the handgun to shift. Thus, I have not included any nylon holsters for the P365 on this list.
Leather holsters are durable, and not prone to breaking down over time. In fact, they will mold to your pistol configuration given enough use. For this reason the DeSantis leather holsters have made both the Walther PPQ and Sig P365 best holster lists. Kydex and molded polymer holsters come shaped to fit a specific model and generally do not allow for aftermarket attachments like red dot sights or lasers.
Pistol Retention Of Holster
The simplest form of pistol retention uses friction. Whether you use a molded kydex shell or a leather holster to carry your Sig P365, the friction of the material against the handgun keeps it in place. Sometimes, these holsters will come with alternate grommets that allow for a looser or tighter fit on the firearm. Simply remove any screws and replace with appropriate sized grommets for desired retention.
Additionally, some holsters come equipped with additional pistol retention methods. For instance, the DeSantis holster has a thumb break which allows the shooter to free the gun from the holster after releasing the strap that fits over the rear of the slide.
Other holsters like the Blackhawk Serpa holster (which didn't make the list because it doesn't fit that model) has a retention lock. An audible click lets you know the lock is engaged, and the gun cannot be removed from the holster until the trigger lock is disengaged. These can be adjusted by tightening or loosening the screw that controls the trigger lock.
Holster Cant For Quicker Draw
A smooth draw from your holster should be a top priority when selecting your Sig P365 holster. Hanging or snagging on any part of the holster will make you less efficient. Therefore, you should ensure that you can easily un-holster your pistol without encumbrances.
Along those lines, adjust the tilt of your Sig (cant) can aide in increasing your draw speed. Because each shooter is different, the cant comes down to personal preference. I highly recommend a holster that allows you to adjust your cant. However, not every model holster allows you to do this.
Finding the best holster for your Sig P365 is about more than cost and material. Make sure whichever holster you get is comfortable to wear and is easily concealable for your carry needs. Make sure that the holster you choose has the options to adjust the important aspects like cant and retention to ensure a smooth and quick draw. Remember to account for any IWB holster by checking out the concealed carry pants sizing guide.