First, let me say I'm not here to settle any debates among friends. My goal is to present you with the information I found about each handgun manufacturer and model below. However, before I can begin I'll need to define  the term "popular." I've broken down the most popular handgun into two categories — design and quantity produced.
Most Popular Handgun Design: 1911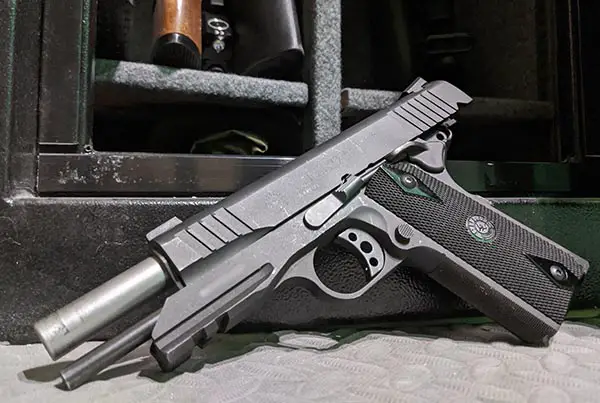 You'll be hard pressed to find any firearm enthusiast who is not familiar with the iconic M1911 handgun design. The 1911 was first introduced in 1890 as a replacement for military service revolvers. Needless to say, the handgun made a lasting impression as variants are still in production over 100 years later.
Very few handgun models have withstood the test of time. Whether it is nostalgia, superior design and function, or something else entirely, the 1911 is still in production today. However, the most popular handgun design had humble military beginnings.
According to the Browning website, approximately 3 million 1911 handguns were in military circulation. That doesn't even include the civilian market!
Unfortunately, it's impossible to track the sales within the civilian markets because 1911 models span multiple manufacturers. Additionally, some companies such as Kimber have become synonymous with the production of 1911 models.
Based solely on sales volume, the 1911 would have likely made the list of most popular handguns. However, what earned this pistol it's spot was the design.
Most Popular Handgun Design – What's Changed?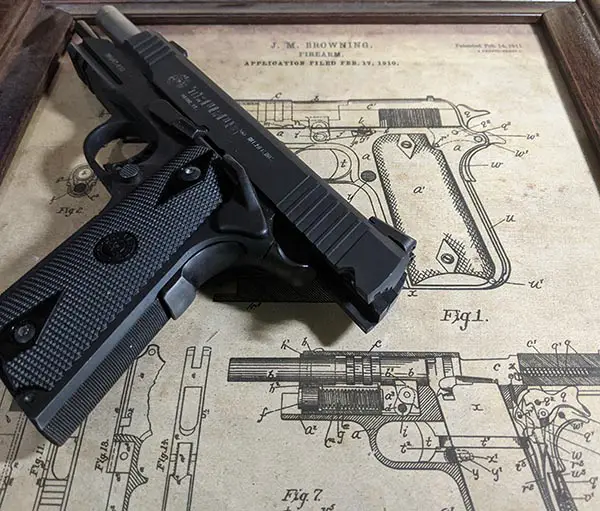 As I sit staring at the framed copy of J.M Browning's original patent I am in awe of how little the design of the 1911 has changed. Save for mostly cosmetic changes (e.g. picatinny rails, skeletonized hammers, etc.) the 1911 remains unchanged. Above is a comparison of my Taurus 1911 with the patent.
Nowadays, manufacturers are producing compact or subcompact versions of this handgun design. However, the design is fundamentally the same with smaller barrels, guide rods, and the like. If something isn't broken, why fix it?
A vast majority of M1911 pistols are chambered in .45 ACP. No doubt, this is due to the original design for the military. In fact, some would argue that it isn't a 1911 unless it's chambered in .45 Auto.
Others would argue that it's not a 1911 unless it's made by Browning. However, that hasn't stopped gun manufacturers from developing 10mm, 9mm, and even .22lr variants (including Browning).
Most Popular Handgun By Production: Glock 17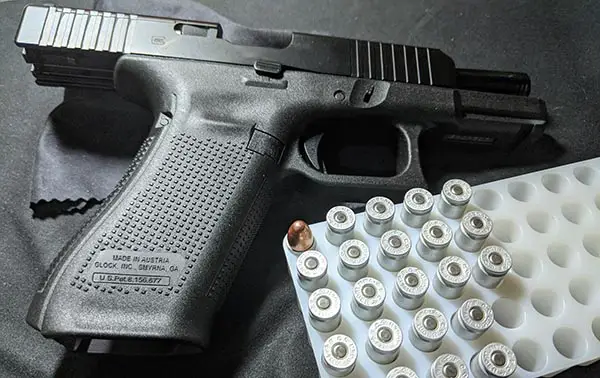 Surprisingly, the next pistol on the most popular handgun list has not been in circulation nearly as long as the 1911. In fact, Austrian made Glocks are fairly new to the firearm scene. However, their striker fired Glock17 has made a big splash from its inception.
The Glock 17 was introduced in1982. This popular pistol was a response to a request from the Austrian Ministry of Defense. The Ministry outlined 17 desirable characteristics of a combat handgun according to Wikipedia.
Additionally, the first model of Glock was the 17th patent of the company. Finally, the original model could hold 17 rounds according to CNN. Eventually, the pistol would be classified as a NATO pistol. Likely due to widespread distribution and that it fired the NATO 9×19 parabellum round.
Perhaps it was fate that the number 17 appeared so frequently and this handgun became such a success. According to data published by the Motley Fool, in 2015, Glock handguns (all models) were #4 in total handguns manufactured.
Alright, but that's not the number 1 spot. However, Wikipedia places the Glock 17 as the most produced handgun in the world. Estimates are from 6-10 million produced.

As you might have noticed, much of the data is incomplete or anecdotal. Much of what is available is for set time periods or speculative amounts. Therefore, you'll need to draw your own conclusions as to whether this is the most popular handgun. However, in the 3 decades since its beginning, Glock has become a household name.
To further complicate things, Glock is currently on Gen 5 of their pistols. Variations from generation to generation are predominantly cosmetic. However, this adds another layer of complexity to the tracking conundrum.
If you want to stay true to the original Glock 17, then expect you'll have a pistol chambered in 9mm. However, Glock as a whole has not refrained from expanding into other caliber rounds. Should you be interested in picking up your own Glock, check out the selection at Cabela's.
So which of these is the most popular handgun? Well, if Glocks' growth trend continues, then the Glock17 may outpace the 1911 eventually. However, the 1911 has withstood the test of time. Given the array of options in the civilian market, I don't expect the 1911 will be going anywhere.
What camp are you in? Leave a comment below. And remember, if you found this content helpful or entertaining, share it with your network!