In a world dominated by traditional holsters, concealed carry apparel, and concealed carry backpacks — fanny packs are often overlooked. However, this method of carry is seeing a resurgence. Well, I've got my hands on the 5 best concealed carry fanny packs and tested them for gun fit, comfort, and ease of use.
2. FRTKK Concealed Carry Fanny Pack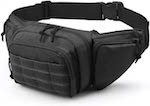 3. Elite Survival Systems Fanny Pack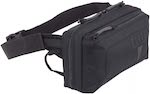 4. Garrison Grip Fanny Pack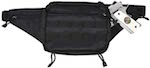 5. 5.11 Tactical Fanny Pack (Micro Pistols)

1. Blackhawk Concealed Weapon Fanny Pack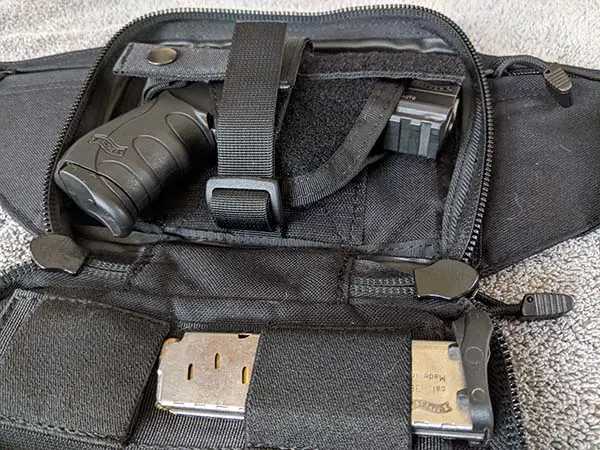 Blackhawk makes some solid holsters, so I was eager to test out their concealed carry fanny pack. There are only a few qualms I have with this fanny pack. Despite a few shortcomings this fanny pack has a bunch of great qualities.
If you want to secure your handgun in the pack, Blackhawk provides a multitude of straps and buckles. Additionally, there are a couple of snap straps on the back of the fanny pack to help secure it to your belt.
Blackhawk Fanny Pack Gun Fit & Features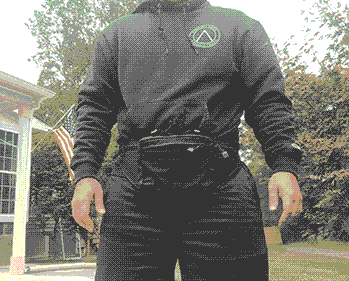 If you own a compact handgun, you'll want to get the large size. The "one size" on Amazon is small and is meant to hold a sub-compact automatic. I was able to get my PK380 to fit, but the holster had to be positioned just right.
One problem I had was with the universal holster was that the front sight post kept snagging when holstering my gun. This was more of an inconvenience, but un-holstering the gun was smooth as long as the thumb break wasn't engaged.
One standout feature of the Blackhawk concealed carry fanny pack was the rip tabs. Unlike other models, the rip tabs are long enough to allow the zippers to be almost fully closed. This feature is super intuitive and easy to use. I wish other models had the same foresight.
This pack is best for compact and sub-compact pistols. If opting for a compact, I suggest a single stack magazine. Sub-compacts can either be double or single stack.
Pros: Fully adjustable universal holster. Velcro and straps to secure handgun in place. Additional support with straps for use with a belt. Easy to use rip tabs of adequate length. Equipped with locking buckle.
Cons: Thumb break retention strap on holster impedes quick draw. The small size fanny pack struggles to house a compact handgun. Pockets on the wings are little more than decoration.
2. FRTKK Concealed Carry Pistol Pouch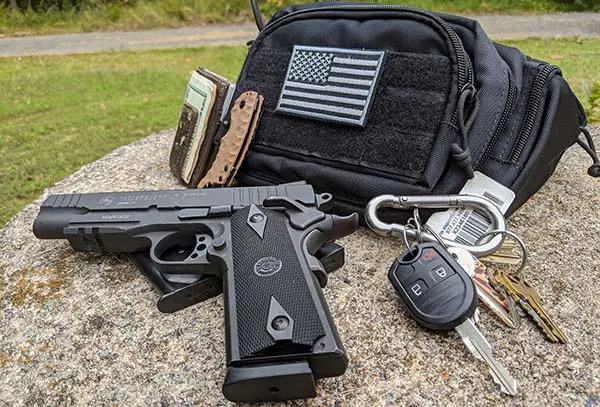 If you are looking for comfort then the FRTKK fanny pack delivers. Probably the most comfortable fanny pack on the list, it has the ideal size in my opinion. This pack is capable of holding both full size and smaller pistols.
FRTKK Fanny Pack Gun Fit & Features
Unlike the Blackhawk concealed carry fanny, the FRTKK uses elastic bands for gun retention. Additionally, the bands stretch easily enough to maneuver around the trigger guard of your pistol.
With 5 zippered compartments, there is adequate storage for whatever you might need to carry. This includes a zippered compartment behind the concealed carry pocket that runs the full height of the fanny pack. Both of the wing pockets are functional when compared to the Blackhawk model.
Furthermore, the interior concealed carry pocket has space for up to 4 additional magazines. Additionally, the inner pouch is capable of housing a full size pistol.
But, what I really like about this fanny pack is the padded mesh backing which is great for comfort.
Quick Facts – Full Size, Compact, & Sub-Compacts
Capable of handling full size handguns down to sub-compact pistols. Micro pistols may not work due to the elastic strap setup being too loose.
Pros: Padded mesh backing for comfort. Plenty of storage space for additional items beside handgun.
Cons: Elastic band, passive retention only.
3. Elite Survival Systems Fanny Pack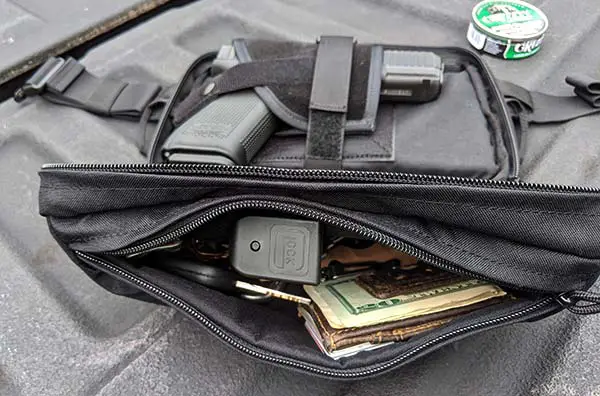 There is one reason alone this did not take the top spot on the list of best concealed carry fanny packs — craftsmanship. However, despite this one shortcoming, this fanny pack got a ton of things right.
In fact, I would highly recommend that some of the other producers take notes on the features I highlight later on. This fanny pack would shine in a business setting where the user isn't highly active.
Elite Systems Fanny Pack Gun Fit & Features
First and foremost, I love that the Elite Systems pack came with two different velcro holster attachments. Additionally, there is adequate space to house a full size pistol. However, the second holster attachment is useful for compact and sub-compact handguns.
Furthermore, the thumb break strap is much easier to manipulate than on other models. But, I do think that placing the spare mag elastic bands inside the front pocket is a waste of space and counter productive should you ever need to reload.
Another feature I like in theory is the extended rubber zipper handles. However, I think that over time these will likely break down and so they lost some points there. But for out of the box performance it was a nice addition.
With all that being said, the material this bag is made of does not seem conducive to a long shelf life. It is a far cry from the rugged canvas material used on many of the other packs.
This fanny pack is best used with Compact handguns but can fit a full-size if necessary. When using a sub-compact or micro, use the alternative holster insert provided.
Pros: Comes with (2) two velcro holster inserts to accommodate multiple pistol sizes. Easy to use zipper handles for quick handgun access. Extra belt loops to aid with weight distribution.
Cons: Placement of spare magazine bands is awkward. Overall construction material is lacking. Rip tab length is inadequate for width of pack.
***BONUS*** I almost kept this pack solely for the holster inserts and to use them with the Blackhawk model!
4. Garrison Grip 5 Compartment Fanny Pack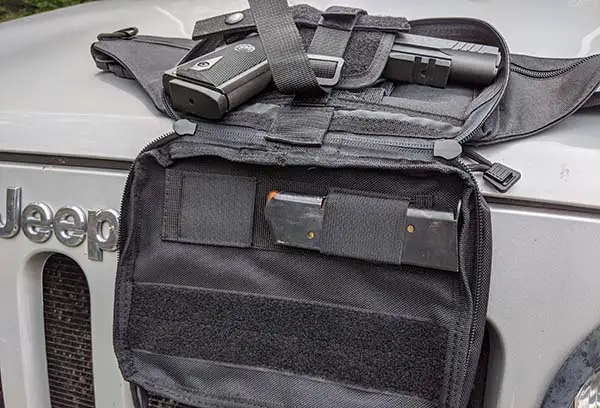 I wanted to like this fanny pack so much, but I could not get over the bulk. While not at the top of the best concealed carry fanny packs list, it does provide secure storage in abundance. Functionally, this fanny pack is more of a small handbag with a velcro holster.
Garrison Grip Gun Fit & Features
If you need to store multiple items then this is the fanny pack for you. Where this concealed carry fanny pack would shine is for someone who travels frequently. Important documents or a bill fold could easily fit in the velcro pockets internally or on the back of the pack.
The Garrison Grip comes equipped with the same type of universal holster as many other fanny packs on the list. A bit lack luster but it does the job and has the same strap to maintain positioning as well as a thumb break retention strap. All are fully adjustable.
Additionally, this fanny pack is capable of housing a full size pistol and smaller. Although fitting a compact or sub-compact is a bit loose in the holster.
Finally, there are two small elastic bands to hold spare magazines.
This fanny pack can fit a full size pistol. Best pistol for this fanny pack would be a hybrid with a compact barrel & full size grip.
Pros: Plenty of storage for additional items. MOLLE webbing on the front could be useful. Can hold a full size pistol.
Cons: Bulky design is a bit awkward. Velcro holster insert is not the best. Excessive length of internal straps.
5. Fanny Pack For Micro Pistols by 5.11 Tactical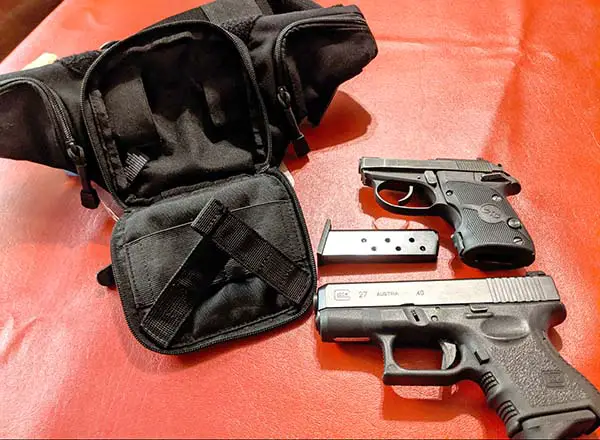 As far as big names in the concealed carry community, it doesn't get much bigger than 5.11 Tactical. Needless to say, I had high expectations for this offering from the company.
The concealed carry fanny pack by 5.11 Tactical is the smallest fanny pack on our list. Unfortunately, it's so small it can only house a micro. This pack failed to fit either a compact or sub-compact comfortably. And you can forget about a full size pistol.
While the market may be niche, if you want something to fit your micro pistol then this is tops the list of best concealed carry fanny packs for the job.
5.11 Tactical Fanny Pack Gun Fit & Features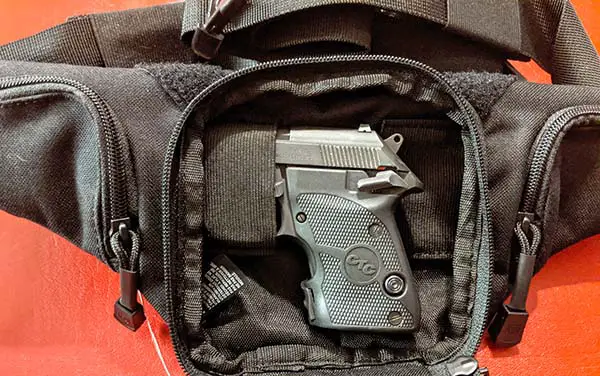 Fitting anything other than a micro handgun in the 5.11 Tactical fanny pack is going to be difficult. I was able to fit a Glock 27 but it was a chore and not worth the effort.
The muzzle of the gun actually tucks behind the wings on the sides of the main compartment. This makes it one of the best concealed carry fanny packs in terms of economics of space.
Unfortunately, the rip tabs suffer from an inadequate length to fully close the main compartment. However, because of the design they do allow the compartment to close a little further.
Another area that is lacking with the 5.11 Tactical pack is extra storage space. While the design is meant to be minimalistic, you'll need to find another way to carry important items like your phone and wallet.
This pack is ONLY suitable for micro pistols. Both compacts and sub-compacts cannot use the elastic band retention.
Pros: Smallest profile of all fanny packs with good economics of space. Useful zippered pockets on the wings. Stout buckle and thick belt. Perfect for micro pistols.
Cons: Pull tabs are not quite long enough to close main compartment. Additional storage space is limited.
Concealed Carry Fanny Pack Buyers Guide
Finding the right concealed carry fanny pack is a bit of a personal journey. After all, there really isn't a comparable solution on the market. You either use a fanny pack or you don't.
Because of this, many first time buyers are not aware of common pitfalls. Moreover, many don't even know what dimensions they should be looking for to fit their gun. So here's a few tips and tricks for selecting the right fanny pack for your needs.
Does The Fanny Pack Fit Your Gun?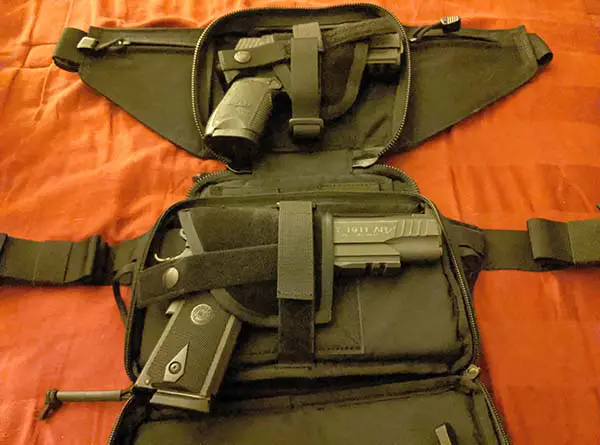 Don't fall into the same trap I did with the 5.11 Tactical and purchase a fanny pack that doesn't fit the model handgun you are planning to carry. Most holster based fanny packs are universal but pay attention to the dimensions.
Minimum storage dimensions for most compact handguns is going to be 7.5 inches wide by 5 inches tall (internal dimensions). Even then, it's going to be a tight fit. However, that's what I measured my "one-size" version of the Blackhawk fanny pack.
Additionally, to fit a full size handgun, you'll need internal dimensions of a minimum of 9 inches wide by 5 inches tall. I used my 1911 with a standard capacity magazine for testing. This was able to fit snugly in the Elite Systems fanny.
If the concealed carry pocket is deep enough you may be able to squeeze in a slightly larger pistol. But don't push it or you'll cause damage to the zippers.
Does the Fanny Pack Fit You?
All of the fanny packs on our list can accommodate a 46 inch waist. Some had a belt/pack length that stretched into the 50's. Ironically, the smallest pack (5.11 tactical) had the thickest and longest belt length.
This is the long way of saying that you should ensure the belt length is adequate to fit your waistline. Additionally, some packs come with built in belt loops on the pack to aid with weight distribution. This is particularly important if you'll be carrying a larger handgun.
Elastic Band or Thumb Break Retention
Retention method comes down to personal preference. You have two options, either elastic bands or a pseudo holster. The holsters are not molded and are considered "universal" although some handguns fit better than others.
The Glocks I tested fit easily into all of the universal holsters. However, I did have problems with my Sig on a couple. But, the holsters in the Elite Systems pack worked superbly regardless of pistol make and model.
Contrarily, the elastic bands work with almost any model handgun. However, use caution because an inadequate band length will limit the size of handgun that is compatible with that pack.

How Easy Is Drawing Your Gun From The Fanny Pack?
Part of successfully choosing a fanny pack is finding the correct retention system. But, this only aids in the ultimate goal of creating a smooth draw from your concealed carry pack.
When drawing your handgun, there should be nothing to impede your actions. Watch for the back strap, hammer, or frame to catch on any part of of the pack. Ensure that any form of retention doesn't also prevent a smooth draw such as a snap button on a stubborn thumb break.
Another potential pain point with universal holsters and bands is the front sight post snagging as you draw. Sometimes it is the fanny pack, other times you'll need to adjust the holster angle to help alleviate.
What Are Your Storage Needs?
This probably goes without saying, but you need to make sure that your fanny pack has adequate storage for your needs. After all, the primary function of a fanny pack is to help you carry extra "stuff" including your pistol.
Just be cognizant that the more pockets you need the larger the pack size will be. Therefore, don't get extra pockets just because one day you might need them. Otherwise you may find the pack is too bulky for everyday regular use and give up on it.
That about covers things. I have yet to find the "perfect" concealed carry fanny pack, but a few of these come close. Do you have a concealed carry fanny pack you are particularly fond of? Share that knowledge with future visitors. If you found this information helpful, please leave a comment or share with your network. Either way it helps me a ton. Stay safe and carry on.