Sometime in October, I picked up the Vaultek VE20 pistol safe for some added pistol storage around the house. I opted to have my locksmith buddy come over and assist with the Vaultek safe review to provide you with an experts opinion. The Vaultek safe provides quick open access to your firearm. Your entry code can be personalized and easily reset, and the VE20 can even tell you when the safe has been tampered with. Additionally, the only real flaws were the inability to replace the key lock mechanism and the strength of internal screws. However, we'll get into more detail on those later!
If you want an experts review, check out the unboxing and initial setup video of the safe below: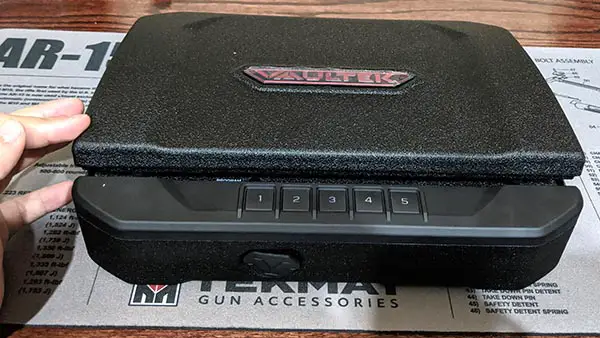 Advertised as a "compact safe" the Vaultek VE20 measures just under 12 inches X 9 inches and is roughly the size of a large hardcover book. Meaning you can fit this handgun safe on just about any shelf or nightstand for quick handgun access. Unfortunately, you are restricted to a horizontal mount and cannot be used in the same orientation as books on a shelf. While you could mount the safe in that direction, keeping your handgun seated could be a problem.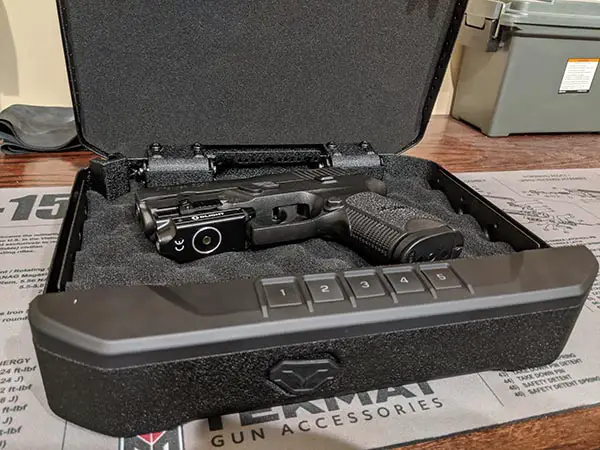 Internal dimensions are a bit smaller, but more than enough to fit any compact or sub-sompact pistol with an additional magazine. Pictured above is my Sig with an added under-mount flashlight and I still have space for a spare magazine. Actually, the VE20 safe was capable of storing my full size pistol as well with a little finesse. However, I had to place the pistol at an awkward angle to get it to fit. Unfortunately, that doesn't make it feasible for use as a quick access safe for larger weapons. Additionally, you cannot fit a full size pistol and an extra mag in the VE20 safe.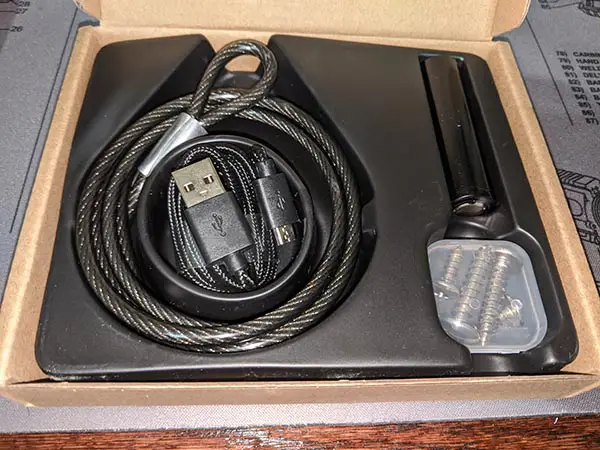 Because the handgun safe itself isn't all that heavy, it could easily be carried away by an intruder. Therefore, the safe comes with two different methods of mounting. First, you are provided a wire leash, which attaches to the safe on the interior. Second, you also have the option to mount the safe to a solid surface using bolts or screws. Lifting up the foam eggshell, and secondary foam insert reveals 2 holes drilled into the bottom of the safe.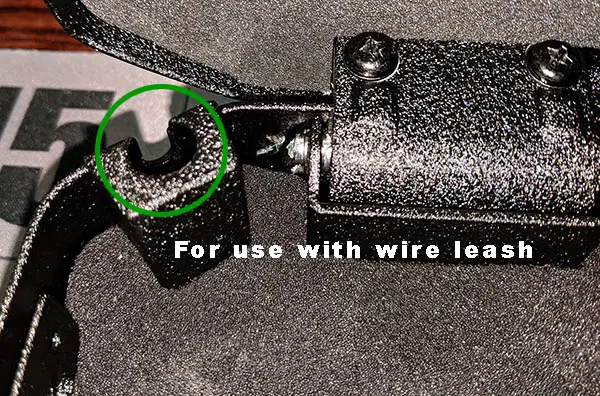 A heavy duty set of bolt cutters could be used to free the safe from the wire leash. Therefore, this option is best used for travel purposes and not home storage. However, you could use this as a home storage unit if you can screw the safe down to something sturdy. Concrete would be best. Although, solid would may be sufficient. I would avoid particle board or any kind of pressed wood.
VE Series Charging Cable and Keys
The VE20 safe comes with a pair of laser-cut keys, which seem to be the industry standard for any object requiring keyed entry. Additionally, the VE20 handgun safe comes with a charging cable for the lithium-ion battery that powers the unit. Approximate run time is roughly 4 months,though it is advertised as 4-6 months. However, run time will vary largely depending on usage and which features you have enabled or disabled on the safe (e.g. interior illumination). If you experience problems with the battery, Vaultek does offer upgrades.
It's worth noting that the key port is pickable, albeit mostly by locksmiths rather than your average burglar. I was told that the cylinder that is used with the laser cut keys is NOT replaceable, so you'll have to make do with the factory one.
Battery Specs: 3.7 V, 2000mAH capacity
Pistol Safe Fire Rating & Waterproofing
Unfortunately, there wasn't any information provided about the safes fire rating. In the documentation it says; "The safe is not fireproof nor waterproof. This safe has been specifically designed for portability, secure access, and convenience." Therefore, if fireproof or waterproof safes are what you need, then another pistol safe may be best. I cannot speak to the fire resistance of the unit. However, unless the safe is submerged in water (e.g. flooding) the contents should remain dry. Although, with flooding you will likely have battery issues.

Vaultek Firearm Safe Security Features
It's unclear to me whether the auto open lid is spring or hydraulic controlled. Regardless, the lid opens completely when the master code is entered. The keypad code for the safe can be reprogrammed multiple times so you can change the code at your leisure. Combinations can vary between 4-8 digits offering a ton of combinations. In addition to being re-programmable, the key pad controls various different settings on the safe. You can turn off the interior light, disable sounds, and more. If you have small children or even teens, there is a feature that allows you to see if the safe has been tampered with.
Pro Tip: Don't keep your key in the safe. The pistol safe was designed to not be broken into, so keeping your pare key inside the unit does nothing for the locksmith. Had to put that in for the sake of my locksmith buddy!
VE20 Shortcomings (What's Weak)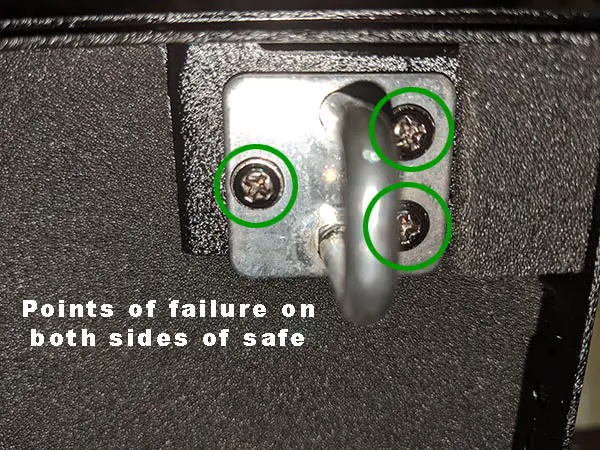 I've already discussed a few of the shortcomings of this model, but for clarity, I'm going to list them out below:
VE20 safe is not waterproof
Does not have a fire rating and is NOT fireproof

Lock cylinder is going to be primary point of entry (weak to picking with specialized tool)
Screws holding bars to lock lid are weak point (better if bracket was welded)

All in all, I think this is a quality product and constructed very well for a budget pistol safe option. Additionally, it comes in various color combinations if aesthetics matter to you. This lock box would be great for bedside access or for travel security. Although it does have some shortcomings, most of these are problems are not deal breakers. However, if these seem a bit extreme, you're going to want to go with a heavier duty safe that isn't portable. Because the VE20 pistol safe is made to house a single pistol and allow for easy access, I believe it is one of the best bedside safe options around.