If you're a gun enthusiast, hunter, or collector, you know how important it is to keep your firearms safe and secure. While a standard gun safe can provide some protection, it may not have enough storage capacity if you own a large collection of firearms. Similarly, if you live in an area at high risk for theft or natural disasters a standard firearm safe may be insufficient. A gun safe room – or gun vault – is a dedicated, secure space where you can store your firearms, ammunition, and other valuables. In this article, we'll cover everything you need to know about how to build a gun safe room.
Because I recently concluded the retrofit of my house with a gun vault, I'm providing you a comprehensive guide on building a gun safe room. Below are the steps when constructing a new gun room or retrofitting your existing house with a gun vault:
Establish A Budget
Design Your Gun Room (size, location, and features)
Decide on Construction Materials
Secure Your Gun Safe Room

Establish Your Gun Safe Room Budget
Before you embark on the "how to build a gun safe room" journey, you need to establish what you are willing to spend. Your budget, or lack thereof, drives many of your options when designing and building your gun safe room. I've outlined the various costs to build a gun safe room in another article.
Although there are many different costs associated with building a gun safe room, a bulk of your money will go to constructing or reinforcing your walls, ceiling and floors, as well as your safe room door.
Now that you've established the budget for your gun room build, it's time to start designing. Therefore, determine the size, location, and features of the room. Here are some key factors to consider when planning your gun safe room:
First and foremost establish the size of room you will need. The size of the gun safe room will depend on the number of firearms and other items you plan to store. Therefore, consider not only the current number of firearms but also any future additions to your collection. It is better to build a larger room than to outgrow a small one.
Selecting Gun Safe Room Location
Second, the location of the gun safe room is also important. Your gun safe room should be in a secure area of your home that is not easily accessible to outsiders and preferably with minimal foot traffic. Consider a location that is not visible from outside your home, such as a basement or interior room. If you are retrofitting your house with a gun safe room, your room size requirements may limit your location options.
Finally, consider what features you want in your gun safe room. Some features to consider are ventilation, lighting, access to power, water access, and virtual security measures. As an example, I wanted the lighting in my gun safe room on a separate dedicated circuit because I need the power for various reloading tools. Similarly, I also installed a utility sink for access to water and a drainage system.
Another important consideration is the moisture inside your gun safe room. Thus, I purchased an industrial dehumidifier from Homelabs for my gun safe room. Since moisture can wreak havoc on firearms, plan to have some form of climate control.
Material For Constructing Your Gun Safe Room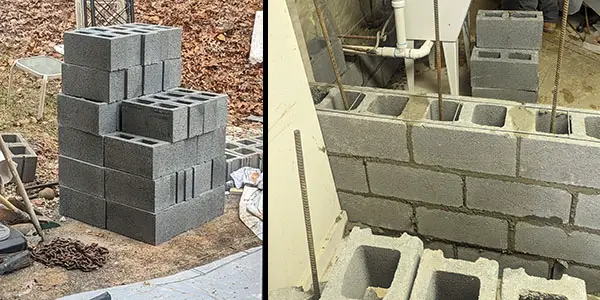 Next, you need to outline your build. Remember that a bulk of your costs are spent constructing or reinforcing the walls, floor, and ceiling of your gun safe room. If possible, you'll want to choose materials that are strong and durable, such as steel or concrete. Additionally, choose materials that are fire-resistant and waterproof to protect your firearms.

What Type Of Materials Are Best For A Gun Safe Room?
When it comes to selecting materials for the walls, ceiling, and floor of a gun safe room, it is important to choose materials that are durable, strong, and able to withstand forceful impact. Here are some materials that are commonly used for gun safe rooms:
Walls: Concrete blocks or poured concrete are excellent choices for gun safe room walls. Steel is another durable option, but it may require additional insulation to maintain a comfortable temperature inside the room.
Ceiling: The ceiling can be made of the same materials as the walls, but steel is typically preferred because it can provide additional strength and protection. For a retrofit, steel mesh sheets can be used to reinforce existing structures.
Floor: The floor should be made of reinforced concrete, which is strong enough to support the weight of heavy gun safes, concrete block walls, and resist forced entry attempts.
Securing Your Gun Safe Room
Finally, you'll need to secure your gun safe room. Ideally, your room will have a single entry point to prevent the need to reinforce additional openings. Strengthening the walls, ceiling, and floor are going to be expensive enough. Additionally, combining physical and virtual security measures provide the best protection for your valuables.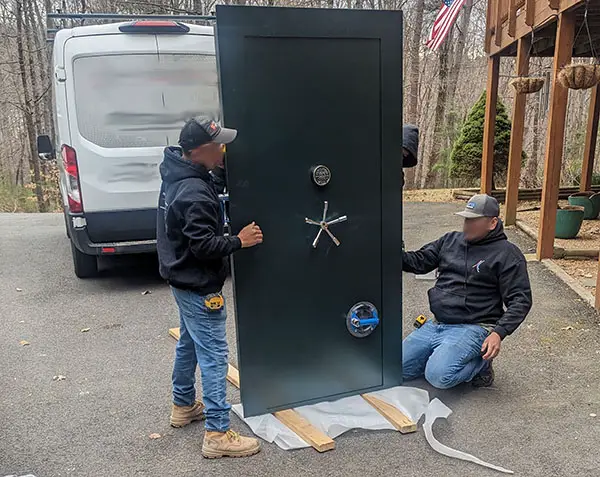 Besides constructing and reinforcing the room itself, the safe door is the largest expense. Additionally, the weight of the door can make it difficult for you to install yourself which comes with added cost. However, the vault door is arguably the linchpin on which the security of your gun safe room relies.
If you are operating on a budget, consider a vault door from SnapSafe which is the most budget friendly and easily accessible door I was able to find. Alternatively, if your budget allows, you can opt for a safe door from Liberty, Browning, or Homeland Safes. If you budget doesn't allow for a safe door, you can opt for a security door instead.
Alarm and Surveillance Systems
Although physical security is essential, you can also add another layer of protection to your gun safe room by investing in surveillance equipment. Ideally, your camera security will have both local and cloud based storage like this offering from Eufy. To further secure your firearms, you can purchase a monitored alarm system. However, all of this depends on your budget and level of risk.
Hopefully, this article has provided you with valuable insights on how to build a gun safe room. Remember that up front planning is essential, especially when you are trying to retrofit your house with a gun vault. If you've found the information in this article helpful, please share with your network. Additionally, if you are building your own gun safe room feel free to leave a comment on any information that might help others who come across this page.