Nowadays it seems that many companies are abandoning traditional business attire for more casual digs. Choices are somewhat limited for those dressed in suits, but concealed carry in business casual attire comes with all sorts of options and considerations.
Concealed carry in business casual attire is easiest using a smaller pistol with a slim profile. Regardless of the pistol, you will need to choose a holster that works with your fashion sense. Some options that work well with business casual attire are shoulder holsters, concealed carry shirts, belly belts, or IWB holsters. Both your pants and shirt choices need to easily conceal your handgun, which often means going up a size or opting for looser fitting attire.
Choosing A Pistol For Business Casual Attire
Some pistols are easier to conceal when dressing for the workplace. However, there are options no matter what size pistol you prefer to carry. Unfortunately, a larger pistol does limit your options. Compact or Subcompact pistols are the best for concealed carry in business casual dress and offer the most options. Pocket pistols are another small option that's great for concealed carry, but the sizing may be too small for some options. Finally, the most difficult type of handgun to carry concealed is a full-size pistol.
Carrying A Compact or Subcompact Pistol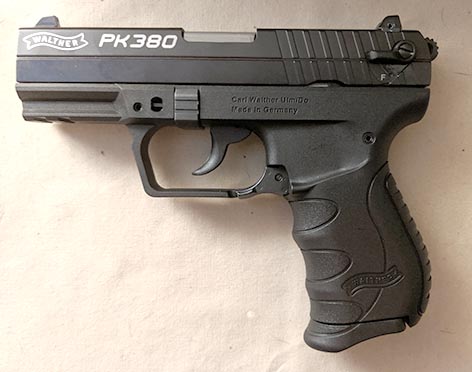 Compact and subcompact pistols are the best choices for concealed carry. The smaller profile of these pistols makes them easier to carry with minimal changes to your wardrobe. Pistol sizes in the compact and subcompact range also offer the greatest variety of holster and apparel types for concealed carry.
Additionally, smaller pistols are less likely to cause printing when carried beneath layers of outerwear, such as button ups or sport coats. Single stack magazines are preferred with business casual clothing because they are slimmer than their full-size counterparts, thus reducing the likelihood that the outline of the pistol will be visible.
Concealing Pocket Pistols In Business Casual Attire
Pocket pistols are another option for business casual concealed carry. However, many of these models do not allow for use of traditional holster types. If you are wearing clothing with pockets, then keeping the weapon there may be sufficient. However, IWB holsters and several other concealed carry options are not realistic for extremely compact pistols.
The biggest challenge with pocket pistols and concealed carry in business casual attire is being able to easily access your pistol. Deep pockets in concealed apparel, and even pants, can make it difficult to un-holster the weapon.
Full-Size Pistol Concealed Carry Options
If you prefer to tote a full size pistol as your everyday carry personal defense, you aren't without options. However, I will caution you that finding a comfortable platform can be difficult. A shoulder holster is probably the best option for those opting for a full size handgun (more on that in a little bit). However, summer months can be particularly difficult for those wishing to carry concealed. Less layers can make hiding a full size pistol on your body difficult.
Business Casual Compatible Holsters
Another impactful decision for business casual concealed carry is your choice of holster. Whichever holster you choose should work with your choice of attire. We'll cover some of the common concealed carry platforms and which type of firearm is best suited for use with the holster type.
Shoulder Holsters and Sport Coats
Using a shoulder holster for concealed carry at the office is optimal for those carrying a full-size pistol. Because full-size pistols tend to weigh more, particularly with a fully loaded magazine, weight distribution is important. Unlike waistband holsters which can cause your pants to sag under load, the shoulder holster will distribute the weight across your upper back and shoulders.
However, shoulder holsters aren't without their limitations when it comes to concealed carry. Because these holsters are made to accommodate full-size pistols they are bulkier than most other types of holsters. Typically, they will also include straps that attach to the belt which will also need to be concealed under your work clothes. Therefore, the best way to conceal a shoulder rig is with some type of outerwear, like a sport coat. You may be able to get away with wearing a loose button up, but the flimsy material may result in printing.
With all that being said, there are a great deal of benefits to using a shoulder holster for concealed carry at the office. Because of the various straps and fasteners, a properly fitted shoulder holster will fit snugly and securely. Your handgun will rest under your arm which helps conceal the contour of the holster. This method of concealment is best for colder weather, as a jacket is highly recommended.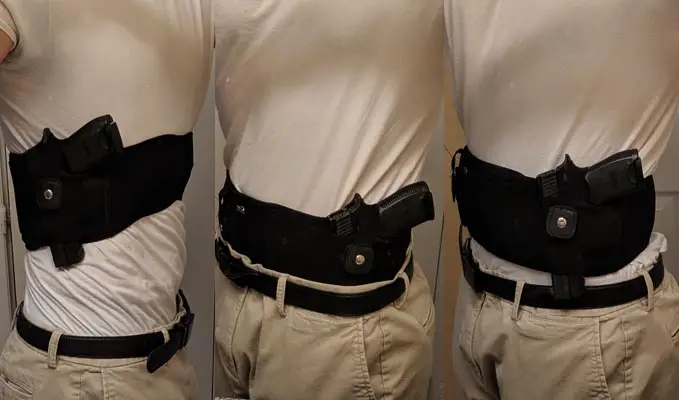 One of the best ways to carry a pistol concealed in business casual clothing, or in general, is using a waistband holster. Whether you use an OWB or IWB holster, the versatility of this platform is fantastic. If you prefer to appendix carry, there's a holster designed for it. Prefer to carry on the hip? Well there's a holster out there for you.
If you are considering an IWB holster, make sure you get the right size pants for concealed carry. Additionally, you'll need a sturdy belt capable of handling the weight of your pistol. Pistols without a polymer body will tend to be heavier, and can cause your pants to sag. Similarly, double stack magazines hold more ammunition and can contribute to sagging pants. Holsters with multiple clips can make concealment easier, and lessen the likelihood of your pants sagging.
Waistband holsters are best used with compact, or subcompact, concealed carry pistols. Generally, these models weight less and are not as bulky. This means you're less likely to get jabbed in the side on your morning commute to the office. And if you're a cubicle dweller like me, your pistol won't need constant adjustment while you sit at your desk.
Concealed Carry Shirts and Undergarments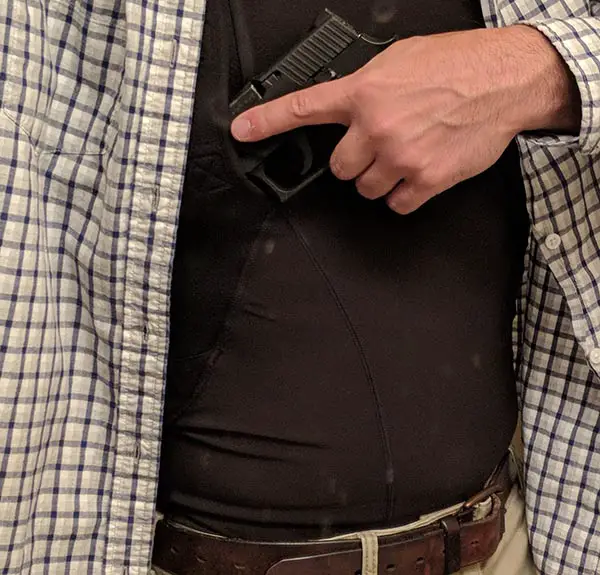 Another fine option for concealed carry in business casual clothing is some form of concealed carry shirt or undergarment. I personally use the 5.11 tactical shirt (on Amazon) for my office concealed carry needs (check the review here). It's tight fitting which means my pistol isn't dancing around, and it has a pocket on both sides which makes it right hand and left hand friendly. Plus you can use the second pocket to hold an extra mag.
If that doesn't tickle your fancy, they make everything from bras to belly bands. Sometimes, I'll don my belly band (on Amazon) in lieu of my concealed carry shirt. Generally, it's when I feel out of shape, or am running late and need something quick to throw on and head out the door. Again, this type of holster holds the pistol tight to your body, and band location can be adjusted vertically for comfort.
As a guy, I don't have a whole lot of experience with some female specific concealed carry undergarments. However, the belly band is a unisex option for your concealed carry needs. It's easy to operate, and can be added to almost any outfit for the office or casual attire.
Ankle Strap Holsters At The Office
If you opt to carry a compact or derringer style pistol as your backup (or primary) concealed pistol, then an ankle holster may be up your alley. Ankle holsters are best suited for subcompact style pistols. Ideally, these pistols will be light to prevent a modified gait as you walk the office halls. Long pants are essential for this concealed carry holster type. I suppose the for the ladies you could also opt for a full length skirt, but anything shorter will be ineffective for concealing your pistol.
Additionally, you may be limited in your footwear options when using an ankle holster for concealed carry in business casual attire. I sometimes wear boots with my khakis instead of casual dress shoes. Using an ankle holster would be difficult in this situation, though I suppose you could move the holster up the calf. However, since you're strapping to the thicker part of your leg, any slim fit pants would likely result in printing.
Off Body Carry At The Office
Finally, you can always conceal your pistol in your computer bag or backpack. Personally, I do not like this method, but if your office fashion choices make concealing on your body difficult this may be the best route. I recommend securing your firearm in a concealed compartment which ideally will be part of the bags' design.
Dressing For Success: Concealed Carry Wardrobe
Alright, we've discussed pistol choice and some holster options for concealed carry in business casual clothing. Now, lets talk about some of the finer points of dressing for appropriately for concealed carry at the office.
Dress In Layers For Business Casual Concealed Carry
Your best option for concealed carry is to dress in layers. The weather, your office temperature, and a host of other factors will impact what layers you choose. However, using layers offers a couple benefits. First, using a base layer provides protection from the oils in your skin and perspiration from coming into contact with your weapon. Second, using a base layer for business casual concealed carry provide a level of comfort. Finally, your outer layer will provide a way to conceal your pistol.
Opting to use a compression shirt like the 5.11 Tactical concealed carry shirt will probably serve as your base layer. However, for other holsters, an A-shirt or undershirt is an option. Undershirts should fit snugly to avoid bunching below a belly band or your IWB holster. Soft cotton will offer cushioning for any edges on your holster, or firearm, that may dig into your skin.
How To Conceal Carry In A Dress Shirt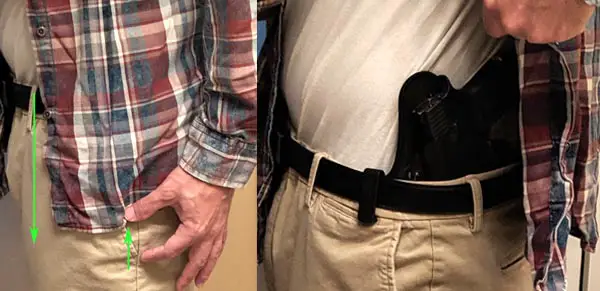 If left untucked, your dress shirt should extend 4-5 inches below the waistline of your pants . It should not ride up your torso and expose your handgun with normal actions. Tops should fit loosely, in the area corresponding to your pistols location.Therefore, for IWB holsters, the shirt should hang loose at the waist. However, the area covering the ribs should be loose to prevent printing with an IWB holster. Avoid using light colors that contrast your pistol or holster.

Test your dress shirt fitment by performing normal office actions, such as sitting in a chair, picking up a box, or bending at the waist. If the shirt rises above weapon, you'll need a longer shirt. Belly bands are the most forgiving holster if you can't change your wardrobe. Holsters worn on the waist are less forgiving, and may require new dress shirts.
I recommend a partially button dress shirt for ease of access. I typically leave the top 3-4 buttons undone on my dress shirt, so I can easily slip my hand into the pocket of my concealed carry undershirt. For a belly band or IWB holster, ensure you can easily lift your dress shirt without snagging on your holster, belt, or any other item worn on the waist.
Concealed Carry With A Tucked In Shirt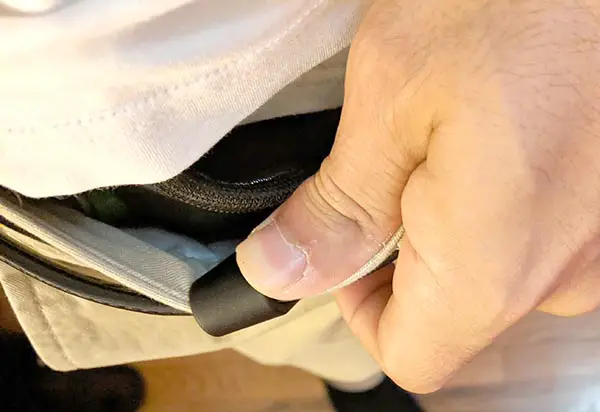 If you prefer to tuck in your shirt when you conceal carry, then you'll need a tuckable holster. Tuckable holsters are made to allow a garment to be tucked between the holster and the clips that attach the holster to your waistband. You should leave play in the shirt where it tucks into your waistline. This helps disguise the clips that fit over you belt and prevents the outline of your pistol or holster from showing
I personally use the Alien Gear Cloak Tuck (on Amazon), specifically designed for my Sig P250. However, Alien Gear makes holsters that fit most common make and model pistols. In fact, I will likely be picking up a holster from them for my Walther that I recently purchased. But, I digress. In any case, for wearing a tucked in shirt make sure your get a "tuckable" holster.
Concealed Carry Pant Size: Khakis To Slacks
If you'll be wearing your concealed firearm on your waist, then pay attention to your pant sizing. For pants with a fixed waistband, you'll want to allow an additional 2 inches to accommodate an IWB holster. However, for flex fit dress pants with an elastic waistband, you may not need to go up a size. Make sure you have a sturdy belt to capable of holding the weight of a fully loaded pistol.
For additional information on choosing concealed carry pants and proper sizing, I highly recommend this write up. It goes in detail about options and considerations when choosing pants for concealed carry.
Finalizing your setup for concealed carry in business casual attire takes a bit of foresight. Plus, you'll likely have to test a couple different setups before you find what is right for you. Don't be afraid to test different holsters during the process. For most of us, we spend 8+ hours at the office. It's important to be comfortable even with a pistol in tow. If you have any additions, concerns, or a question you'd like answered then please leave a comment.